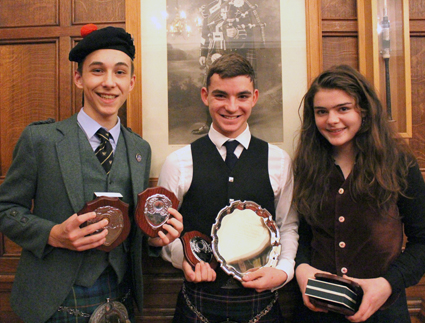 Talented young piper Brighde Chaimbeul emerged victorious from last weekend's National Piping Centre Junior solo competition, picking up first in Piobaireachd and March, Strathspey and Reel and second in Jigs and thus the overall prize. Brigdhe is continuing her well-deserved run of success which included the Scots Guards Junior Solos last autumn (see pic).[wds id="3″]
---
Dundee's MacKenzie Caledonian Pipe Band have issued a new CD on the KRL label (see main pic). Entitled 'A Big Step Forward', the CD will be reviewed in the forthcoming issue of Pipe Band magazine (April 1). The band have a sellout concert this Friday at the Gardyne Theatre in Dundee. MacKenzie Cal. currently have two bands: a Grade 2 band, led by P/M Neil Nicholson and Leading Drummer Calum Burns, and a Novice Juvenile band, led by P/M Anne Spalding.
---
Our History pages have more from the 18th century competitions held in Edinburgh plus some other interesting reports which give us a flavour of the social milieu that the competitions were part of.
There's always something worth reading at pipingpress.com – made free for the worldwide piping and pipe band community by your support for our advertisers and the ppresshop….