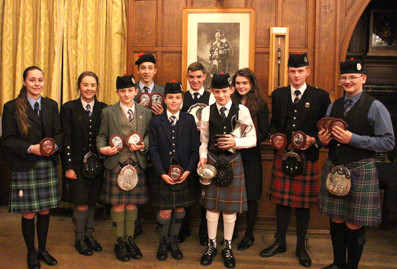 Adjudicator Robert Wallace writes: This was a first class day of junior piping in the impressive surroundings of the Army School of Piping at Inchdrewer House in Edinburgh. It was a credit to competition convenor Jimmy Banks, and to the Scots Guards Association, the promoters. There was substantial sponsorship from Pipe Dreams, manufacturers of the famous Eezidrone drone reeds, and from Grants of Dalvey who supplied beautiful silver keepsakes for the first prizewinners
Results:
Under 15 Piob
1 R MacIsaac 2 F Cameron 3 C Davidson 4 L Russell
Under 15 March
1 R MacIsaac 2 C Davidson 3 L Russell 4 F Cameron
Under 15 S&R
1 C Davidson  2 L Russell 3 R MacIsaac 4 B Watson-Massey
Judges: W Cowan, C MacLellan
Under 18 Piob
1 E Murray, Lament for Donald of Laggan
2 B Chaimbeul, My King Has Landed in Moidart
3 D Stewart, I Gave a Kiss to the King's Hand
4 T Townsley, Lament for Mary MacLeod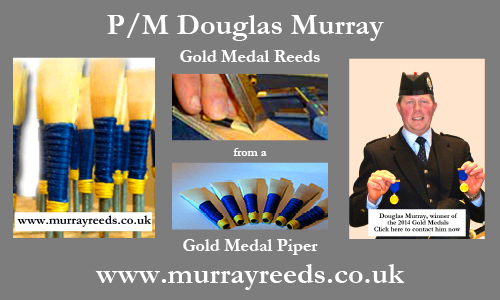 Under 18 MSR
1 B Chaimbeul, Marchioness of Tullibardine, Piper's Bonnet, Sandy Cameron
2 J Townsley, Mrs MacDonald of Dunacht, Piper's Bonnet, Dr MacPhail 3 D Stewart, Southall, Shepherd's Crook, Willie Murray 4 E Murray, Duchess of Edinburgh, Lady Loudon, Grey Bob
Open Jig
1 J Townsley 2 T Townsley 3 B Hanley
Judges for Under 18 events: R Wallace, R Livingstone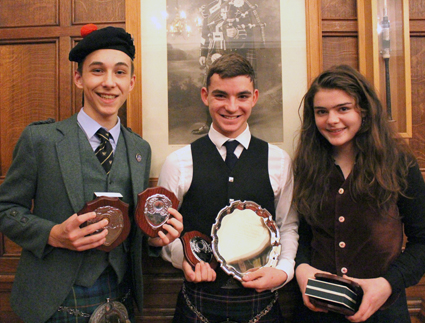 There was a good standard of playing in the events I judged with Roddy Livingstone of the Scottish Piping Society of London. Overall Under 18 Champion was Brigdhe Chaimbeul, an accomplished player of both ceol mor and ceol beag. Her piobaireachd was very well played with good phrasing and fingering throughout. Unfortunately she had an error in the last line of the ground. This is not to take anything away from young Ewan Murray, piobaireachd winner, who worked his way carefully but musically through Lament for Donald of Laggan. Ewan's was a worthy first prize. Third went to Donald Stewart from Stewarton. He had a good ground spoiled by overdwelling on the low Gs at the ends of the lines, and then a square, mechanical reading of the variations.[easyrotator]erc_14_1414056032[/easyrotator]Fourth went to Taylor Townsley who had a tune of two halves, the first very good and the second not so (pipes off, erratic timing here and there, choke). In the ceol beag there was a sense of tightness in a lot of the playing. Is this the bands at work? For solo piping we want to hear the true beauty of perfectly formed doublings and taorluaths, not a bunch of clippy, nippy chips. Not guilty in this department were the prizewinners, in particular Brighde Chaimbeul who again demonstrated a maturity in her presentation and a good understanding of the main MSR idioms, a credit to her tutor and to her parents, one of whom is the distinguished author, actor and broadcaster Angus Peter Campbell. Listen to part of Brighde's performance here:

For the jig competition Roddy and I were joined on the bench by Walter Cowan and Colin MacLellan. Fortunately the competitors heeded the promoters sensible request for no tuning, and with that, and some excellent stewarding, we were through the contest in jig time. Joshua Townsley showed control and good hands to take the top place.
At the end I was asked to say a few words. I began by asking for a round of applause for the Scots Guards Association, the promoters of the competition. It was thanks to them (and the Director of Army Bagpipe Music, Major Steven Small) that these young pipers were afforded the opportunity of playing in such salubrious surroundings at the Army School of Piping and Highland Drumming. Not all competitions were so well accommodated, and certainly in my young day tuning in toilets and playing in run down classrooms was common.
For the competitors, I pointed out that those not in the lists probably had technical weaknesses that ultimately were their undoing. Good fingering was of the utmost importance during a young piper's formative years. Music, to a certain extent, could be taught, tuning more so. But a young piper encumbered with cranky hands through a lack of correct, diligent, practice was condemned to a life of piping mediocrity. Consequently, adjudicators, this one certainly, placed prime importance on accuracy of execution.
Finally, I thought it right, too, to acknowledge the contribution of parents who spend many hours ferrying their offspring to and from lessons and competitions and then many more anxious hours worrying over the outcome. Prize or no, they were doing the right thing in encouraging their sons and daughters in the music of the bagpipe: physically beneficial, fraternal, character building.