A few reflections on the overall day before we get to individual band performances. I thought it went on a bit long and some consideration needs to be given to ways of shortening proceedings. I appreciate that to cram in hundreds of performances in a nine-hour period is a logistical nightmare and I do believe that the RSPBA did, and do, a masterful job of doing just that.
This notwithstanding, the last band went on (in Grade 2) at 5.40pm, so working from there it was unfeasible to think that any of us would be homeward bound the right side of 8pm. Time must be taken to check and double-check score/summary sheets of course, and I know this is done with meticulous care and attention by Association compilers and directors. It is not something that can, or should, be rushed. On such an important day for everyone we need to get our sums right. So let us have some sympathy for the organisers on that score.
However, I think time could be saved at the March Past, and a couple of years ago select bands were invited to salute the Chieftain – usually those who had travelled great distances – and others just to form up in front of the main dais. Maybe the idea should be revisited.
Next point: in Grade 1 there used to be a 40 minute or so gap between MSR and Medley. On Saturday it was near enough three hours; the contest lost momentum, the audience the pleasure of near comparison, one discipline against another.
Great that the Juvenile and Novice bands are given a chance to play in the main arena interspersing G1, but I wonder at the worth of it. Very few people were in the stands for the youngsters' commendable performances, performances that can't be broadcast for child protection reasons. Sorry kids, but Centre Court has to be for the top dogs and their gladiatorial maulings.
Sharing the main arena with the really big beasts should be the bands from Grade 2. I listened to the whole of the final and the standard of playing is well worthy of broadcast by the BBC – and there would be no legal fine print to worry about. So why not run G2 there followed by G1 or vice versa?
Now, and yet again, I make my call for open circle formations rather than closed. How many years are we to persist with this military, so-20th century, totally illogical way of presenting our music? No one listens to bagpipes drones first – except in our crazy, never to change, 'it was good enough for ma faither' pipe band competition world!
Finally I hear that there may be moves afoot to inaugurate a Grade 1b contest on the Saturday for all those bands from that grade who don't make the final. Don't you think that a wonderful idea? Just imagine you're a member of the LA Scots. You play twice in the pouring rain on the Friday but don't make it though. Back at the hotel (whilst checking your tan and wringing out your kilt) you reflect on the hundreds of dollars expended in making it to the piping capital of the universe. Yes it was great to be here and the free tickets for the second day offer a modicum of palliation, but really, do I feel my spirits have benefited from my 2016 Glasgow experience?
How much better if I had the chance of doing it all again in a 'best of the rest' contest on the main day? Running concurrently with others, such a competition, ten bands once through a medley, should not add any additional time. Participants would then stand with everyone else at the March Past, the climax of the competition, to learn if their Worlds has some tangible compensation after all.
Well, enough of all of that for now. My plan this year was to listen to the Grade 1 MSR then the start of the Medley before switching to Arena 2 for the G2 final. Here are my thoughts on the former from a position halfway up the main stand, directly behind the  kilted behinds of the various front ranks.
First on were Shotts, the defending World Champions with Clan MacRae Society, Blair Drummond and the Smith of Chilliechassie. This was sluggish, uninspiring playing I'm afraid. Clean and together, yes, but tunes need a certain tempo for their musicality to flourish. Cautious in the extreme. Fine sound.
Next came Inveraray the very antithesis of what had gone before: bright, on the edge. The tunes were Lord Alexander Kennedy, Tulloch Castle and John MacKechnie. I particularly liked the phrasing in the reel.
NZ Police started well with a good sound but it just didn't sustain beyond the march. This was a tune I'd never heard before, Sinclair Scott of North Ronaldsay, and very enjoyable it was too to hear such an original composition. The strathspey, Atholl Cummers, was uninspired and the reel ragged in places, but this band did very well in making the final and deserved their place among the top 12 in the world.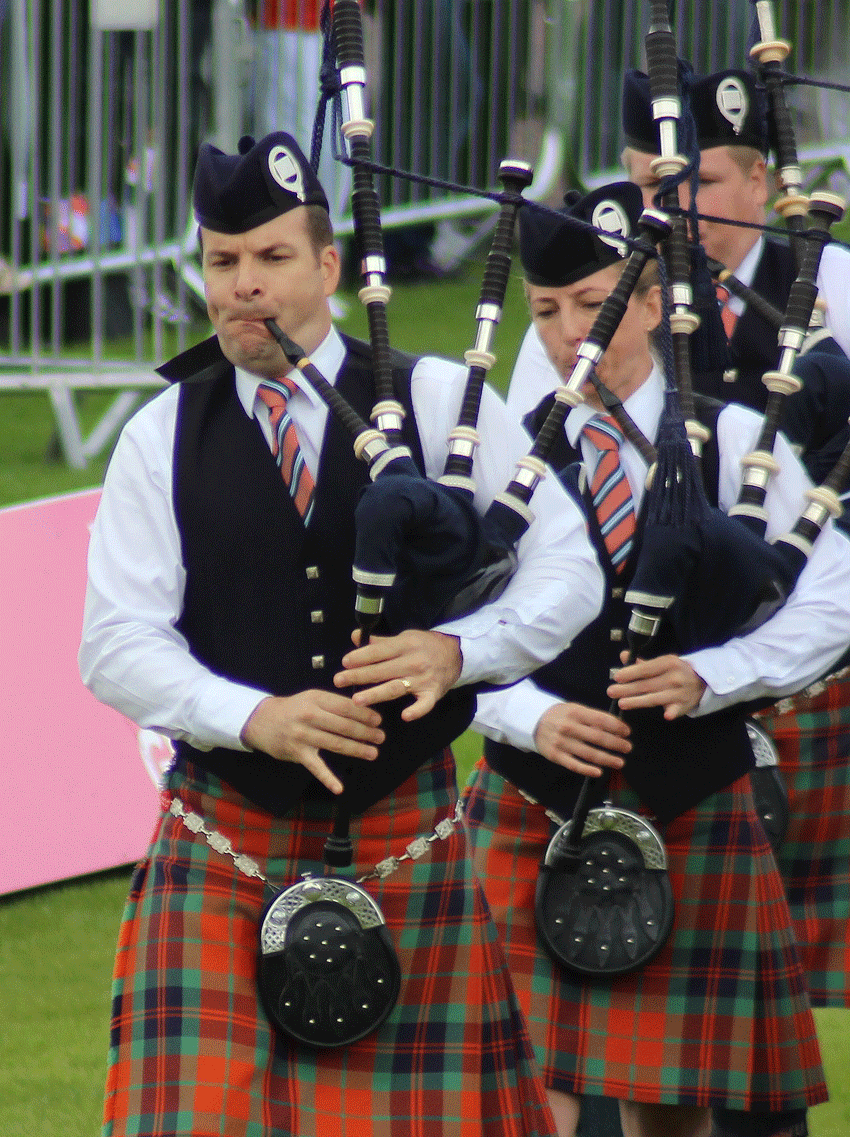 SFU's MSR only really came alive in the reel, John MacKechnie. Till this point they were too cautious in their delivery; annoying because  everything was beautifully executed and the sound solid. Brownie points for putting in the seldom heard Marchioness of Tullibardine.

A rattling good Links of Forth got Fife Police off to a flyer. They stalled a bit in the strathspey and reel – concentration and confidence issues perhaps. There was a suspicion of insecure blowing on F when they hit Mrs MacPherson of Inveran but overall a band that was trying for the top and as a result made the list.
Spirit of Scotland had a weaker sound than Fife and had several serious disconnects between pipes and drums. Highland Wedding was better than at Dumbarton but not by much. I expected more after hearing their promising qualifying Medley.
Rough passages of unison plagued Glasgow Police though they started well. Good tempi throughout, but the new P/M hasn't quite got it together yet. A hard winter's work might make all the difference. We all want to see this band back up there.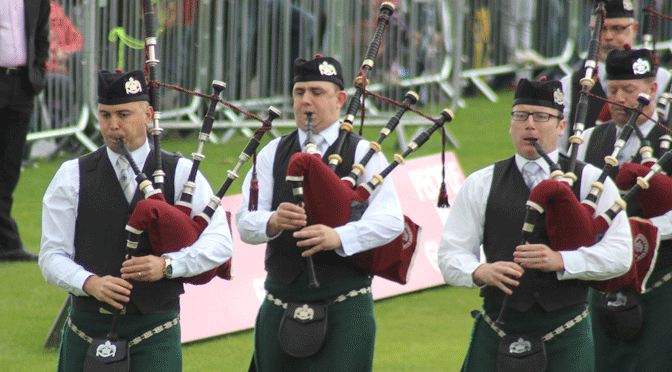 St Laurence O'Toole showed how Highland Wedding should be played, neatly phrased and controlled and at a good, swinging tempo. A lovely, steady drone tone and bright chanters marked SLoT out as contenders for the top prize and anyone who thinks Irish bands can't play strathspeys should have a listen to their MacBeth's Strathspey on line.
Brigadier Cheape used to be heard a lot more in Grade 1, its difficult third part many a band's nemesis. So it was here for the 78th Frasers from Toronto. That, a thin sound, and a limp strathspey, did for them I'm sorry to say.
No such musical worries for Manawatu who fairly cracked on with Links of Forth, Dora MacLeod and Pretty Marion. Rhythmical and steady throughout, one wonders what this band could achieve if they were domiciled nearer the action. The high A might have suffered towards the end and the bass drum was overpowering, but for delivering consistent phrasing and exciting tempo this band deserve all credit.
Immaculate is the only word I can find to describe Field Marshal Montgomery's performance. The sound filled the arena, the tempos were rock solid and the execution – well it just doesn't get any better than this. I could not fault it. Not an easy set either: Balmoral Highlanders, John Roy Stewart and Charlie's Welcome, the latter brilliant in the control of the top hand to bottom work. FMM are pictured up top celebrating after their big win.
Scottish Power had a good go at following them, with a strong shaping of Edinburgh Police Pipe Band. This is a surprisingly good march for a band and we should all be pleased Roddy Campbell's tune has come into vogue. P/M Armstrong seemed to take his foot off the gas in the strathspey and reel and the band's overall impression diminished as a result but a fine performance nevertheless.
My result: 1 FMM 2 Inveraray 3 SLoT 4 Power 5 Fife 6 Manawatu
Actual: 1 Inveraray 2 FMM 3 SLoT 4 Shotts 5 Power 6 Fife
Three hours later we were back for the Medley with a noticeable increase in the size of the crowd. I am convinced there are two things that are keeping the audience away from the MSR. The first is the repetition of tunes and the second, bands failing to apply the same exciting tempi and expression they do in the medleys. There can be no question that MSR playing has gone backwards in the last few years, the top five or six bands excepted.
First on were Shotts and, as if to make my last point, this was a different band than the one we heard in the MSR. The sound was crisper and that was reflected in the medley: entertaining and exciting throughout with a rousing finish. This was much more like the 2015 World Champions.
Next came Inveraray and the resounding cheers at the end told you everything you needed to know. This was magical playing from P/M Liddell and his band. Their medley had everything: interesting rhythms, key changes, precision technique – and above all melody. I would not have been alone in being captivated by the folk song air 'She Moves through the Fair'.
At this point I departed Arena 1 for the Grade 2 final from where I will report in my next bulletin from the Worlds. Stay tuned for more on the Grade 1 medleys.