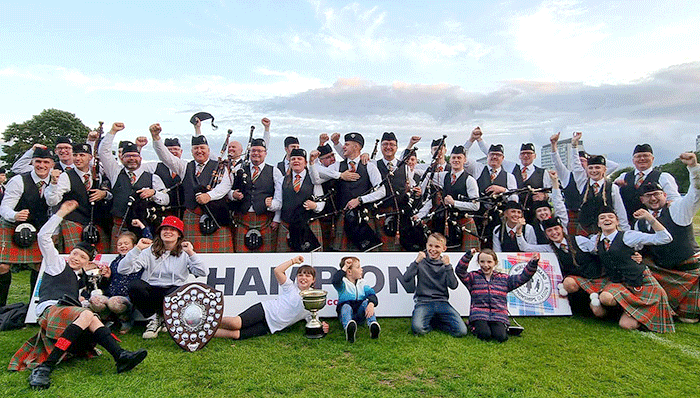 Twenty bands and 30 drum majors from Northern Ireland attended the World Pipe Band Championships in Glasgow in an overall entry of 190 bands and 44 drum majors from 15 countries.
The only World title claimed by an NI Branch band was G3A by Tullylagan, together with the drum corps title. This was a great achievement for a band celebrating its Centenary. Only ten prizes were annexed by NI bands across the nine grades: Field Marshal Montgomery (2nd G1, Best MSR & Medley drumming), Ravara (5th G2), Tullylagan (1st G3A & Drumming), Cullybackey (2nd G3B). In G4A, Syerla were 2nd, Cloughfin 4th and Gransha 5th.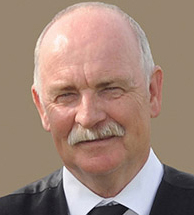 Those of us who attended avoided the terrible storms which afflicted Northern Ireland on the Friday, and while Glasgow on the Saturday did have some short bursts of light rain, a prolonged period of strong sunshine in the afternoon was enjoyed by a crowd in excess of 30,000. The march past and prize giving was long – understandably so given the large entry and around 105 prizes to be announced and distributed.
The presence of bands from Oman and Malaysia in their very colourful uniforms was a pleasant distraction, with the Royal Army of Oman awarded Best Band on Parade by adjudicator D/M Brian Wilson MBE.
As the Worlds was the last Major of the season the RSPBA Champion of Champions titles were also distributed. NI competitors took a fair percentage of prizes, with two drum major titles going to Emma Barr (Adult) and Louis Anderson (Juvenile). While no band titles went to our local branch, the drum corps of Altnaveigh (G4B), Tullylagan (G3A) and the Field Marshal were successful. 
Great achievements by all the bands, however the success of Gareth McLees and his FMM drum corps is worthy of special mention. Gareth took over the drum corps only last November in what was a planned move and he and his corps have been at the top of their game ever since against the best drummers in the world.  
---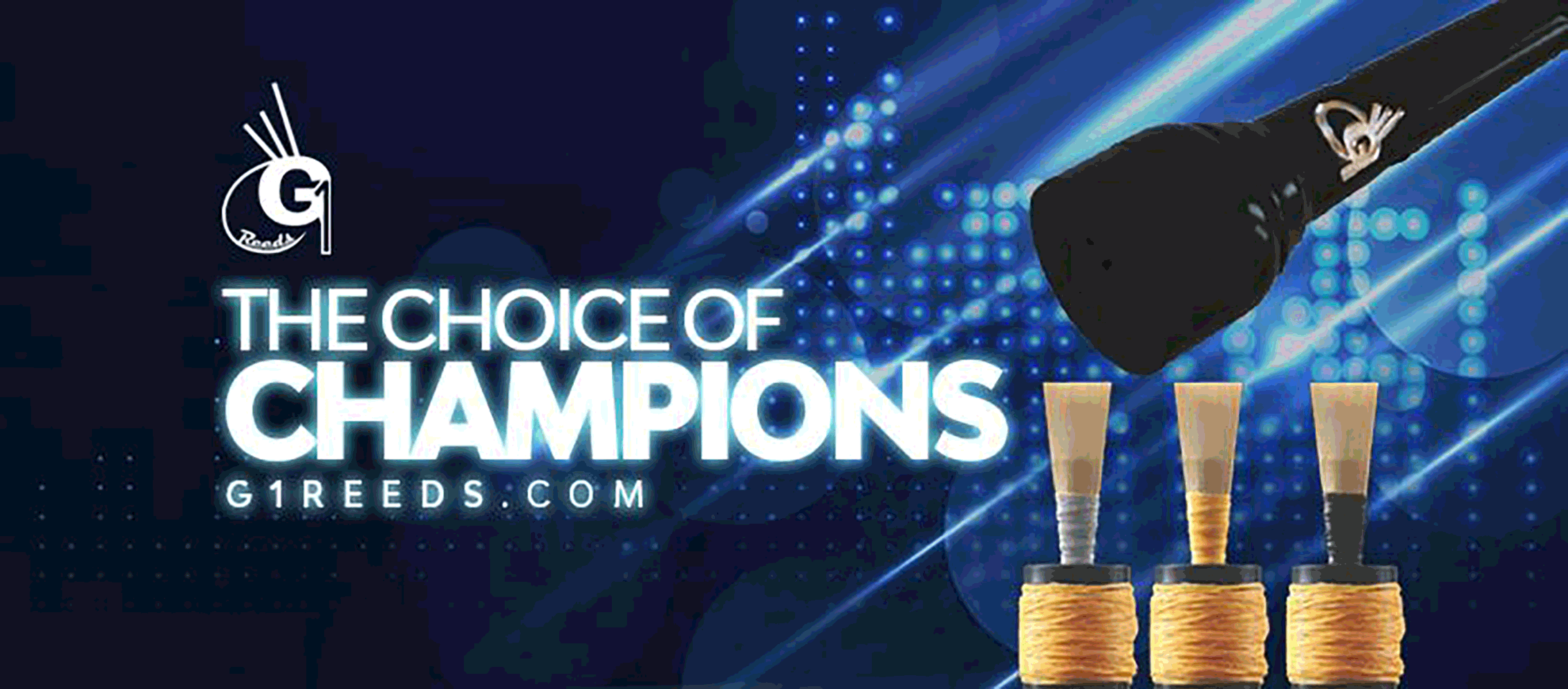 RGH-Heritage-pipingpress-800×300
MacRaeBanner '19

Ayrshire Bagpipes Nov 2020
Selcraft-UK—Piping-Press—Advert
2024_WW_Ad_PipingPress_Ani
---
The Heart of Down Championships on 5th August enjoyed a reasonably calm and sunny day. Those who attended Donard Park were heartened that car parking problems from the last year were not repeated with the popular Greenhill grass area being made available. The experienced adjudication panel comprised Mark Faloon, John McCarlie, John Reville, Peter Snaddon QVRM (Piping), Keith Orr and Mark Wilson (Drumming), John Moles and Alan Ronaldson (Ensemble) and Alicia Dickson Hamilton and Alan McBride (Drum Majors). Full results on the RSPBANI website.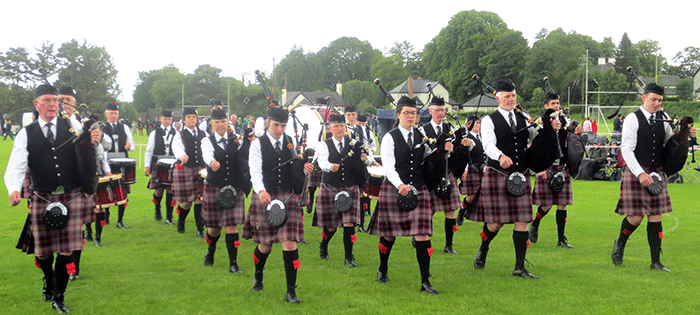 The Antrim Forum hosted the 70th Ulster Champs. on August 12th on what was the final local contest of the season when the Champion of Champions prizes were also decided. This is the oldest NI Branch competition, first held in Ballymena in 1951 and only missed in 1968 due to civil unrest, and 2020 and 2021 due to the pandemic. There was considerable disappointment among supporters when they found out that Field Marshal and St Laurence O'Toole had opted out. Full results on the RSPBANI website.
New pipe band for Mourne: The Schomberg Society based in Kilkeel, County Down, provides extensive Ulster Scots cultural activities, festivals, and training over the Mourne area. They recently advised that they are forming a new band, with classes in pipes, tenor and snare drums at Reivers House, Kilkeel, from 7.30pm each Wednesday evening. Tutors are Jack McGowan (pipes), Matthew Brown (snare) and Kathryn Stewart (tenor) – all members of the Grade 3A Drumlough Pipe Band. The Society say they have been overwhelmed by the interest they have received.
Belfast International Tattoo took place at the beginning of the month. The outstanding massed band composed three from overseas: Delta, Ottawa and Auckland Police, plus Major Sinclair Memorial, and a fair sprinkling of competition players from across Northern Ireland and beyond. Ballygowan Pipe Band gave a superb performance demonstrating what a tuneful instrument the Brian Boru pipes are. There are six of these bands in Northern Ireland, indeed they are the only ones known in any part of the world. The other five are Ballymartin, Cavanaleck, Crimson Arrow, Glenageeragh and Plumbridge. If you have never heard these bands play you can find the Ballygowan performances at the Tattoo on Facebook.
Gareth McLees is UK Solo Drumming Champion & Bobby Rea trophy winner. Eleven drummers competed at the event held at Greystone Primary School in Antrim, with six, Gareth, William Glenholmes, Fionn Murphy, Matthew Cole, Gavin McCrae, and Matthew Shaw, qualifying for the semi-finals of the World Solo Drumming in Glasgow on October 21st.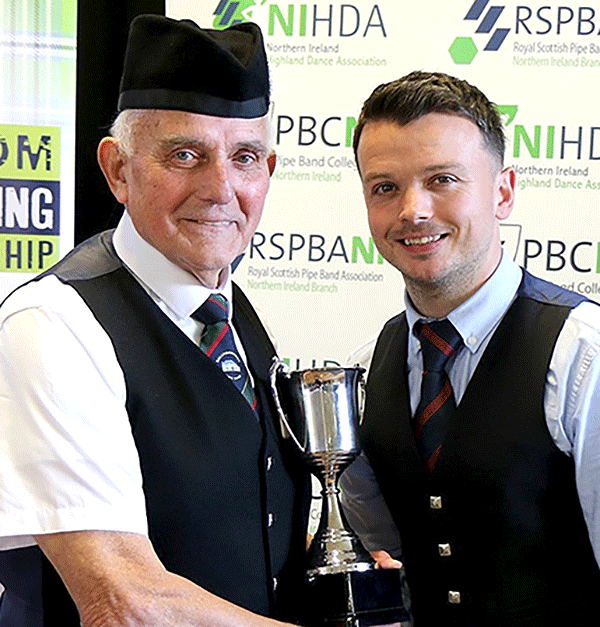 The Arts Council of Northern Ireland has opened its Musical Instruments for Bands programme. Grants of up to £10,000 are available to formally constituted NI bands. Further info here. Closing date is 12 noon, October 2nd 2023.
Blackthorn Pipers Society began its winter sessions last Wednesday September 20th when the guest piper was 22 year old Beth Preston from Newtownhamilton, County Armagh. I'll have a report on the evening in a later bulletin.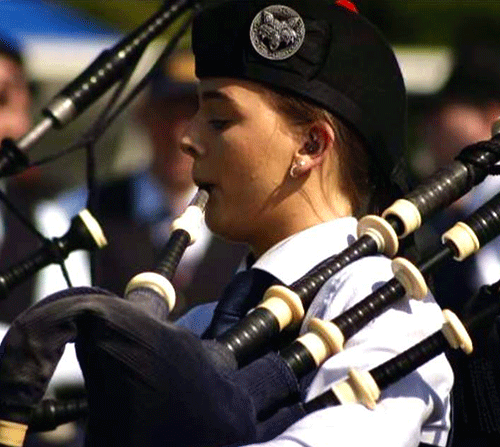 Many congratulations to Down Academy P&D for organising an outstandingly successful Juvenile Piping & Drumming competition in Ballynahinch High School. There were an excellent 61 entries and an attendance in excess of 150 – beyond their expectations. The idea was to give Juvenile players a run out before All-Ireland & JAC Solos in Lusk, County Dublin.
The organisers allowed drummers to play to a recording of a solo piper. Adjudicators were Mark Faloon (Piping) and Adrian Hoy (Drumming). Piping: U12 Chanter: 1 B Cardy, U13 Practice Pipes: 1 R Rodgers, U14 Piping: 1 D McBlain, U16 Piping: 1 S Townsley and U18 Piping: 1 R Doherty. Drumming: U12 Practice Pad: 1 H Turkington, U13 Unaccompanied Snare: 1 L Kerr, U14 Drumming: 1 L Doherty, U16 Drumming: 1 L Doherty.
Full results on the band's Facebook page. Band Chairman Eric Megaw was in contact with me after the event and said that the band will be looking seriously at staging a similar event in 2024 and might well consider, if there is an appetite amongst bands, including events such as quartet piping or mini bands.