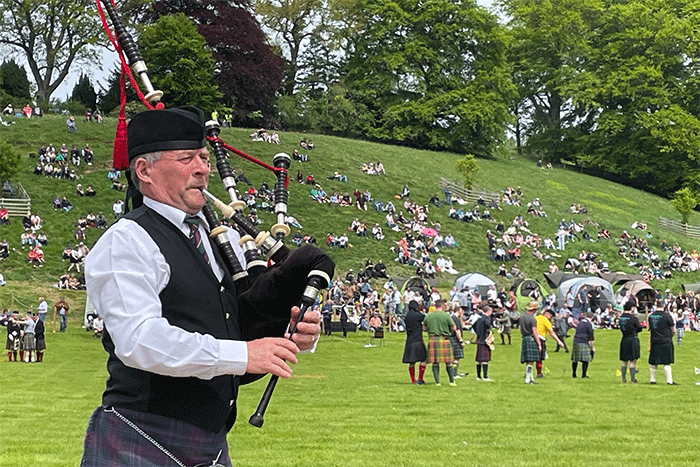 The Atholl Gathering was held today (May 28) in the grounds of Blair Castle, Perthshire. More than 60 solo pipers, junior and senior, competed.
There were graded senior contests for piobaireachd. Light music events for March, Strathspey and Reel and Hornpipe & Jig were open. The ceòl beag was split into four heats with four pipers in each progressing to the final.
Three tunes were asked for in ceòl mòr and MSR. The H&J and Juniors were own choice, but H&J finalists had to play a different set in the final. Results:
P/A Piobaireachd
1 Roderick MacLeod, Lament for the Viscount of Dundee
2 Sarah Muir, Lament for the Dead
3 Angus MacColl, Red Speckled Bull
4 Sandy Cameron, Battle of the Pass of Crieff
5 Steven Leask, Sobieski's Salute
B Piobaireachd
1 Cameron May, Lament for Donald Duaghal MacKay
2 John MacDonald
3 Eireann Ianetta-MacKay
4 Fraser Allison
5 Edward Gaul


C Piobaireachd
1 Alastair Brown
2 Keith Bowes
3 Cameron MacLeod
4 Daniel Johnstone
5 Calum Dunbar
---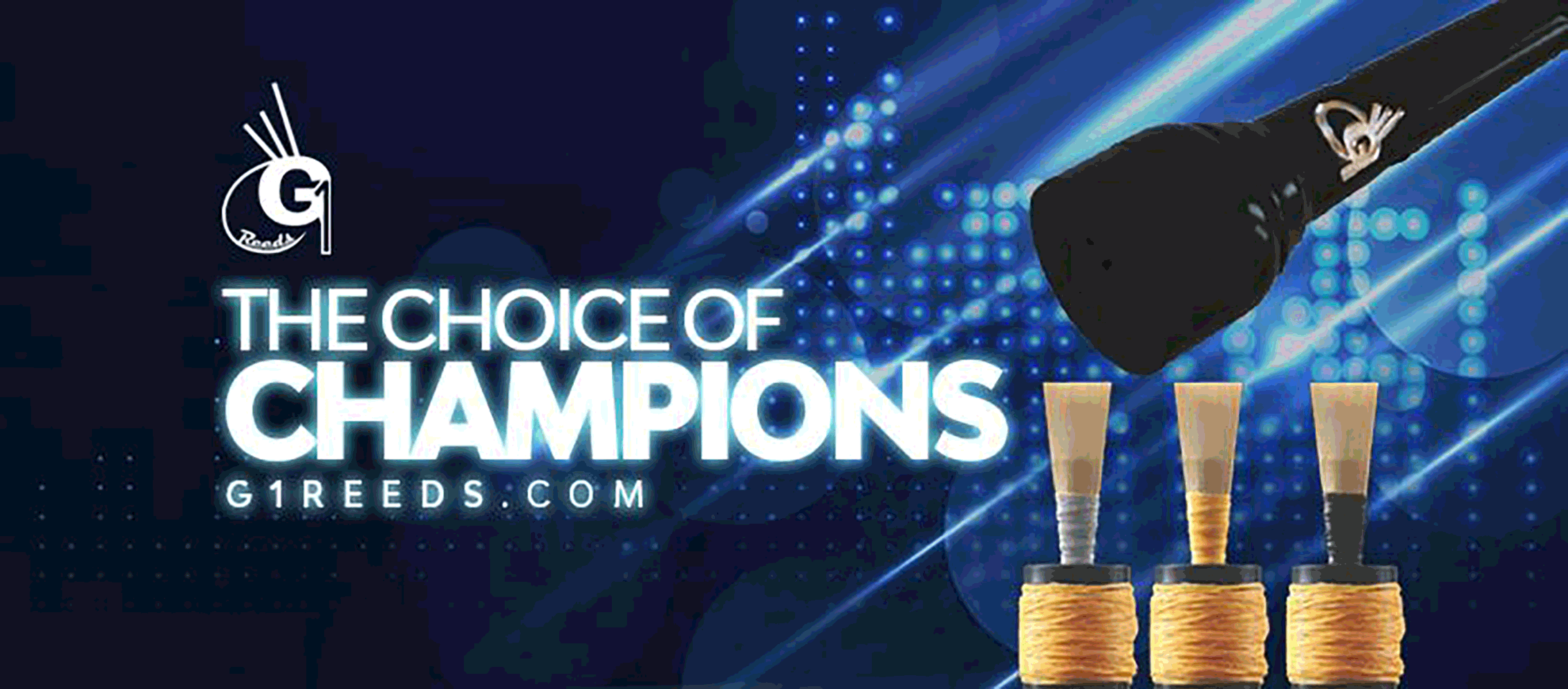 RGH-Heritage-pipingpress-800×300
MacRaeBanner '19

Ayrshire Bagpipes Nov 2020
Selcraft-UK—Piping-Press—Advert
2023_BalmoralClassic_Ad_PipingPres_Rv
---
Ceòl Beag
MSR
1 Ben Duncan
2 Roderick MacLeod
3 Sandy Cameron
4 Sarah Muir
5 Angus MacColl

H&J
1 Angus MacColl
2 Sandy Cameron
3 Sarah Muir
4 Bobby Allan
5 Steven Leask


Juniors
Piobaireachd
1 Lachlan Rennie
2 Arran Green
3 Rory Cairns
4 Rory Menzies

MSR
1 Lachlan Rennie
2 Arran Green
3 Jamie Fraser
4 Grace Kelman

Jig
1 Lennox Munro
2 Arran Green
3 Grace Kelman
4 Rory Cairns
Judges: C Armstrong, R Barnes, R Clarke, I Duncan, D Fraser, M Henderson, P Henderson, P Hunt, R MacShannon, W Morrison, R Wallace, J Wilson.
The Editor writes: This was an excellent day of piping in the Perthshire Highlands. Events began at 10.30 – allowing plenty of time to get there – and concluded seven hours later. The weather was bright and sunny, though cold for the early performers in the morning.
Stewarding was ultra efficient thanks to Alistair Duthie and his Army team. The judges I spoke to reported a high standard among the prizewinners, but given the mixed gradings in the light music heats, things varied quite a bit there.
There was good support from pipers right through the grades and it was pleasing to see some senior players who hitherto have not been going round the games getting out for a tune.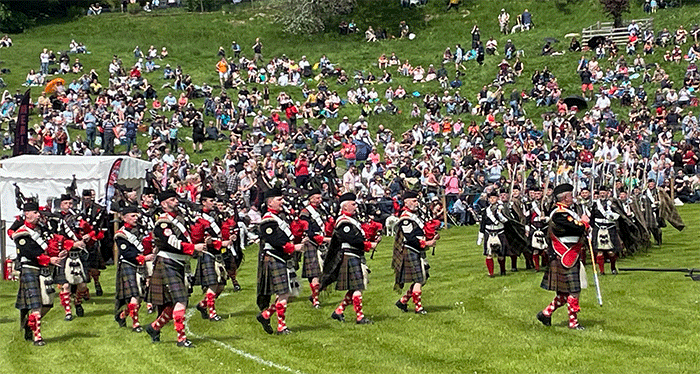 For us the piping may have been the main thing, but the stars of the show were unquestionably the band and private army of the Atholl Highlanders, briskly parading twice during the day, scaring the tourists by firing off their cannon, getting their hands ruined in the tug-of-war and running the traditional kilted race. All great fun, and mixed with the dancing and the heavies' events, giving the Atholl Gathering its unique character.
Before closing a word for the Atholl's P/M Gary West who kindly held up his band's close by performance to allow a competitor in the Hornpipe & Jig to finish his tunes.
---