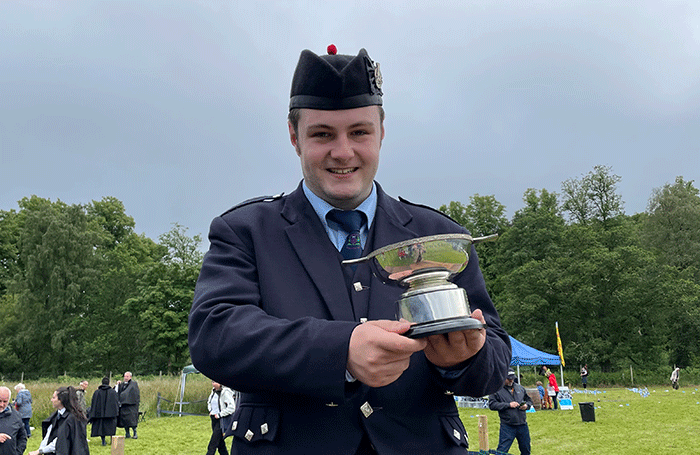 Light rain showers interspersed dry spells at this picturesque games on the banks of Loch Lomond. It was not cold. There was an entry of 12 in the Open categories, three in the Juniors and eight in the CLASP amateur events. Judges for piobaireachd were Wille Morrison and Ronnie MacShannon, and for light music, Ian McLellan and myself, writes the Editor.
Bobby Allan was worthy winner of the Open Piobaireachd with a clean rendition of Glengarry's March. Bobby also placed well in the light music. He is pictured above with the piobaireachd trophy.
In light music, the overall champion was Christopher McLeish from Brisbane, Australia, with a good showing from another Brisbanite, Rebecca Capon. Eireann Iannetta-Mackay also had a good day out.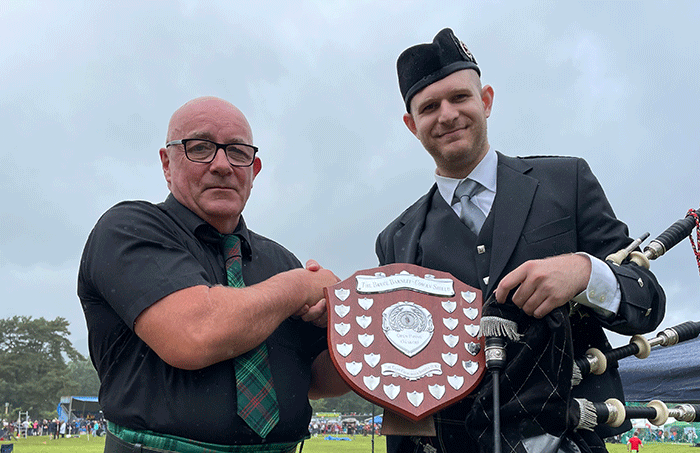 Christopher played cleanly, phrased well, and presented his tunes in a professional manner on a clear, balanced pipe. Bobby had some weak double Cs in his strathspey but otherwise played well too. Ben Mulhearn also played well in the S&R as did Eireann Iannetta-MacKay in the March.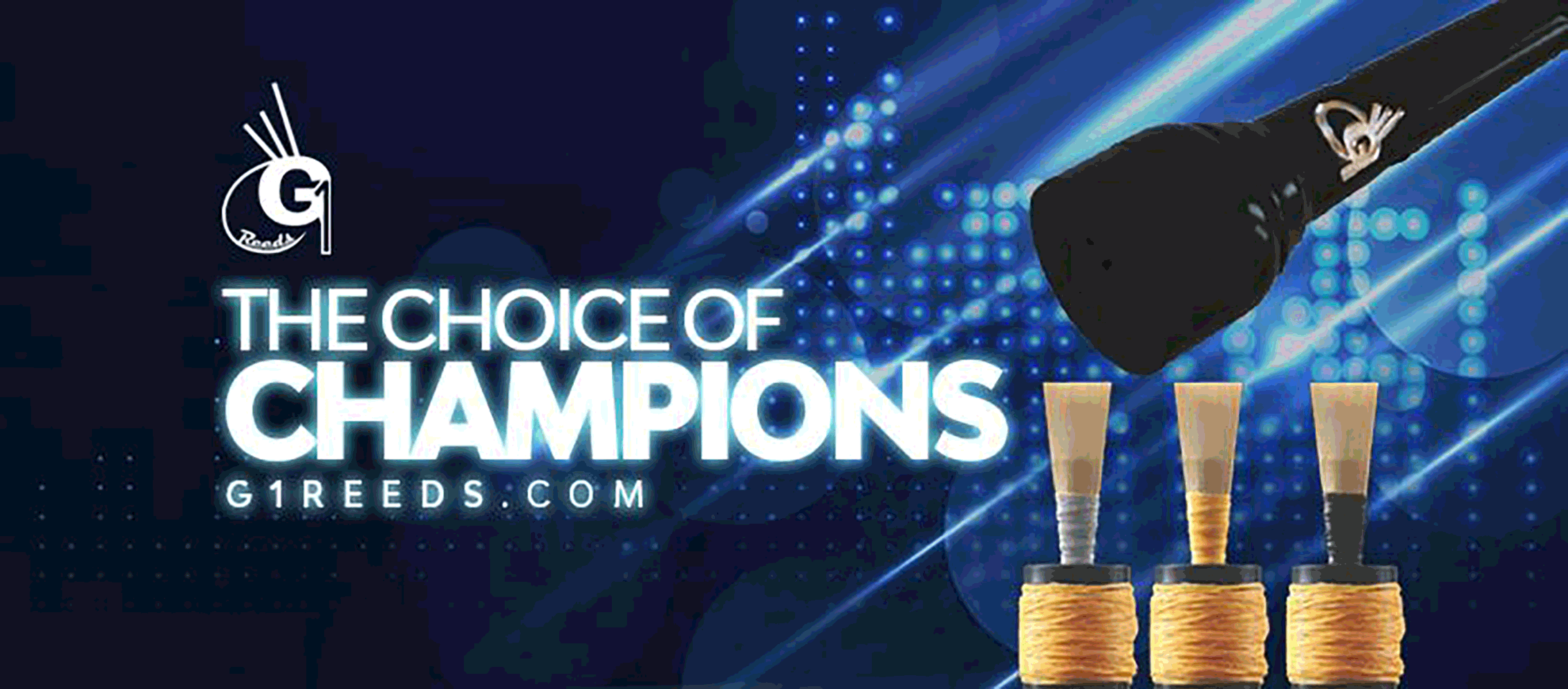 RGH-Heritage-pipingpress-800×300
MacRaeBanner '19

Ayrshire Bagpipes Nov 2020
Selcraft-UK—Piping-Press—Advert
2023_BalmoralClassic_Ad_PipingPres_Rv
---
Open Piobaireachd, three tunes asked for
1 Bobby Allan, Glengarry's March
2 Eireann Iannetta-MacKay
3 Luke Kennedy
Open March, three tunes asked for
1 Christopher MacLeish, MacLean of Pennycross
2 Rebecca Capon, Jimmy Young
3 Bobby Allan, Arthur Bignold
Open S&R, three tunes of each asked for
1 Christopher McLeish, P/M Hector Maclean, Sandy Cameron
2 Bobby Allan, Susan MacLeod, Grey Bob
3 Eireann Iannetta-MacKay, Highland Harry, Drumlithie
---
Luss picture gallery 1:
Peter McCalister competes in the Open Piob as judge Ronnie MacSHannon looks on

Ben Mulhearn in the MSR

Light music champion Christopher McLeish

Brian Mulhearn not so lucky with the weather

A fine march from Rebecca Capon, Queensland

Champion Piper, Bobby Allan

Third place in the Open Piob for Luke Kennedy
---
Junior MSR
1 Arran Green, Craigendarroch, Struan Robertson, Lord MacDonald
2 Flynn Porter, Young MacGregor, Cabar Feidh, Sandy Cameron
3 Cameron MacPhail, P/M George Ross's Farewell to the Black Watch, Top of Craigvenow, Traditional Reel
CLASP
Grade 1 Piob: 1 Craig Black 2 John Nevans 3 Iain Kirkwood
Grade 1 March: 1 Craig Black, Braes of Castle Grant 2 Iain Kirkwood, Crags of Stirling
Grade 1 S&R: 1 Craig Black, Shepherd's Crook, Sheepwife 2 Iain Kirkwood, Ewe wi' the Crookit Horn, Lachlan MacPhail of Tiree
---
Luss picture gallery 2:
---
Grade 2 Piob: 1 Stephen Whitton 2 Duncan Lamont d Christopher Yeo
Grade 2 March: 1 John Nevans, Donald MacLellan of Rothesay 2 Chris Yeo, Knightswood Ceilidh 3 Duncan Lamont, Cat Lodge, Kalabakan
Grade 2 S&R: 1 John Nevans, Caledonian Canal, Brown Haired Maid 2 Chris Yeo 3 Duncan Lamont
Grade 3 Piob: 1 James Acheson 2 Rebecca Morris 3 John Toss
Grade 3 March: 1 John Todd, Millbank Cottage 2 James Acheson, Glenfinnan Highland Gathering 3 Rebecca Morris, Lady Lever Park
Grade 3 S&R: 1 John Todd, Struan Robertson, Major Manson 2 James Acheson, Dorrator Bridge, Lachlan MacPhail 3 Rebecca Morris, Caledonian Canal, Sound of Sleat