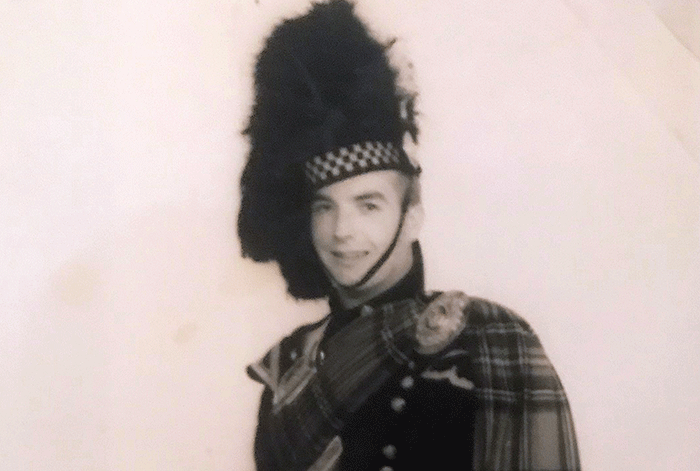 The death has been announced of Campbell McGougan who passed away on 5th June at Redwoods Care Home, Alness, Ross-shire. He was 92 years of age.
(Please see the notice below for details of his funeral which takes place next Tuesday.)
Campbell McGougan, first name Neil seldom used, had a lifelong love of piping. He was born in Campbeltown where has was taught by Peter McCallum a scion of the famous family.
As a young man Campbell joined Glasgow Police Pipe band under P/M John MacDonald, South Uist, and continued his tuition under Charles D Scott.
In the '60s he would attend Shotts practices where he watched and learned the intricacies of reed manipulation from the ever helpful MacAllister family.
He moved to Lanarkshire Police in 1969 and transformed the pipe band, creating an outstanding tone using Sinclair chanters. He also recruited world class players including Hugh MacInnes, John Walsh, Gordon Campbell, Barry Donaldson and drummer John Scullion. (More on the band below.)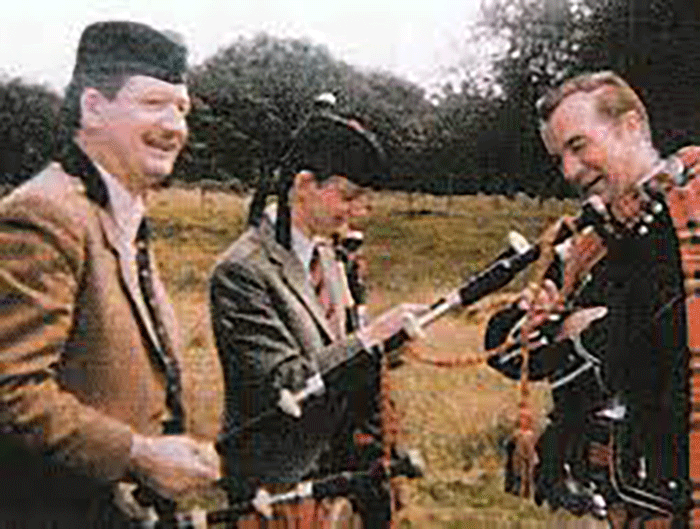 Campbell took them from Grade 4 to winning the Grade 2 Worlds. The band was on course to enter Grade 1 but ended up being amalgamated into the new Strathclyde Police Pipe Band.
Campbell went on to travel the world playing with the British Caledonian Airways Pipe Band. There he had an influence on a new raft of pipers including Pipe Major Angus MacDonald, Scots Guards, whose 'Ferrari' tone and routine he generously credited to Campbell: sheepskin bag, Airtight seasoning, long water trap, Sinclair chanter, McAllister reed. Others followed that system with great success too.
Later Campbell retired to Oban and then Dingwall where he was a stalwart of the local piping communities. He continued teaching, organising recitals and supporting competitive piping.
---
My Memories of Campbell and Lanarkshire Police
By Barry Donaldson
My first piping instructor was Jimmy Russell who resided with his sister in one of the old mansion houses in Hamilton. At that time my weekly lesson took place there and on occasion Campbell, who was the local beat officer, would come into the house and join us. He kept his practice chanter down his baton pocket. 
Campbell was keen to get me to join the Lanarkshire Police, however in 1972 I ended up joining Dundee City Police. Campbell was promoted at Lanarkshire and became the recruiting sergeant. He approached me to transfer to Lanarkshire. I agreed and he made the necessary arrangements.
Campbell had already sourced John Walsh and Gordon Campbell. Hugh MacInnes was already in the band and eventually took over as P/S from Willie Sommerville. When I arrived, Campbell was arranging for John Scullion to come over from Northern Ireland as leading tip.
Those in the picture below are, as best as I can remember, back rank left to right: Piper John Rodgers, drummer not recognised, Piper David Thom, Piper Hugh MacInnes?, Drummer Jack Drummond, Piper John Walsh or Donald MacDougall, Drummer Peter Nevans?, Piper Gordon Campbell, Drummer Peter Baird.
Front rank: P/M Campbell McGougan, Drummer not recognised possibly John Scullion, Drummer not recognised, Piper Willie Sommerville. I'm not in this photo. Please forward any info to fill in the gaps.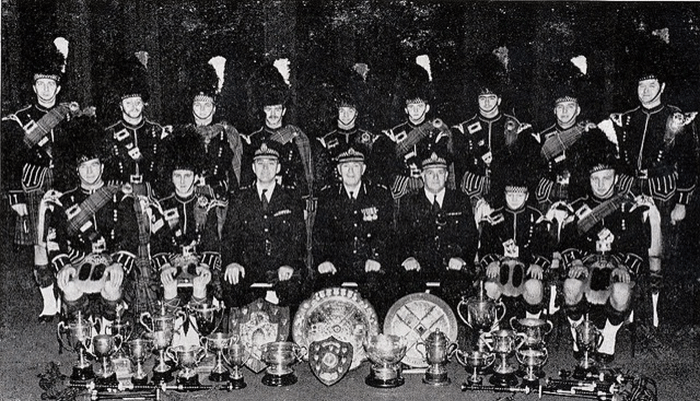 There were other strong pipers in the band, and Campbell understood how to create a powerful sound. He had purchased a new set of Sinclair chanters and, using the MacAllister reed, was able to harness that unique Sinclair sound. He made us blow extremely strong reeds and it worked.
These chanters were the original Sinclair chanters which Ian McLellan fell air to on the amalgamation of the police forces which became Strathclyde Police in 1975. By that time the chanters were all fine tuned and resonating better than anything else that was being played at the time.
The band travelled to competitions in the police force bus with Campbell driving us, however it was not uncommon for us to use the black maria (prison bus), a source of amusement to other bands when we were arriving at competitions!
I recently spoke with John Walsh and he was reminiscing about the fact that if it wasn't for Campbell many of us would not have enjoyed the piping and drumming careers we experienced.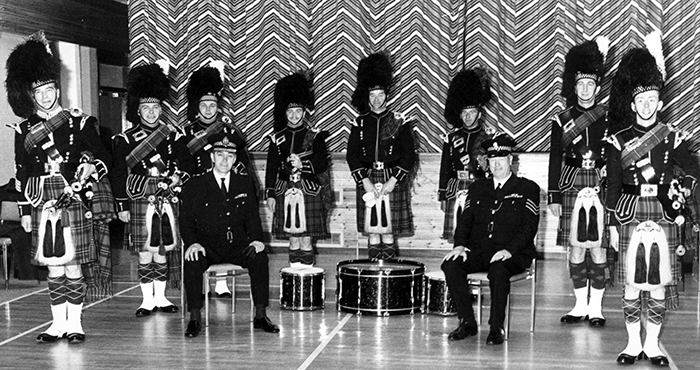 The Lanarkshire band was disbanded in 1975 simply because the Strathclyde Chief Constable David McNee was not prepared to support more than one band.
Campbell told me to attend the new band's practices in the Ram's Horn church in Glasgow, but I declined as at the time as I was policing and residing in Larkhall and wasn't prepared to travel. However he told me that I would be paid overtime for band duty, practices etc. That did it; I was in. The rest is history.
Campbell and I were the only two from the original band who joined up. At that time you had to be a serving police officer to be a member of the band, a Glasgow Police policy, so some Lanarkshire Police band members were ineligible. Some of the other police officers did come to practices but didn't stick it. 
I have no doubt that had the Lanarkshire band sustained it would have been in Grade 1 and punching at the top end. Campbell was a very knowledgeable P/M and the team he had around him were, man for man, as good as any of the top Grade 1 bands. We just didn't know that at the time.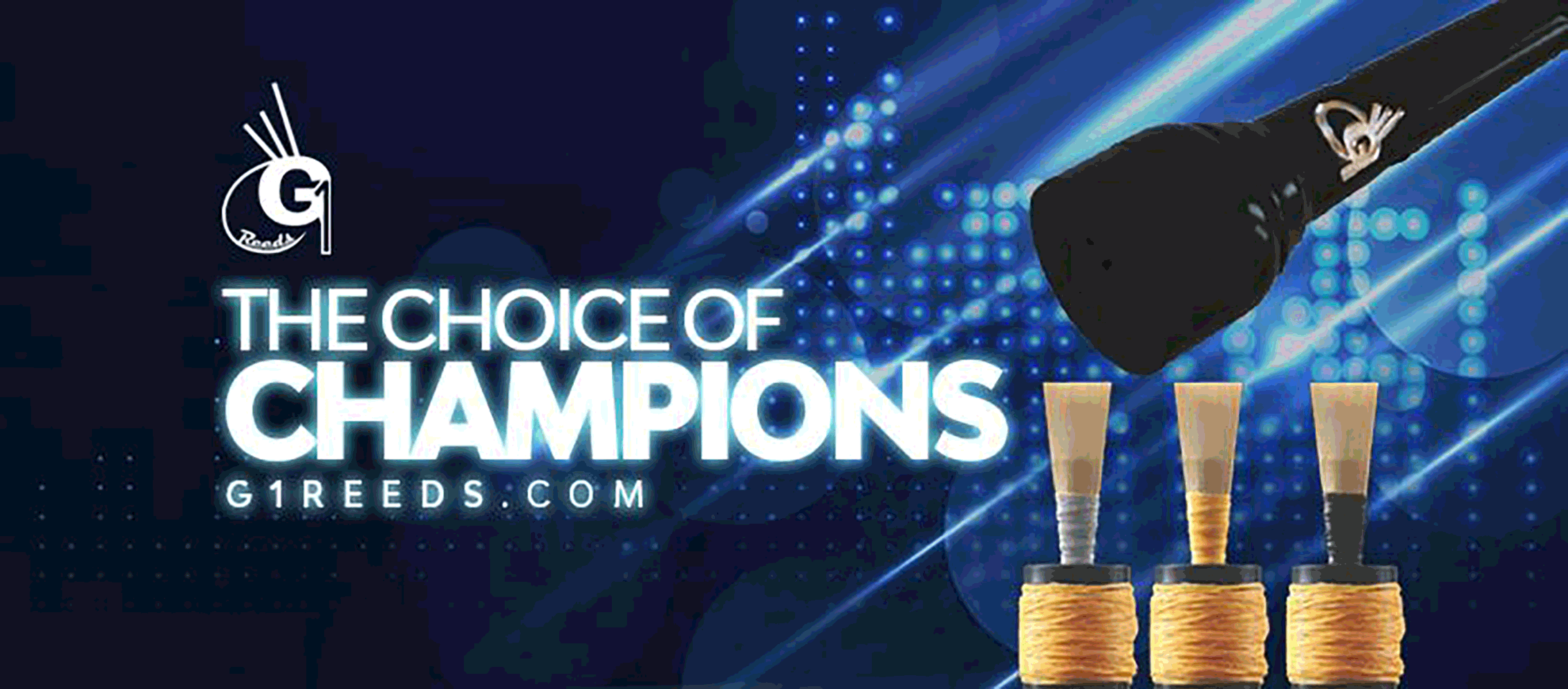 RGH-Heritage-pipingpress-800×300
MacRaeBanner '19

Ayrshire Bagpipes Nov 2020
Selcraft-UK—Piping-Press—Advert
2023_BalmoralClassic_Ad_PipingPres_Rv
---
Campbell, the Village Bobby
There was more to Neil Campbell McGougan than piping. I first heard of Campbell as he was THE policeman stationed in Strathpeffer, which is about four miles west of Dingwall, my home town.
Strathpeffer was a sleepy kind of place and it would have been a single man police station. I cannot recall with accuracy the years that Campbell was stationed there. McGougan was quite an unusual name in that area and rather than him being known locally in his Sunday name 'Campbell', he was more known as 'McGougan the bobby.'  Doubtless he got other less affectionate names which go with the territory.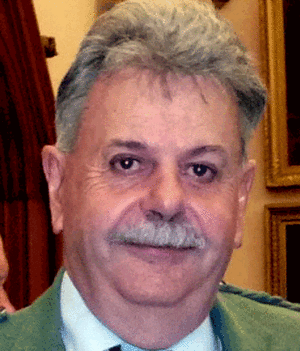 By Duncan Watson
Campbell had previously served with the police in Lanarkshire and transferred to the Ross and Sutherland Police, which later became known as the Northern Constabulary.
There is no doubt that some of the local worthies in 'the Strath and surrounding area' must have wondered what happened when confronted with this guy McGougan. Without being too explicit, while there was indeed legislation to be adhered to, there was also what might be termed 'The Ways and Means  Act', and while some locals may have fell foul of this, a lot of the more minor, more spontaneous acts of stupidity, maybe through over indulgence in drink, were dealt with by some form of summary justice and never got to court. 
The police in those more remote areas were engaged in the prevention of red deer poaching and there were some very active commercial poachers in the area and Campbell was involved in cases which could attract heavy penalties with vehicles being confiscated etc. Policing in such communities was challenging at times.
During Campbell's service at Strathpeffer, the sleepy villiage was transformed on Friday nights into a rowdy place. There was, and still is, a hall called The Pavilion where dances were held.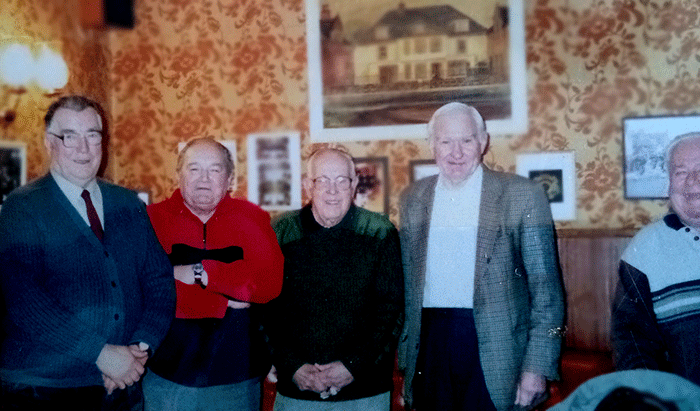 Buses travelled from as far afield as Elgin, Forres, Inverness, Tain  and other surrounding villages in the area to this place of doubtful, sinful assignment. As they would say in some quarters, 'We went for a fight and dancing broke out.' 
Campbell in his policing of the village was reputedly at the heart of maintaining the peace and did so in a style of policing which was diametrically opposite to the 'woke' policing now foisted upon such law enforcers.  
This was of course about 55 to 60 years ago, when the single man police station was a part of the community and police personnel were community based. I was not aware of a local community council in Strathpeffer, which would exist nowadays, but back then there were people in the community who, while not councillors did contribute to the fabric of the area and Campbell joined them in this. 
I did not have direct contact with Campbell at that time, but my father, Addison Watson, knew him and they engaged in piping conversations when my father had occasions to be at Strathpeffer.
When Campbell learned I intended joining the police, he gave me sage advice, 'You'll find it difficult at times, but keep your nose clean.'
Funeral Notice: Mr Neil Campbell McGougan – 'Campbell' of Argyll, Lanarkshire and Ross-shire. Husband to the late Netta, father to Myra, Neil and Christine, died peacefully on 5 June 2022 after a short illness at Redwoods Care Home, Alness, at 92 years of age. A special thanks to care home staff who made his last years very comfortable. The Funeral Service will be at D Chisholm & Sons Funeral Home, Huntly Street, Inverness, at 11am on 21 June 2022. Family flowers only. Donations to Marie Curie may be given at the door. Parking available on Balnain Street and along riverside.
---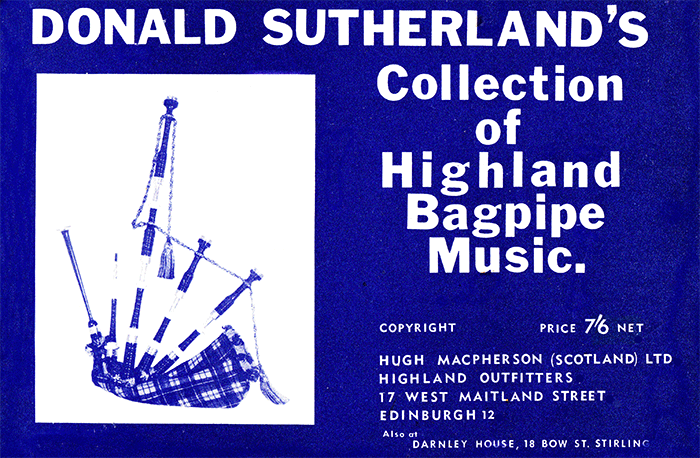 Donald Sutherland Collection (digital download)
Super tunes at a nominal price – a Piping Press service
Click here to purchase.
---