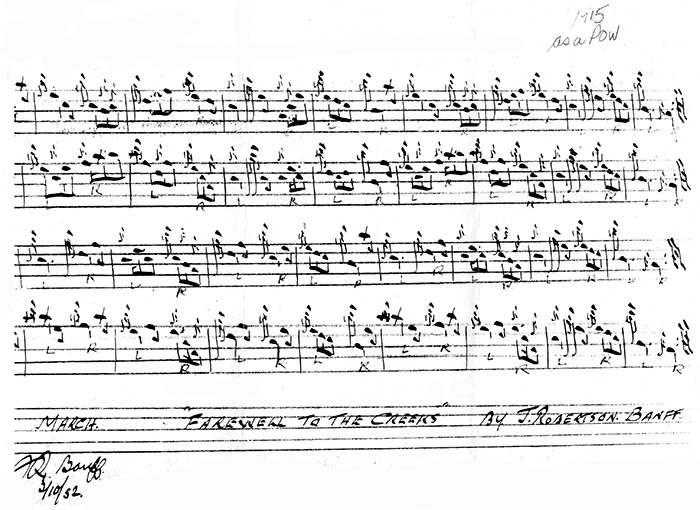 I read somewhere on the internet the other day of a new recording by Jack Lee of JB Robertson's [sic] 6/8 march, Farewell to the Creeks.
It's a common mistake but the tune was of course written by James Robertson, Banff, Gordon Highlander, and not the famous Scots Guardsman.
Robertson Banff was the teacher of my late comrade Joe Wilson and we have covered Joe's early life with his teacher and the 'Creeks' extensively on PP. Check out stories here and here.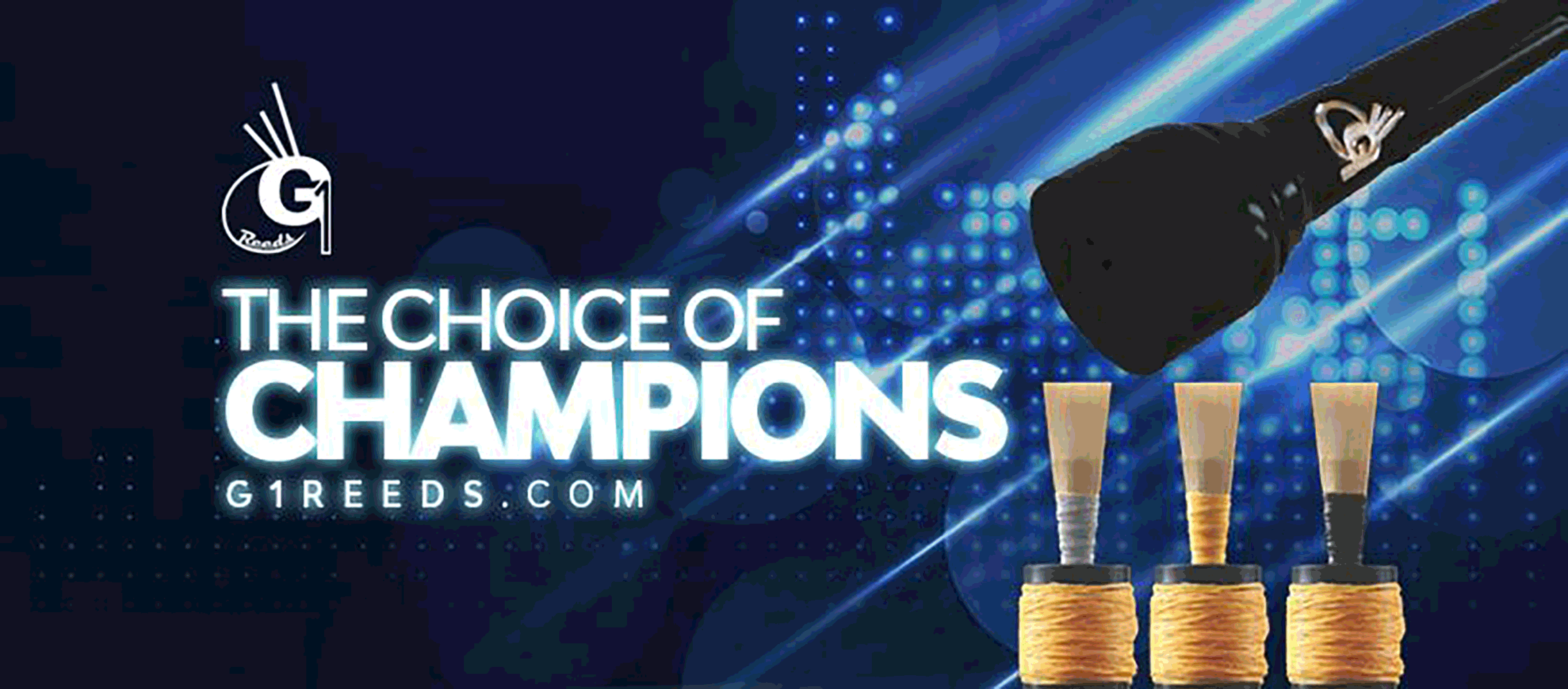 RGH-Heritage-pipingpress-800×300
MacRaeBanner '19

Ayrshire Bagpipes Nov 2020
Selcraft-UK—Piping-Press—Advert
2024_WW_Ad_PipingPress_Ani
---
---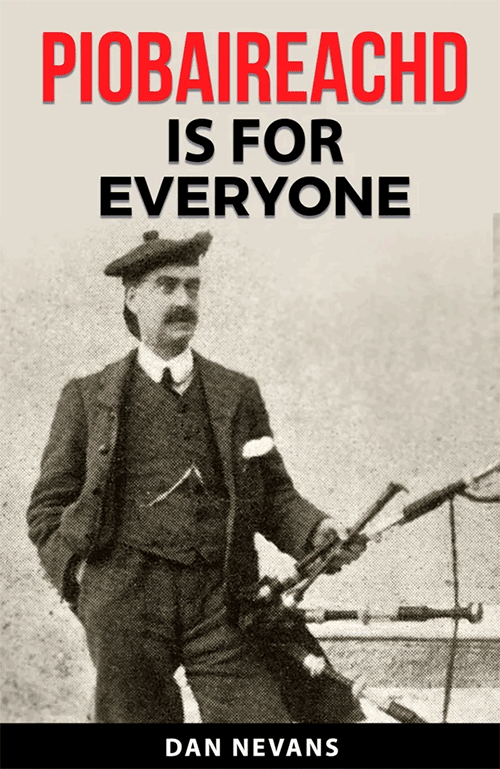 Author Dan Nevans has been in touch: 'I am pleased to announce that the audiobook for "Piobaireachd is for Everyone" will be available from this Sunday, May 1st, 2022, from dnpiping.com.
'The audiobook is over four hours long and comes in two parts. Read by myself, this recording also features excerpts of piobaireachd being performed on the bagpipe.
'The audiobook retails at £8 and comes with a PDF of the book's bibliography to aid further study by the listener.'
---
I learn of the death of Rolf Obliers the former hostel manager at Homburg. It was to this small town in Saarland that we took the College of Piping Winter School after our stay at Brüggen.
Rolf was delighted to have full occupancy during slack time at the jugendherberge. He and Irina ran the place with calm efficiency and gave us the perfect environment for our teaching.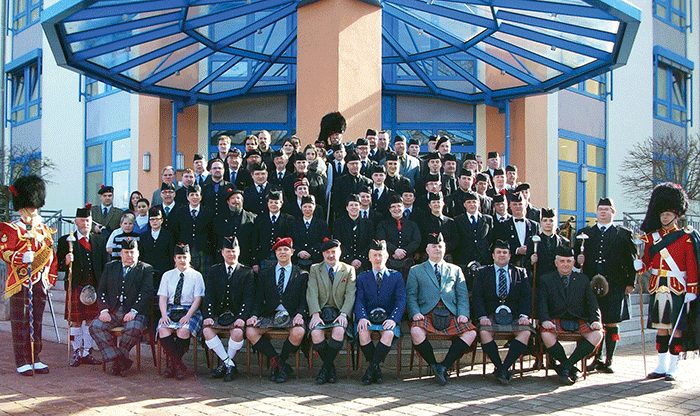 Though he could be brusque, Rolf was full of dry wit once you got to know him. I don't know if the school is still running but whatever, piping in Germany should have a small softspot for Rolf Obliers. RIP mien freund.
---
I was intrigued to see from the EUSPBA newsletter that one of their bands, Williamsburg Pipes and Drums, were planning to mark HM The Queen's Platinum Jubilee in the Virginia town on June 2nd.
The newsletter: '…The first is a concert in front of the Governor's Palace in Colonial Williamsburg and the second is a ceremony in front of the College of William & Mary's Wren Building.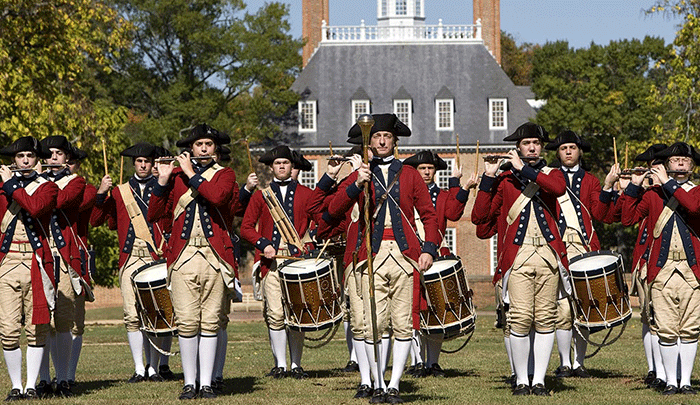 'Other opportunities are available at Colonial Williamsburg, Jamestown, and Yorktown earlier in the day for bands to gain exposure. EUSPBA judge and Mid-Atlantic Branch Chair Dan Lyden will serve as lead Pipe Major.
'The band is excited to be a part of this event and would be honored to have your pipers or drummers join us! For more information check out the Jubilee in Williamsburg information page or email the band at williamsburgpipesanddrums@gmail.com.'
It is nearly 250 years since the American colonies threw out the Brits but it is nice to see that part of the country's heritage is being remembered in the modern era with pipes and drums to the fore.
---
All Our Yesterdays…Northern Meeting 1970
Gold Medal: 1 Andrew Wright, Paisley 2 James McIntosh, Dundee 3 Finlay MacNeill, Glasgow 4 James Banks, Scots Guards 5 John Matheson; Judges: P/M Donald MacLeod, Major GB Murray, Donald MacGillivray, Nigg
March: 1 Ian McLellan, Glasgow Pol. 2 Cpl. Iain Morrison 3 John Wilson, Glasgow Pol. 4 Arthur Gillies, Kilchrenan; Judges: Dr MacKay, Laggan, P/M Ronald McCallum, Inveraray, Dr Robert Frater, Fife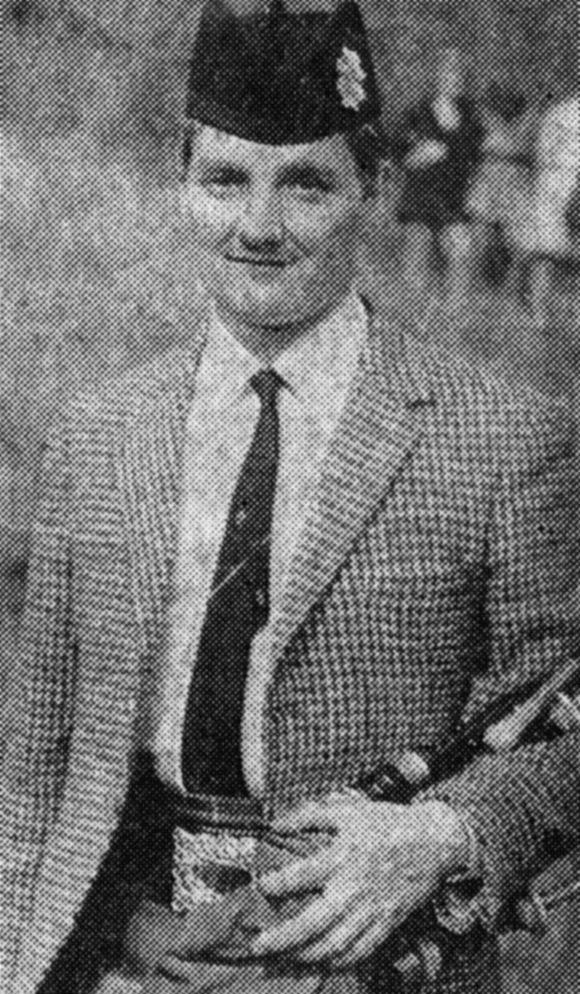 Former Winners' MSR: 1 P/M Iain McLeod, Edin. Police 2 Cpl Morrison 3 Lawrie Gillespie, Edin. Police
Judges: Capt. JA MacLellan, P/M McCallum, Dr Frater
Gold Clasp: 1 Donald MacPherson 2 Hugh MacCallum 3 Iain MacFadyen 4 John MacFadyen
Judges: Capt. JA MacLellan, Dr MacKay, P/M McCallum
Strathspey and Reel: 1 John MacAskill, Glasgow 2 A Anderson 3 Duncan MacDiarmid, Perthshire 4 Ian McLellan; Judges: Major GB Murray, P/M Donald MacLeod
Jigs: 1 William Morrison, Locheynort 2 John MacAskill 3 Ian McLellan
Judges: P/M McCallum, P/M MacLeod, Dr Frater
---