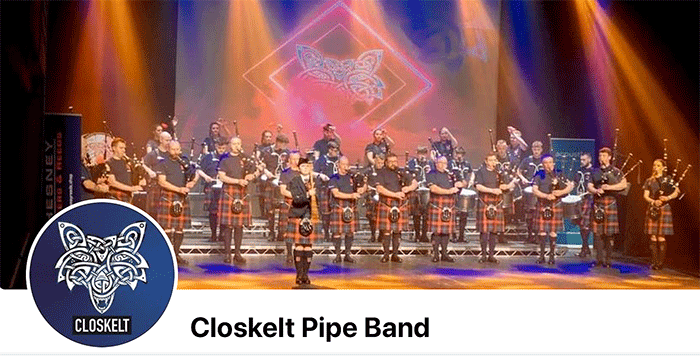 March 26th saw Closkelt Pipe Band take to the stage of the Market Place Theatre in Armagh for a concert promoted by the band. Compère on the night was radio presenter Rab Lennox of 'Big Rab Show' and BBC 'Kintra' fame.
Headlining the show was the host band itself led by Pipe Major David Chesney and new Leading Drummer Brendan McGoran and they gave a glimpse of some of their repertoire for the 2022 Grade 1 competition season.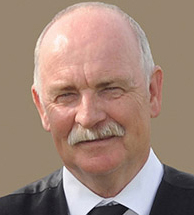 There were two other bands on the show namely Gransha and Matt Boyd Memorial and they both gave a good account of themselves.
Closkelt poignantly remembered former member Mickey Daly with a lament played by Glen Baxter. Mickey, who passed away in 2021, was a well-known personality on the local pipe band scene having played with bands such as Colmcille, Cullybackey, Thiepval Memorial, Vale of Atholl and Quinn Memorial. Sadly he passed away in 2021 just a few months after joining Closkelt.
All in all this was a most successful event which enjoyed a sell-out audience. Have a listen to this excerpt:
---
Ulster Solos
The first event of the Northern Ireland 2022 season will be the 70th Annual Solo Piping & Drumming Championships on Saturday April 16th in the Lisnagarvey High School, Lisburn. According to the RSPBA NI Branch there is an entry of 44 pipers, 22 drummers and 3 tenor drummers.
Based on the entries for the 2019, the last year that this competition was able to be held due to the pandemic, the numbers are down by a third and substantially more in the tenor discipline. However there is a top class line-up in the 'A' Grade piping and Piobaireachd sections.
Sadly there is not a single entry in the 'A' Grade Senior drumming which must be the first time ever and I am sure very disappointing to the organisers specifically on this the 70th running of this historic competition.
Blackthorn Pipers
I am very grateful to renowned piper and retired adjudicator Harry Stevenson for his report on the Blackthorn meeting in March. It had a smaller than usual attendance possibly because it was the night before St Patrick's Day however those present were entertained by a very enjoyable night's piping.
The first player was Glenn Cupples, a former member of the Field Marshall Montgomery and now playing with Cleland Memorial. Glenn's highlight for Harry was his hornpipe Hazel Thompson and the jig Rab's Dilemma which contains several time changes. Both tunes and both were very well played said Harry.
Glenn's performance was followed by two of the young Cleland Memorial pipers, Josh Anderson and Shaun Townsley, who are benefiting from the tuition of both Pipe Major Caldwell Hamilton and Glenn Cupples.
The Blackthorn Piper on the night was founder member Andy Wilson who played on a vintage set of Lawrie cocus wood pipes. His selection of light music was followed by the piobaireachd MacDonald of Kinlochmoidart's Lament (No. 1 setting) and again this was very well expressed with the bagpipe rock steady throughout.
The next Society meeting will take place on April 20th and I understand that the Blackthorn Piper on that night will be Alan Glenholmes.
---
Cleland Memorial Pipe Band
Edward Bunting (1773-1843) was a passionate collector of Irish music and is most famous for his transcription of the music of the last of the old Irish harpers at the Belfast Harpers' Meeting in 1792.
The recent 'Remembering Bunting Festival', which took place over the weekend of 18th / 19th February, remembered his contribution to Irish music.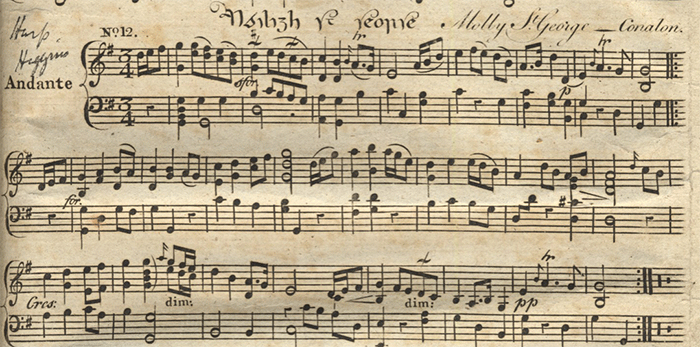 It was interesting to see that the pipe band community was able to showcase their talents when young members from Bangor's Cleland Memorial Pipe Band were part of a fifteen piece community youth band which played at the festival.
The members were drawn from the Ulster Comhaltas Ceoltoiri Eireann Branches, the Northern Ireland Piping and Drumming School and the Music Service for Pipes and Drums. Their day started off with a masterclass held in the Ulster Scots Discovery Centre and then culminated with a concert where they performed an exciting showcase of tunes and songs that illustrated the continuing evolvement of the shared heritage of Irish traditional music. 
---
Piping for the Future King
Congratulations to the Ferguson family who played for Prince Charles and Camilla when they visited Cookstown last month.
Doing the honours were RSPBA NI Branch Vice President Lowry Ferguson, his son Alan and grand-daughter Emma and from what I heard from video and television clips they were in fine form.
All three are members of the Matt Boyd Memorial Pipe Band from Pomeroy of which Alan is the pipe major. 
---