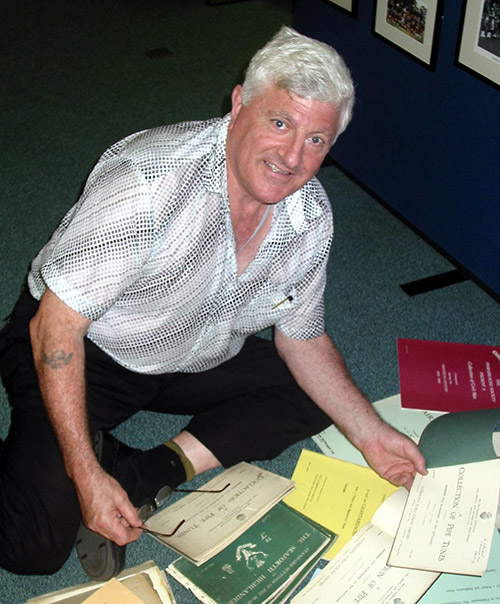 Readers may recall that here in New Zealand we've been working on the 'Geoff Hore Legacy' by amassing his rather large collection of articles he wrote for the NZ 'Pipeband' magazine. The works have now been digitised and are available on the NZ Piping Centre website.
The work is primarily of local NZ interest but the inclusion of the histories of Logans and Pattersons publishers will be of more universal interest.
The NZ magazine regularly features many talented individuals who shine in so many aspects of pipe band activity here and further afield. Players, tutors, administrators, whatever. Their endeavours collectively are the country has such a prominent position in the international pipe banding firmament.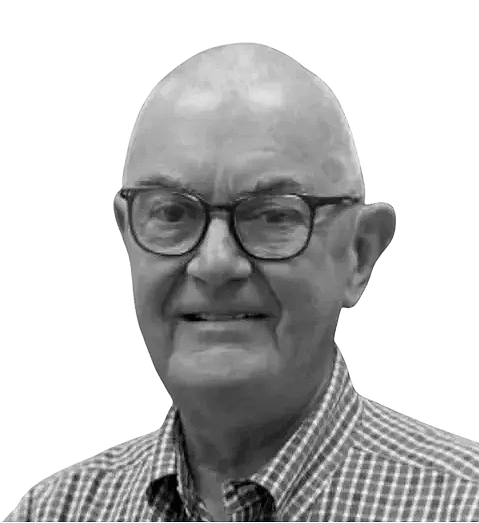 By Allan Cameron
Geoff made a unique yet hugely valuable contribution which to some extent has been forgotten. I am therefore pleased and privileged to make this re-introduction to the late Geoff Hore (1946 – 2015) and to the wonderful series of articles produced by him in the late 1990s and early 2000s for the magazine.
His work first appeared in the September 1994 edition after a bit of arm-twisting by the editorial team. It was a serialised version of his painstakingly compiled bibliography of pipe band music books based on his own extensive and much coveted collection-cum-library.
In subsequent years, again with some editorial prompting, Geoff created an amazing body of work which spanned ten years of the magazine's life.
His two series of biographical articles on NZ pipe music composers and NZ bagpipe makers and repairers directly uncover the diverse talents of many erstwhile unacknowledged musicians and craftsmen.
The articles are often prefaced by Geoff's commentary and opinion; sometimes directly relevant – sometimes not! Altogether, readers will discover and enjoy a fascinating narrative, a blend of social history and piping lore which will enrich New Zealand's historical fabric for generations to come.
His prodigious histories of the foremost piping music publishers, Logans and Patersons will have wide appeal well beyond New Zealand.
When reading, bear in mind that these articles as they appear now were written some 20 to 25 years back. In the intervening decades, the circumstances of most of the individual subjects will have changed with the passage of time. Readers will need to understand this as no attempt has been made to edit the work to give it contemporary context.
But Geoff's main energies were devoted to the establishment of a huge library – estimated to comprise close to 1,000 items of piping manuscripts and books many of which are rare and 'one-off' originals of considerable antiquity.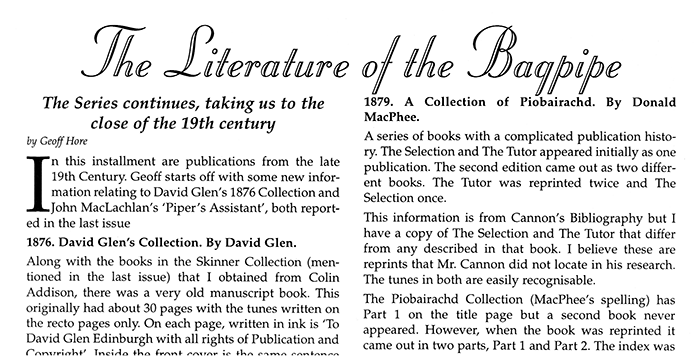 Geoff spent many years and dollars scouring websites, salerooms, and second-hand bookshops to find additions to his collection. He also acquired many volumes gifted by people far and wide who recognised the value of his work.
Before his illness and eventual early death, Geoff established the Aberfeldy Trust to take ownership of the collection so that, as far as possible, it can never be broken up or sold. Indeed, many of the books in the library are simply not disposable because they have been bequeathed or donated on the understanding that they remain as part the collection.
His talents attracted international recognition. In Scotland during a trip in 2014 Geoff volunteered his bibliographical skills to assist the College of Piping in Glasgow to re-organise its library [see picture top taken in the College library. Picture © R Wallace, Piping Press]. He also collaborated with the late Professor Roderick Cannon, the pre-eminent academician and bibliographer of pipe music.
Of Geoff himself, many may have assumed that his encyclopaedic knowledge of piobaireachd and other pipe music was purely academic. But Geoff Hore was a piper with a very credible performance hallmark in winning the Comunn na Piobaireachd Gold Medal at Hastings in 1991. How many realised that? He also played in several bands culminating with a stint in the Grade 1 Wellington Police band as it was in the 1970s (now NZ Police).
He was originally taught in his hometown of Glenavy, South Canterbury, by Laurie MacPherson in 1963. Whilst formal tuition lasted only less than a year his talents developed under numerous pipe band tutors. However, he credited Ken Boyce, Colin Addison, Sir Ian McKay, Donald Bain, and Lewis Turrell as his main influences.
Geoff also has some skills in repairing and restoring instruments with his trade background as an aircraft engineer in the RNZAF and with Air New Zealand up until his retirement.
Throughout his endeavours Geoff had unstinting support and assistance from his partner, Maureen Taylor in whose home the library collection is currently housed.
I worked closely with Geoff in his latter years. He was conscious of his place in NZ piping history and in passing on to me the raw files of his writings he asked if I could somehow preserve his work.
Now, thanks to the recently established New Zealand Piping Centre in Dunedin his work will not be lost to history and is readily accessible to one and all via the Centre website https://nzpipingcentre.org.nz.
In commending this collection of work, Geoff's magnum opus, I particularly encourage our younger readers to visit the site so that as they develop their musical talents they can have some inkling of the depth of the piping heritage in New Zealand. Whereas those who have some recall of Geoff's articles or indeed had his acquaintance will relish the opportunity to re-visit his work.
I am grateful to Allister Macgregor, a Centre Director, for his enthusiasm, encouragement and unstinting labours in the production of the site.