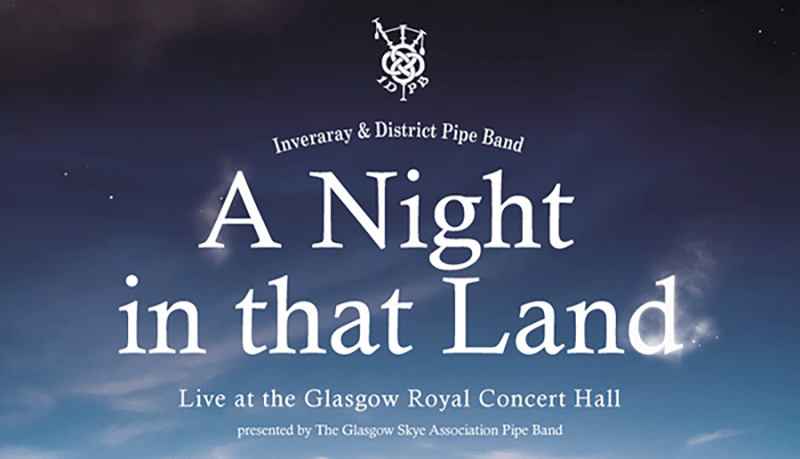 The Glasgow Skye Association Pipe Band is delighted to announce that our 'Pre-Worlds' concert will be returning this year to the Glasgow Royal Concert Hall on Wednesday, 10th August 2022, writes Kurt Mackintosh. 
After the disappointment of the last two years we are thrilled to confirm that Inveraray & District Pipe Band will at last be able to take centre stage.
Pipe Major Stuart Liddell commented, 'We were scheduled to play in 2020 which was, of course, postponed. We had planned again for the 2021 concert but we're hoping it's third time lucky!
'The material has been simmering away and we've also been able to work on some cool new ideas.  The band is very much looking forward to getting together and playing in front of an audience again.'
Leading Drummer Steven McWhirter added, 'We are very much looking forward to playing the 2022 pre-Worlds concert. After everything that has gone on over the past two years the band are very excited to perform a whole host of new music to everyone who has been starved of live pipe band music. The best way to sum up the music on offer is 'there's something for everyone'. 
'Its been a bit of a rollercoaster ride over the past two years to say the least.  Everyone in the pipe band community will be as delighted as we are that we are able once again to showcase the best bands in the world in front of a live audience.'
On behalf of the Glasgow Skye band I'd like to put on record my thanks to Inveraray & District  for their unwavering support throughout this period. We have no doubt the band will put on another fantastic show.
I would also like to thank everyone who kept hold of their tickets in the hope we would once again get IDPB back at the pre-Worlds Concert. Due to this overwhelming support, we will only have around 700 tickets available for immediate public resale.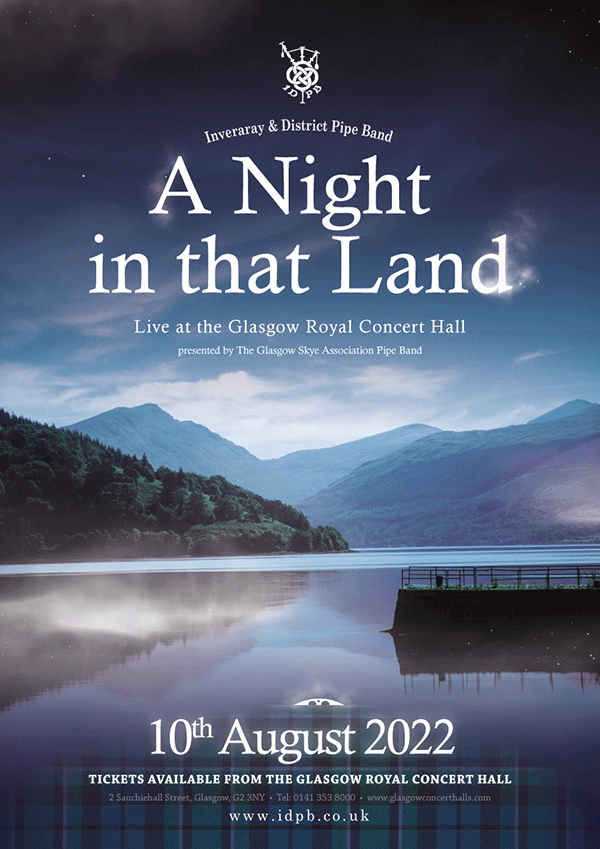 Patrons who have retained tickets from the original 2020 concert will now be contacted by the RCH Box office to confirm whether they are happy to accept the rescheduled date.
Full refunds are available for anyone who is no longer able to make the new date. We  may therefore be able to release some additional tickets as we work our way through this process"
For updates on the show and all the latest band news, go to www.idpb.co.uk or on the band's Facebook page.
The Glasgow Skye Association Pipe Band has been proudly producing the 'Pre-Worlds' concert since 1994. It aims to showcase the best pipe bands in the world to a local and international audience. 
Tickets will go on sale from Tuesday  8th March and are available from the Royal Concert Hall box office online or on  (+44) 0141 353 8000 (Monday – Saturday 10am – 6pm). Tickets are from £21.