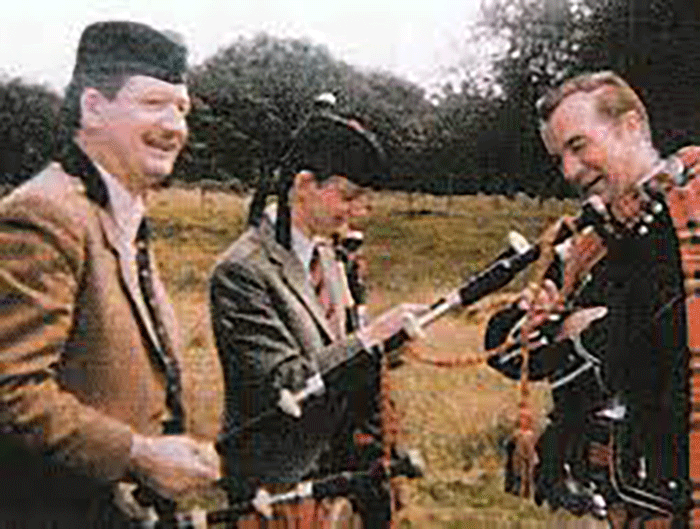 It was a bit of a shock to hear from Duncan Watson a couple of weeks ago that Campbell McGougan in now in a nursing home. I doubt if he'll remember me, but if you get a chance to speak to him Duncan, please tell him Clive Douglas, a friend of the late Hugh MacInnes, was asking for him.
I know Duncan's comments concerned Jack Churchill's pipes at one time owned by Campbell, but I thought readers might be interested in information about Campbell's other pipes.
By Clive Douglas
Hugh MacInnes played his MacRae drones for a while and won lots of prizes with them. What a set of pipes they were! Hugh's standards were high with pipes, but he considered Campbell's pipes to be the best set he had ever played and always referred to them as the 'Big Pipe'.
Campbell's and Hugh's Sinclair chanters were from the set bought for the Lanarkshire Police which were then passed to the Strathclyde Police when the forces amalgamated in the 70s.
I met Campbell through Hugh about 40 years ago. As some readers may remember, Hugh had a great reputation for the quality of his instrument. I never heard him with anything but a brilliant tone from his pipes.
'If the pipes aren't going Scotty, just stay at home, you're kidding yourself on,' was Hugh's mantra.
Hugh played Campbell's MacRae pipes for a number of years in the 1980s. I think Hugh had played P/M Angus MacDonald's father's pipes with great success before Campbell loaned him his instrument.
Angus's father's pipes are also MacRaes and Angus told me that they had been specially selected for his dad by P/M Willie Gray, Glasgow Police. Angus won many prizes with these pipes and I know that many other players were loaned them over the years and they too picked up many top prizes including Gold Medals, Clasps and Former Winners MSRs at Oban and Inverness.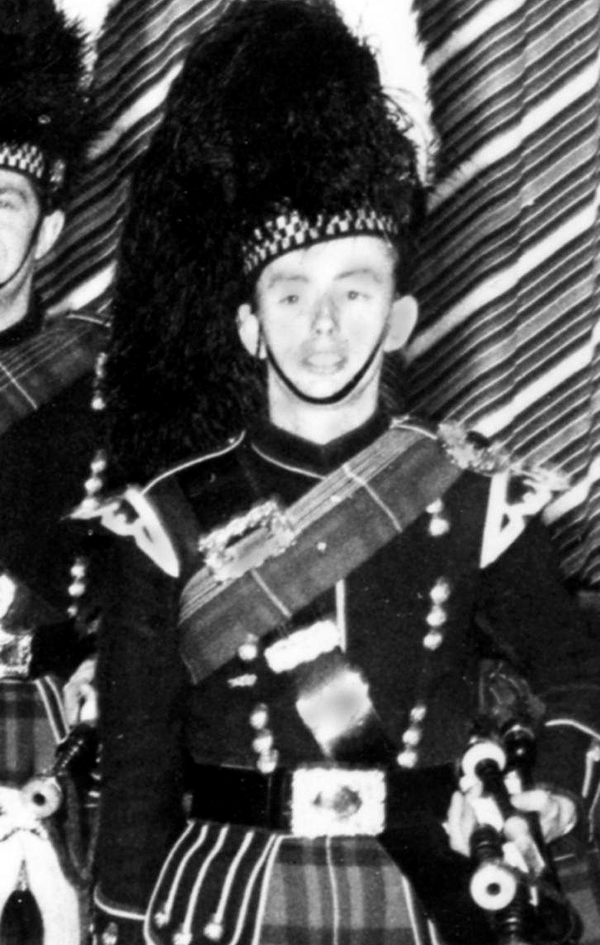 Hugh always considered Campbell's pipes to be even better than Angus's father's pipes. In fact, he was certain that Campbell's pipes were the best set he had ever heard or played; high praise indeed!
A real coincidence that both these sets of pipes were MacRae, and to add to that I think that Hugh had also owned another set of MacRaes. I think Andy Young (Scottish Power) still has that set.
Hugh got this set of MacRaes from an old friend called Willie Potter. Willie also gave Hugh a set of full ivory pipes that I suspect were made by Donald MacPhee, although Hugh was certain they were an early set of Hendersons
In addition to the brilliant pipes, Campbell also had a great Sinclair chanter to go with them. He had been the Pipe Major of the Lanarkshire Police Pipe Band and he had worked with Willie Sinclair on the production of a set of chanters for the band.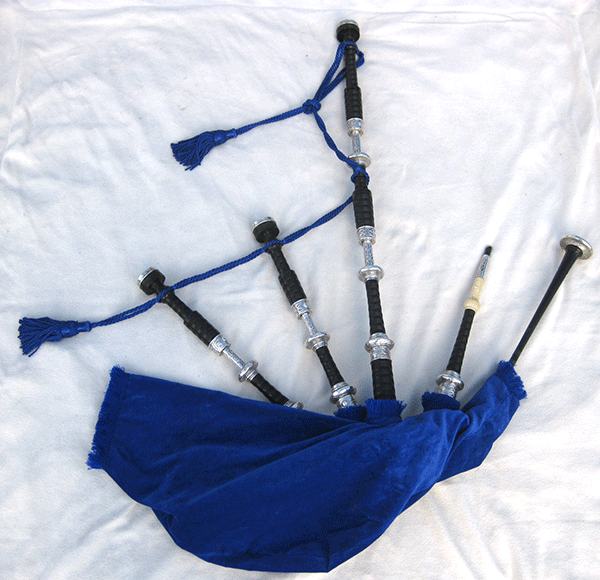 These chanters were the set that was passed to the Strathclyde Police Pipe Band when the forces amalgamated in 1975. Obviously, the rest is history and Strathclyde Police would produce a revolutionary band sound and go on to win numerous championships using the chanters sourced by Campbell. Campbell's own chanter came from that set. It was the perfect match for 'The Big Pipe'.
Hugh also had a chanter from that Lanarkshire Police set and he played that chanter all the time I knew him. Unfortunately, it cracked not long before Hugh passed away. However, I recently heard a recording of John Patrick playing the chanter after he carried out the required repair work on it and it sounded great. Incidentally, John now has the set of pipes that 'big' Angus played at the time of his passing.
Hugh eventually acquired Eddie MacLellan's pipes. Eddie had taught Hugh for many years. Eddie had been a pupil of John McColl and Willie Ferguson. They were Henderson drones and they had the best silver work I've ever seen on a set of pipes. Hugh went on to win lots of prizes with Eddie's pipes too, but he would always hark back to Campbell and 'The Big Pipe'.
---