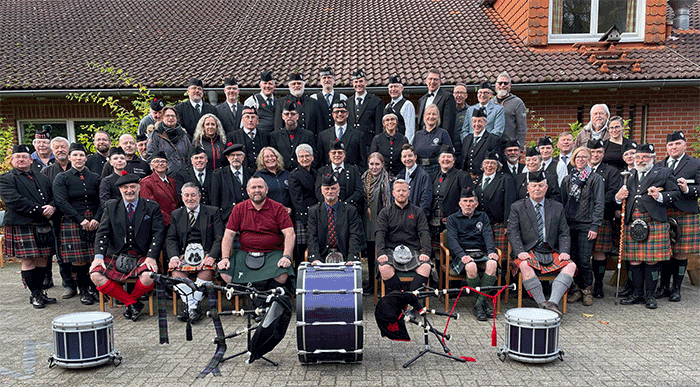 We had several hours to kill before our flight home from the Northern Winter School and accepted an invitation of a short tour of the nearest great city, Hamburg, from our generous guides Frank and Kirsten.
Hamburg vies with Rotterdam as the most important port on mainland Europe. A previous tax-free enclave made it a world centre for coffee roasting. Much of the old quarter is built on oak piles (we were shown them at low tide).
The Elbe tunnel linking the main city to the dock area on the west bank is a wonder of engineering. Local clay means that brick is the predominant building material. Canals and small lakes and trees defy the city's misleading industrial image. The notorious Reeperbahn is so named after the rope makers who needed a long, straight thoroughfare to lay out their work.
---
[wds id="2″]
---
Fellow teacher Craig Munro explained that through Hamburg comes all the Tanzanian African blackwood for UK bagpipe makers. It would arrive by container at his Wallace Bagpipes workshop in Paisley and his men would be tasked with emptying it in the few short hours before the lorry returned to remove it.
All sorts of bugs and creatures – dead – were found beneath the wood but what poisons and germs lay with them nobody knew. The work had to be done, and the men would tape up their sleeves and trouser bottoms and wear masks for protection.
The things that are done by our instrument makers to keep the supply of quality pipes coming to market.
Back to the school for a moment. I conducted the piobaireachd class (above) and, as an experiment, taught them Black Donald's March by singing and playing it to them.
Usually we would be trying to add the expression to a score-learned piece. Here there was no score, no dots, no bar lines to visually countermand the flow of the melody.
It was an alien concept and difficult for them to absorb, but when they did I believe they got the way of the tune far more quickly than hitherto.
I also insisted that we have a blow in the woods surrounding the youth hostel. Though cold, the still air and autumn tints made it a perfect setting for ceòl mòr.
---
The Piobaireachd Society's 'Talk Piobaireachd' sessions resume tomorrow (Weds, Nov. 17) for the winter season 2021-22. In the chair will be former president Dr Jack Taylor and our speaker is the renowned Bill Livingstone of Ontario, Canada.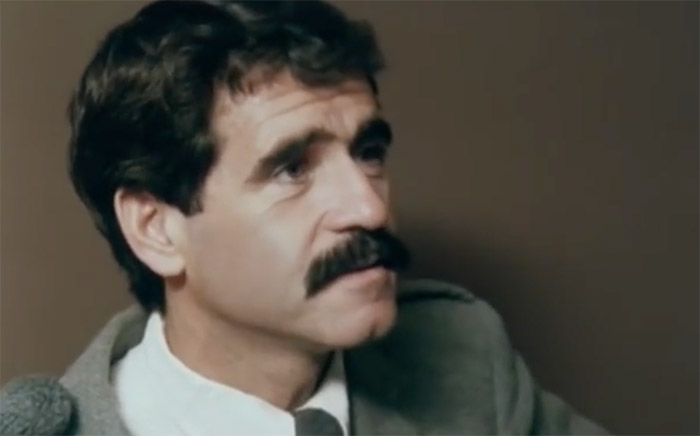 This will be Bill's first of two talks for the Society. He is one of the few pipers to have achieved outstanding success in both the solo world and the band.
He is the recipient of both Gold Medals and the Clasp and also took the 1987 World Pipe Band Championship in fine style with his band, the 78th Fraser Highlanders.
This is sure to be an interesting and illuminating hour and the session is free to all members of the Society. If you would like to join you can do so here. New members should email the Secretary for the 'Talk Piobaireachd' Zoom link.
---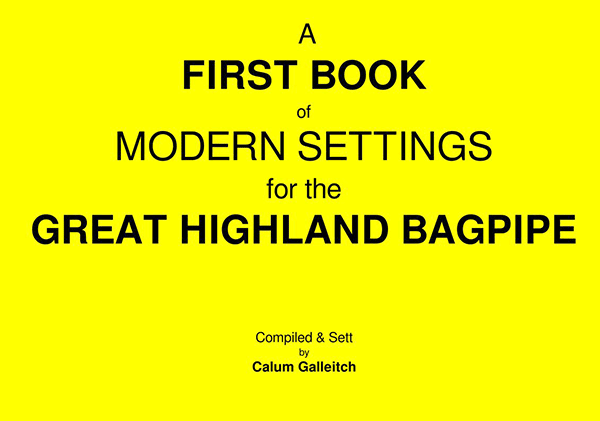 Piper Calum Galleitch has brought out a new book entitled 'A First Book of Modern Settings for the Great Highland Bagpipe'. It runs to 75 tunes 'suitable for pipers in their first few years of learning the bagpipe'.
The settings are Calum's own. He writes: 'More than anything I have tried to choose tunes that have a continuing relevance to today's pipers.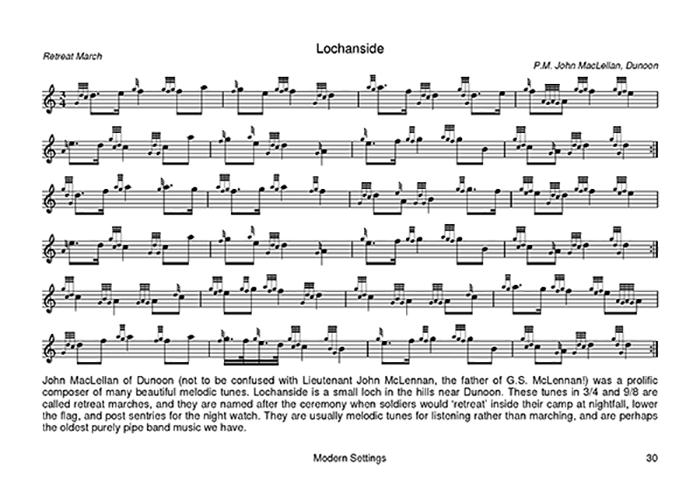 'Well over half can be dated to that golden age of bagpipe composition from say 1850-1950…'
The book is neatly and clearly set out with interesting stories, anecdotes and histories attached to many of the tunes. It is available on Amazon for £16.
---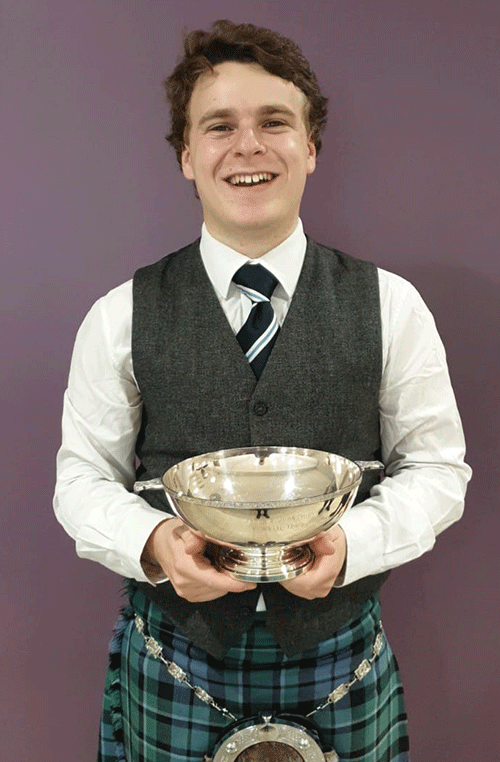 Inveraray Pipe Band piper and noted solo prizewinner John Dew (pictured above) has been in touch: 'I don't know if you have heard but on Tuesday I was nominated for 'Up and Coming Artist of the Year' at the BBC MG Alba Trad Awards.
'I'm still as high as a kite from the good news! I was hoping PP readers would be able to take a minute to vote for myself in this category. Here is the link: MG ALBA Scots Trad Music Awards 2021 Voting Form Survey (surveymonkey.co.uk) Every vote counts and all votes will be hugely appreciated.'
---
From the Daily Telegraph Obituaries column: Colonel Alastair Campbell, who has died aged 69, brought style, charm and a great sense of fun to a distinguished career in soldiering….the younger son of Lord Campbell of Croy, a former Secretary of State for Scotland, he was born in London on January 6, 1952…he went on to Eton where he developed a passion for poetry and modern languages. He played the piano, sang, acted and learnt to play the bagpipes…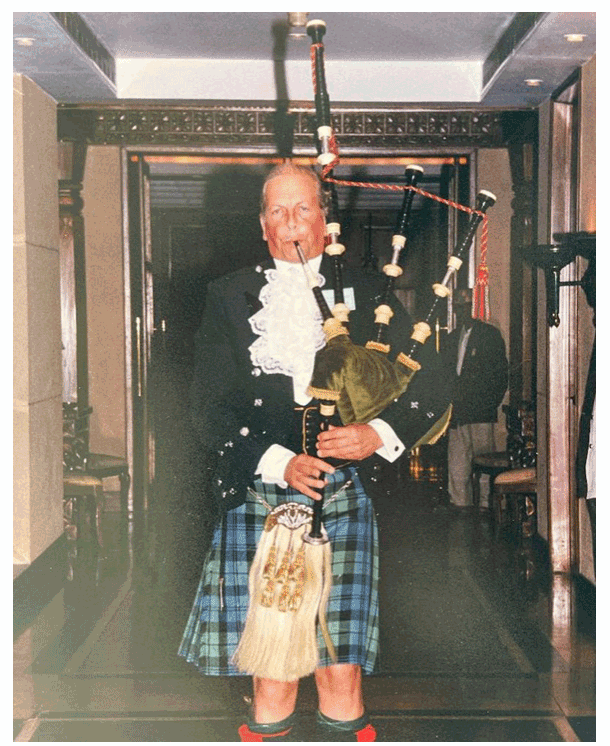 The picture shows Col. Campbell piping in Baghdad. He organised a full St Andrew's Day Ball in 2006 noting that the dance-loving Kurds took to Scottish reels with exuberance.
---