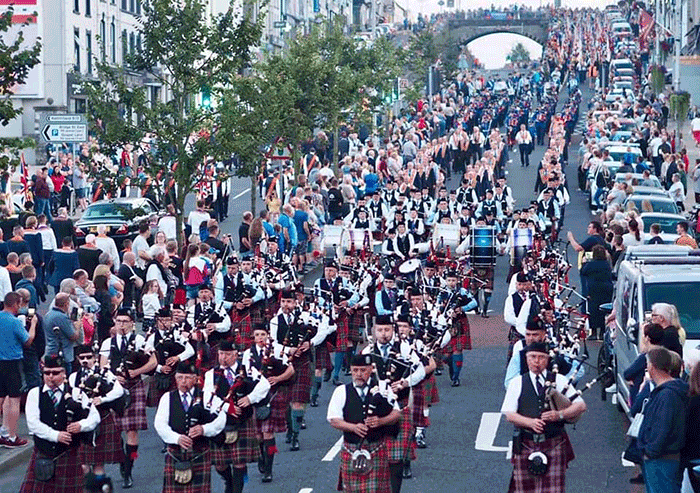 Over here in Northern Ireland the traditional parading season will wind down over the next month. On Saturday the 28th August the parades of the Royal Black Institution took place on a local basis.
These parades have traditionally featured a significant proportion of our pipe bands, many of which will take their autumn break before resuming winter practices, and in most cases the tuition of learner classes supported by grants from the Ulster Scots Agency.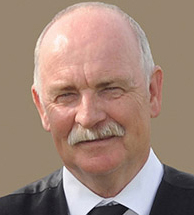 On Thursday the 26th August a large Northern Ireland Centenary parade in Banbridge attracted a very large attendance of spectators to watch accordion, flute and pipe bands as well as drum majors and a hundred strong colour party. See picture above.
The massed pipe band was under the leadership of Pipe Major Norman McDonald of the McDonald Memorial from nearby Dromore, and it comprised players from a large number of bands from the area. All participants, as well as the general public attending, were encouraged to make a donation to the Children's Cancer Unit Charity and Angel Wishes.
On the same night Bready Ulster Scots Pipe Band organised a massed pipe band event in New Buildings, County Londonderry, in support of 41 year old Leslie Smyth, a husband and father of two young daughters, who has been battling a rare type of cancer (soft tissue sarcoma) since 2002.
---
[wds id="2″]
---
Initial treatments ensured that his condition remained stable however in 2017 and again in 2020 he had a number of setbacks. A clinic in Mexico called Hope4cancer has now been identified that offers specialist treatments which Leslie is expected to benefit from. 
Unfortunately like so many of these facilities it is extremely costly and that is where the pipe band community has come in to assist one of their own. Leslie comes from a pipe band family, and, like his brother Robert, the Field Marshal Montgomery Pipe Band bass drummer, also played with that great band.
The fundraising was further boosted on Saturday the 28th August with an Online Concert featuring multiple champion bands, and pipers and drummers: Field Marshal Montgomery, PSNI, Shotts & Dykehead, LA Scots and Johnstone, Jim Kilpatrick, Alastair Lee, Matt MacIsaac, Ross Miller, Kerr McQuillan, Adam McCollum and Jamie Coffey.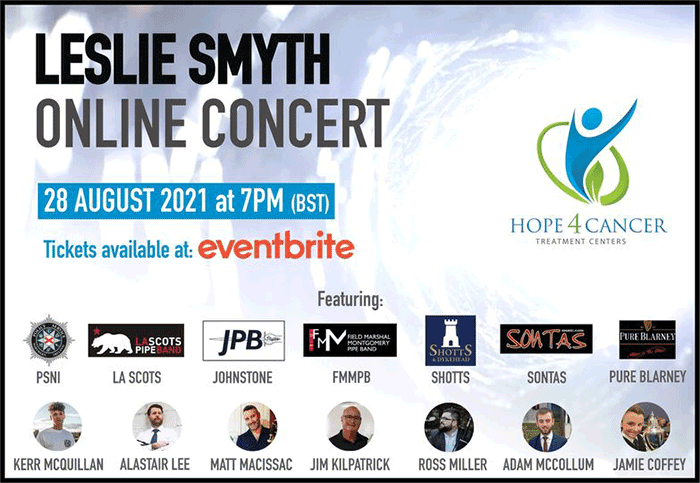 The RSPBANI Branch's Pipe Band Festival events have proved to be quite successful. The first on 7th August attracted a one thousand sell out audience to Antrim Castle Gardens. There they were entertained by seven bands, a drum major display team, Highland dancers and folk music.
The third and similar event is being held on Saturday the 4th of September from 12 noon to 4.30pm. The Ards and North Down Pipe Band Festival will take place at the McKee Clock Arena in Bangor and has been organised in conjunction with the Ards and North Down Borough Council. 
Each of the twelve pipe band appearing have been asked to prepare and play tunes of their own choice to entertain the crowd while there will also be performances from the drum majors, the Michelle Johnston School of Highland Dance, and traditional music from Ian Burrows & Kenny Qua.
The following bands have indicated that they will be appearing: Down Academy, William Kerr Memorial, Cleland Memorial, McDonald Academy, Bready Ulster Scots, Major Sinclair Memorial, Syerla & District, Tullylagan, Matt Boyd Memorial, Dr Wright Memorial, Kildoag and Closkelt.
The Drum Major team will comprise of Jorja Turkington, Mia-Lily Frazer, Louise Smiton, Louis Anderson, Jamie Cupples, Jamie Livingston, Erin McIlwaine, James Kennedy, Lauren Hanna, Jason Price and David Brownlee.
A maximum of 1000 tickets is being released. There is a token charge for spectator tickets of £1 plus a booking fee of 50p and tickets can only be purchased online through here. Children under 12 do not require a ticket.
---
[wds id="9″]
---
Mid Ulster Outdoor Solo Piping & Drumming Championships
The second of the RSPBA Pipe Band Festival events was the Mid Ulster Outdoor Solos which were held on Saturday the 21st August. The location was Cookstown High School when there was a good attendance of competitors and spectators at what was a well organised event.
The panel of adjudicators included Richard Parkes MBE, Ken Stewart, Norman Dodds MBE (Piping), Paul Turner (Drumming) and John McFetridge (Bass & Tenor). The entry was predominately made up of young soloists illustrating the outstanding work going on behind the scenes in many bands to pass on our great piping and drumming tradition.

The results of the adjudicator's deliberations were as follows: Piping. Novice Practice Chanter: 1 Maddox Stinson (Syerla), 2 Joshua Eakin (Syerla), 3 Alan Waddell (Down Academy), 4 Faith Boal (Down Academy), 4 Kathy Edgar (Down Academy.
Chanter: 1 Laura Neill (Down Academy), 2 Philip Murphy (Down Academy), 3 William Currie (Cullybackey)
Juvenile U14: 1 William McFarland (Tullylagan), 2 Shaun Townsley (Cleland Mem.), 3 Jacob Tate (Syerla), 4 Jake McAlister (Matt Boyd Mem.), 5 Sam Purvis (Tullylagan)
Juvenile U16: 1 Reece Doherty (Tullylagan), 2 Adam Brimage (Matt Boyd)
Juvenile U18: 1 Andrew Nelson (Ballyboley), 2 Emma Ferguson (Matt Boyd)
C Grade Junior: 1 Marc Warnock (Tullylagan), 2 Edmund Boland (St Joseph's, Clondalkin), 3 Catriona Lloyd (Colmcille), 4 Emma Livingstone (Manorcunningham), 5 Amanda Brennan (St Joseph's, Clondalkin) 6 Anthony Kelly (CLASP)
B Grade Intermediate: 1 Mark Hasson (Colmcille)
A Grade Senior: 1 John McElmurry (Scottish Power), 2 Ben Greeves (Drumlough), 3 Sean Moloney (St Mary's Derrytrasna, 4 Alan Ferguson (Matt Boyd)
Piobaireachd A: 1 John McElmurry, 2 Ben Greeves , 3 Alan Ferguson, 4 Sean Moloney
Piobaireachd B: 1 Edmund Boland, 2 Anthony Kelly, 3 Emma Livingstone
U16 Piobaireachd: 1 Sam Purvis
U14 Piobaireachd: 1 Andrew Nelson
Drumming: Novice Drum Pad: 1 Matthew Brownlee (Clogher), 2 Lexi Kerr (Syerla), 3 Adam Stewart (RSPBA), 4 Jamie Hoy (Cullybackey)
Advanced Drum Pad: 1 Bobby Moore (Bready Ulster-Scots), 2 Jacob Laird (Bready Ulster-Scots), 3 Ashley Steele (Hollymount)
Juvenile U14: 1 Jamie Coffey (Sinclair Mem.), 2 Joshua Green (Augharan), 3 Lee Hunter (Down Academy), 4 Alexander Thompson (Bready Ulster-Scots), 5 Carter Foster (Down Academy)
Juvenile U16: 1 Jodie Gates (Bessbrook Crimson Arrow)
Juvenile U18: 1 Kerr McQuillan (Boghall)
C Grade Junior: 1 Alex Buchanan (Field Marshal Montgomery), 2 James Kennedy (Closkelt), 3 Gary Doherty (Peel Regional Police), 4 Sam Strain (Closkelt)
U14 Tenor: 1 Rachel Farr (Tullylagan), 2 Abi Espie (Tullylagan)
Senior Bass: 1 Ewan Smyth (Matt Boyd), 2 Ian McClintock (Kildoag)
---