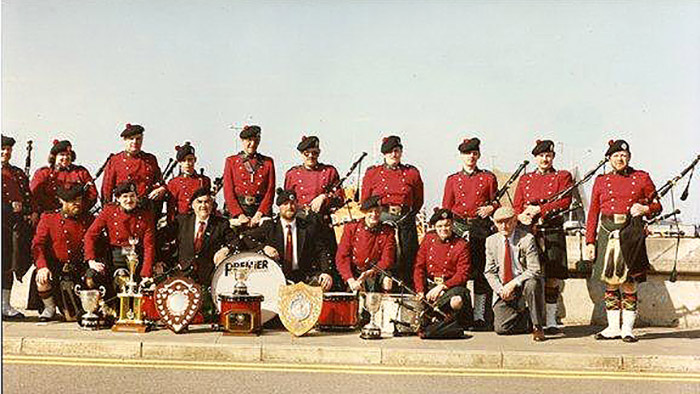 Pipe Major Finbarr Connolly, who hailed from Cork, was the first non-Dubliner to lead the band when he succeeded Pipe Major Tim J Keogh in 1976.
P/M Connolly held the post for over two decades during which time the band would appear to have experienced considerable ups and downs.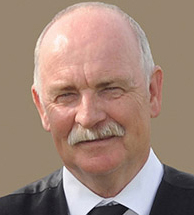 They competed regularly in Grade 2 and would often play up in the Open Grade competing against bands such as the Robert Armstrong Memorial, Cullybackey, McNeillstown, Pipes & Drums of the RUC, Graham Memorial and then Field Marshal Montgomery.
In the mid 1980s there was obviously a significant tutoring programme ongoing within the band as they were able to field bands in both Grades 4 and 2 for a time.
During Pipe Major Connolly's tenure the drum corps was crowned Grade 2 champions in 1978, while the band and its drummers were All Ireland Grade 2 champions in 1980.
In the early 1990s in an effort to rejuvenate the band they dropped into Grade 3 with their most notable success being crowned All Ireland Grade 3 Champions in 1992 in a year when they would be placed 3rd at the Worlds and 4th at the Europeans.
The band is pictured above following that All Ireland success. They are (standing, l-r): P/M Connolly (partially obscured), S Lawless, Y Harris, J Hennessy,B Keegan, T Stevens, K Kane, J Rice, R Hanlon, C Hanlon, P Byrne (P/Sgt). Kneeling (l-r) we have: T Whelan, R Oglesby, T McDermott, T Doyle, F Saunders Snr., M Russell, M Carroll (Chairman). Unavailable for the photograph were band members R Saunders (D/Sgt.), F Saunders Jnr., L Meeghan, E Jones, K Gallagher and J McGovern.
---
[wds id="2″]
---
Pipe Major Michael Foy took on the role of leading the band in the late 1990s and led them for a few years before handing over to Paddy Byrne who held the position from 2000 – 2003.
Michael Foy returned to lead them from 2004 until around 2011, although I note that Barry Keegan led the band at the 2005 All Irelands.
The band disappeared from the competition scene around 2011 the year before they would have been celebrating their Centenary.
It is understood that they practised for a number of years in the Crown Alley area of Temple Bar however they were compelled to move to Chapelizod and later to Lucan which was their last known location.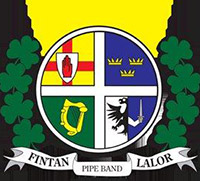 It is not known whether the band exists in the present day however it would be most welcome news if they did as it would be sad to see one of the great pioneers of the Irish pipe band movement disappear.
Most of the content for this short history came from the Fintan Lalor Pipe Band website, which has now been down for a number of years, together with bits and pieces from earlier Piping Press articles and my own collection of material. As is the case with many of my history pieces, I have received assistance and encouragement from the respected retired RSPBA adjudicator Harry Stevenson which is always much appreciated. Harry tells me that his Robert Armstrong Memorial band and the Fintan Lalor enjoyed a great friendship over the years with the Dublin-based band being entertained at their headquarters on numerous occasions. Read the first excerpt of this history here, the second here, the third here and the fourth here.