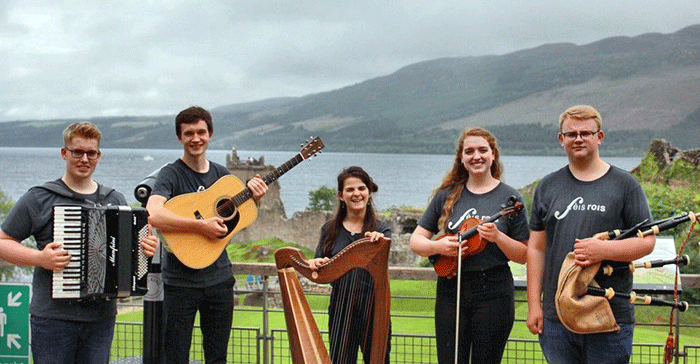 Pipers Gary West, Ali Levack, Conal McDonagh and Ewen Henderson will participate in the second Virtual Fèis Rois Weekend at the end of this month with free concerts and workshops. Virtual Fèis Rois Weekend replaces its usual spring residential music events in Ullapool cancelled for the second year running.
Organisers say last year's online events attracted 50,000 views from more than 2,600 participants from 50 countries. The online Fèis this year has an extra day and even bigger line-up of musical entertainment, including two concerts to be shown on BBC Alba.  

Running for four days from 30th April – 3rd May, Fèis Rois, which celebrates its 35th anniversary this year, will host a variety of free workshops, concerts, lectures and sessions.
Featuring many former Fèis Rois participants in the line-up, all workshops and the main tutor concert will take place on Facebook Live whilst the Friday and Saturday night concerts will be broadcast on BBC Alba. The new addition of the Lunchtime Lectures and Sessions at Six, including a session with accordion legend, John Carmichael, will take place on Zoom and will require registration via the website in advance.
---
There will be concerts on the first three nights, including a performance of Lauren MacColl's Fèis Rois commission, The Seer, from the Strathpeffer Pavilion.
Fiona Dalgetty, Fèis Rois Chief Executive, commented: 'Once again, we find ourselves unable to gather in Ullapool this spring, but we are delighted to present our second Virtual Fèis Rois event which offers an exciting mix of workshops, sessions, lectures and concerts for people of all ages to enjoy.
'The Virtual Fèis Weekend will be one of our final purely online events, although we will likely take some of the learning from the past year into the future and have some blended online and in person events going forward.
'We are now looking forward to a gradual return to delivering in person classes, concerts and events across the Highlands. We would like to thank everyone who has continued to support Fèis Rois over the last year, participating in all our online events, and we hope that people across the world will join us for our Virtual Fèis Weekend from 30th April – 3rd May – all ages and abilities are welcome!'
A suggested minimum donation of £5 for each workshop or concert you view can be made on the Fèis Rois Just Giving page, https://www.justgiving.com/feisrois, however, there is no obligation to make a donation.
If you would like to find out more about the timetable of workshops and concerts taking place throughout the weekend and to register for the lectures and sessions, please visit www.feisrois.org. All workshops and one of the concerts will take place on the Facebook page – www.facebook.com/feisrois.