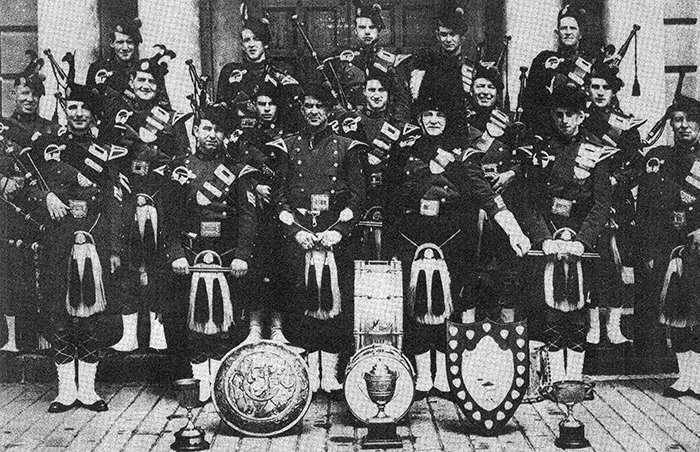 How good it feels to have something positive to report! The news that Piping Live! 2021 is to go ahead will be welcomed by everyone keen on clawing back some of the lost ground piping has suffered in the past year.
Finlay MacDonald and his NPC team are leading the way in getting us back to where we once belonged. So as the blurb says: Save the Date! The festival will return from 7th – 15th August.
The format is not fixed, but as Finlay acknowledges in his video announcement, guidance points to a loosening of the cultural imprisonment we've all endured this past 12 months. If live audiences can be accommodated they will be.
As we reported on Monday, Event Scotland are in close discussion with the politicians about allowing major festivals to go ahead this summer. Event Scotland are sponsors of both the Worlds and Piping Live!
I know there is still a lot of apprehension out there, but we need to get this situation into perspective. The social scientists who said locking down was hard, but un-locking would be harder still, may have had a point. People like what they are used to and I worry we are getting used to doing nothing.
---
Those who still have concerns about new variants etc are perfectly entitled to their view and need not attend band or solo events, but please don't discourage the rest of us who by June will consider it perfectly safe and are looking forward to a tune.
It will be a pity if overseas players can't make it to Gold or Silver Medals or the Worlds but this would not justify cancelling. Yes a few pipers would be missing, but these solo competitions went ahead in 1993 when they were utterly decimated by the 'great boycott' didn't they? No more than a handful played. And there was no cancellation talk 11 years ago when that Icelandic volcano threatetend summer air travel.
Overseas bands such as SFU would be sorely missed but they are the only real contenders for top honours in G1 at the Worlds. (SLOT are no more an overseas band than FM.) Piping needs a Worlds, we need Oban and Inverness. If it is safe, then who are we to deny all the great pipers and bands out there another opportunity of winning a Gold or Silver Medal or a World Championship? It could be their best chance at it.
The Piping Live blurb reads: 'The festival team are working hard behind the scenes to prepare a great nine days of concerts, talks, recitals and more. With the success of the small programme in 2020, the festival team are committed to livestreaming and premiering as many events as possible across the 2021 festival.
'But with the recent Scottish Government announcement that audiences may be able to return to venues, subject to capacity constraints, the team are looking at adapting as many events as possible to allow audiences to attend, where that can happen.
'A full announcement with more details of the wider Piping Live! programme will be made towards the end of May, but until then, get 7th – 15th August 2021 in the diary!'
Aboyne and Atholl Games and the USPF MacLean MacLeod Piping Championship have all been cancelled. Next USPF, June 18, 2022.

---
Of the picture up top, Glen Thompson in California writes: 'We are cleaning out my parents home and found a full size 8×10 negative and positive cell of this band.
'My father, a drummer and avid photographer, played in the Calgary Highlanders in the 50s, prior to us moving to Los Angeles in the 60s.
'I have no idea who this band is, but if someone recognises it and is interested, I would be happy to mail them these beautiful cells.'
I presume by 'cells' you mean celluloid Glen. Can any reader help?
---
From the Edinburgh Evening News circa 1970: 'Twelve of the 'creme de la creme' of Scotland's pipers will take part in a novel recital-contest in Leith Town Hall on Thursday September 1 at 7.30pm.
'The list of pipers includes Iain MacFadyen, Glasgow, John Burgess, Alness, William MacDonald, Benbecula, Hugh MacCallum, Bridge of Allan, Donald MacPherson, Edinburgh, John MacDougall, Arbroath, Angus MacLellan and Ian McLellan, Glasgow City Police, Cpl. Iain Morrison, Queen's Own Highlanders, Lawrie Gillespie, Edinburgh City Police, James MacGregor, Glenalmond, and Kenneth MacDonald, Glasgow.
'These top-liners will each play a march, strathspey and reel, hornpipe and jig of their own choice. The three judges are John MacFadyen, Hector MacFadyen and Dr Robert Frater.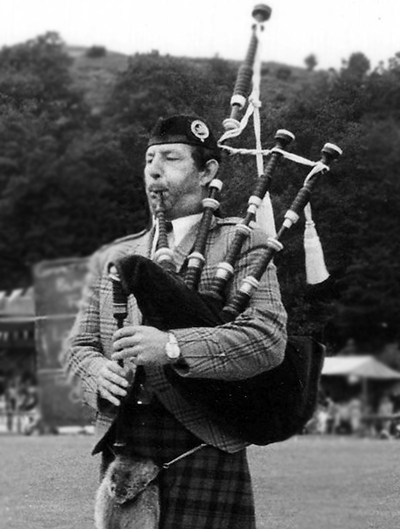 'Twenty pipe bands in the Lothians have been circulated with invitations to listen to the masters and it is hoped that there will be a good attendance of piping enthusiasts from other parts of Scotland.
'A display of the art of pipe-making should also arouse particular interest. This will be held in the entrance of Leith Town Hall on the night of the recital by a well-known pipe-maker W Sinclair, Leith.
'It has been a busy time for the organisers, the Eagle Pipers Society, but the Secretary Tom Speirs reported: 'Everything will have been worthwhile if we get a grand attendance.'
---
Reminder 1: Members of the Piobaireachd Society have an online event tonight (March 31, 8pm BST (GMT+1) when a paper in lieu of the Society's Annual Conference will be given by long-standing member John Shone. The talk is entitled 'The Boys Brigade and its Contribution to Piping and Piobaireachd' and it will will feature the playing of Gold Medallist Iain Speirs. The event is free to members of the Society. You can join here.
---
Reminder 2: The Pipng Centre's 'Celebration of Duncan Johnstone and His Music' is a pre-recorded evening of music and interviews with students of Duncan's and fans of his music. The concert will feature solo piping and a folk band put together by the NPC's Director of Piping Finlay MacDonald. Helen Urquhart, Marketing Officer for the NPC, said: 'This event will be premiered online on Saturday 10th April from 7pm, and tickets are £10 and can be purchased online at the National Piping Centre website. After the event, you can rewatch it for a week until Saturday 17th April. Head to www.thepipingcentre.co.uk/livestream to purchase your ticket for this event.'