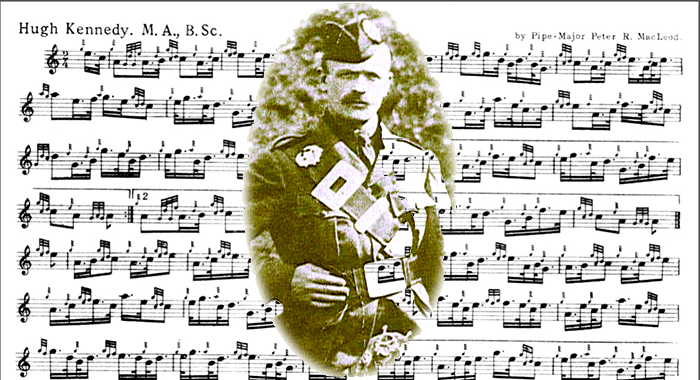 Peter R MacLeod was one of the finest ever composers of music for the great Highland bagpipe. Much has been written about him but this article contains some new information direct from his grandson Kenneth, son of Dora MacLeod of the eponymous tune. Kenneth is known to the writer through a mutual friend on the island of Mull.
Roderick Peter MacLeod, son of Hector MacLeod and Mary MacLeod (MacRitchie) was born in Aird, Uig, on the island of Lewis on December 13, 1878. He had three brothers and five sisters Ann, John, Dorothy, Mary, Malcolm, Mary, Peter, and Maggie. Roderick changed his name after his brother Peter died. He used Peter R Macleod in memory of him.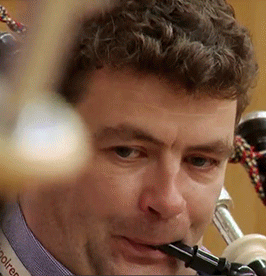 By Calum MacLean, Tobermory
Peter went to Glasgow with his wife Christina around 1900. Living in Partick, he worked as a shipwright at Connell's Shipbuilders in Scotstoun, a few miles west along the River Clyde, and at Fairfields in Govan.
I am not sure if Peter learned piping in Lewis before he came to Glasgow, but I think it is possible. He joined the Territorial Army in the early 1900s. This could have been the 3rd Lowland Rifle Volunteers. In 1903 he was under the leadership of Pipe Major Edwin J. McPherson who was appointed the Pipe Major of the newly formed band. Peter would have been 25 years old. 
Pipe Major McPherson was described as a man of fine physique, a splendid piper, and an unusually competent instructor. He soon raised the Battalion Pipe Band to a high level of efficiency, and in 1906 he had the satisfaction of winning the Argyll Shield at Cowal in the first 'World Championship' competition open to every band in Scotland.
It is probable that Peter Macleod was a member part of the band and his association with P/M MacPherson undoubtedly led to an improvement in his skills as a piper.
---
The Territorial Army was reformed in 1908 when some units were joined together to form the 7th Cameronians (Scottish Rifles). Peter Macleod is listed as a piper in the regiment at this time under Pipe Major McPherson.
Mobilised in 1914, the regiment was sent to Catterick camp in Yorkshire, Peter composing a tune of this name at the time. In 1915, the regiment was sent out to Gallipoli along with the 8th Cameronians another Territorial regiment. After heavy losses in battle the regiments were joined together for a while and other units were formed as the war progressed.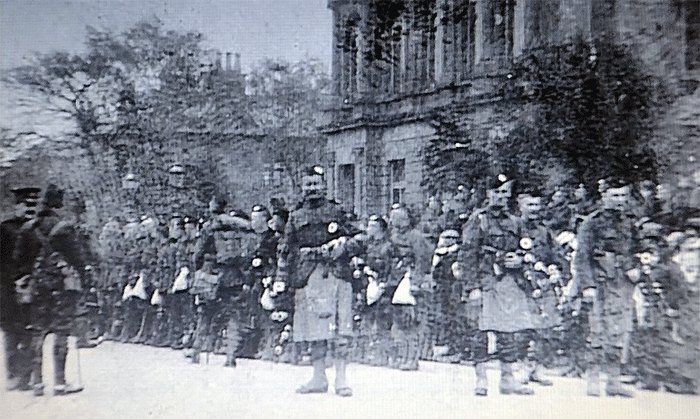 In 1917 Pipe Major McPherson's medical category no longer allowed him to remain with his old Battalion, but he continued serving overseas until September 1918 when he was demobilised as no longer fit for war service through disability contracted in the field.
At this time Lewis F. Beaton looks to have taken over as Pipe Major and Peter MacLeod was likely to have been appointed Pipe Major of another unit possibly the 3/7th or 2/7th Cameronians.
After Gallipoli, the Cameronians served in Egypt, Sinai, and on the Western Front. Peter MacLeod was with them in Egypt and Gallipoli and was discharged in 1919 after the war.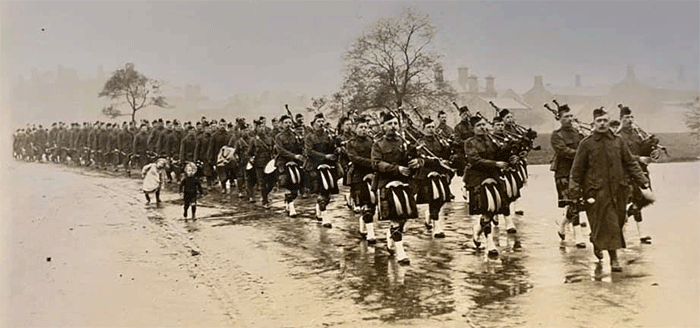 Peter continued working as a shipwright until about 1927 when he was involved in an industrial accident whilst helping fitted a deck hatch. His right leg became entangled in the gearing of a winch, necessitating amputation. He would not work again until 1941 when he returned to the shipyards working on until his retirement in 1955. He was fitted with an artificial leg but was in pain from the injury for much of his life.
It was after this accident that he became known to the piping world as a composer and teacher. In 1928 he introduced his youngest son Peter Jnr. to the piping world. At 12 years old young Peter was seen at the time as a child prodigy.
In 1932 he became the youngest piper ever to win the Open Strathspey and Reel competition at Inverness. From this time on Peter MacLeod Snr. had a growing reputation and was known as a knowledgeable man of piping.
He became a prolific composer with young Peter showcasing his new tunes, tunes like the Conundrum which was composed around 1930, its rhythm reflecting the composer's unnatural gait.
In total Peter MacLeod had three sons and three daughters, three pipers and three pianists. His sons Hector, Iain and young Peter all played the pipes, and his daughters Dora, Georgina and Christina played the piano. Peter's wife also played the piano, so you can start to see what a musical family the MacLeods were and how they became the source of so many pipe tunes.
It is believed there were over 200. His sons Hector and Peter also composed, young Peter's work being well known.
What inspired Peter to write so many tunes? Time may have played a part. After his accident he did not work for some time and was in such constant pain that he would wake in the night. It was during these sleepless hours he composed a lot of his music. It gave him a release from his discomfort and something else to focus on. 
His grandson Kenneth remembers him up in the night working on his latest composition. Writing in the Pipng Times, his pupil Andrew Wright remembers Peter having to stand and walk round the room to ease the pain during his lessons.
Between 'old' Peter and 'young' Peter every Macleod family member had a tune written after them. Old Peter composed constantly throughout his life.

Peter Macleod's music has been published in various books the most comprehensive collection being the Bicentennial Collection Volume 2 published in the US. About 60 tunes are printed there, but not all his tunes were published. There is still music that he wrote which has been unheard. Maybe one day all his music will be published and in one collection, something for pipers to look forward to. 
Despite his pain and uncomfortable existence, he never stopped writing and lived until he was 87. Peter MacLeod died at the Erskine Old Soldiers Hospital near Renfrew on the 16th of June 1965 leaving us with some of the great classic pipe tunes of the last hundred years.