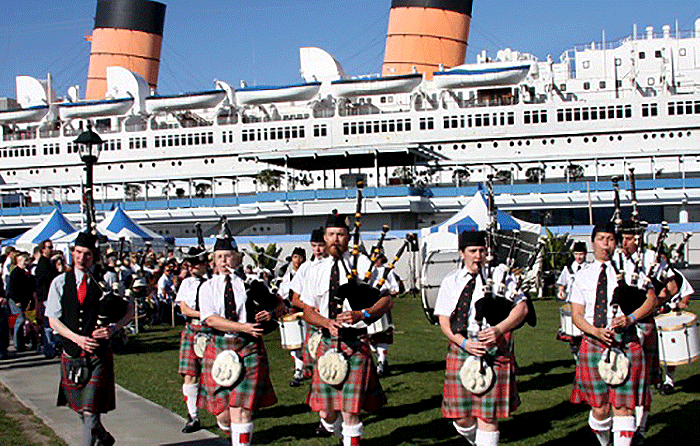 During my time as an RSPBA adjudicator I judged in the USA on six occasions. The first two of these were at Costa Mesa in Orange County, close to Los Angeles. The first time I travelled over with the late and legendary Pipe Major Angus MacDonald MBE, formerly of the Scots Guards.
Angus was a hilarious companion during the trip. When we arrived we joined up with Pipe Major Harry McNulty and a young Richard Parkes MBE, Pipe Major of the Field Marshal Montgomery Pipe Band. The Costa Mesa event was a Scottish Festival which included a massive number of clan stalls containing artefacts which presumably must have been procured from Scotland at some stage. It was interesting to meet some of the people I had met in San Diego when there with the Edinburgh City Police band in 1974.
The second time I was at Costa Mesa was very similar. On that occasion I judged with Tom Johnston (formerly of the Scottish Power Pipe Band) and Harry McNulty. At the Californian events there were also always a number of other entertaining live music performers such as Scottish fiddler Alasdair Fraser and piper Eric Rigler and his Bad Haggis group.
In 2003 I was invited to judge the Eastern United States Pipe Band Championships at Altamont, Albany, near New York. This event again was in the form of a Scottish festival and I judged with adjudicators from the EUSPBA and from Ontario in Canada. One of the judging team was another legendary piper, the late Alasdair Gillies, who at that time was teaching in Pittsburgh at the Carnegie Mellon University. I also met the famous piping and piobaireachd authority, the late Jimmy McIntosh MBE.
During the Albany event the EUSPBA conducted a trial with the pipe bands competing on a raised platform. One of the conditions of my invitation was that I was asked by then EUSPBA President, Al McMullin, to write an article about the trial for the Association's magazine 'The Voice', which I subsequently provided.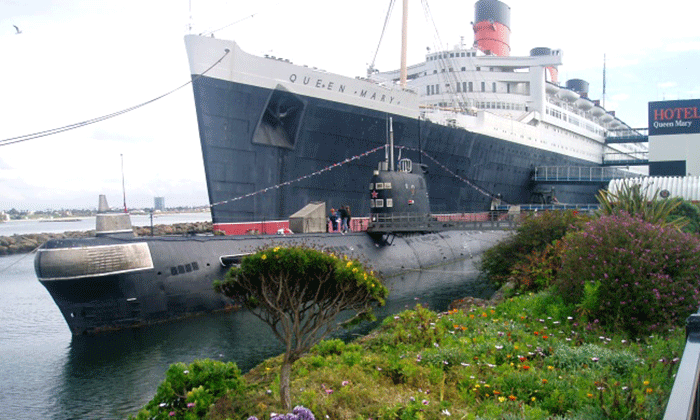 In early 2009 I judged the Queen Mary pipe band competition in Long Beach, California, at the invitation of Scott MacDonald of the LA Scots Pipe Band. This was a three-day event involving pipe band and solo piping/drumming competitions. The solo competitions were held on board the Queen Mary, now a luxury hotel. There was also an evening concert on board the Queen Mary involving the LA Scots band and Eric Rigler's group.
The pipe band competition was held on a grass area near the entrance to the ship. The judging team included drumming/ensemble adjudicator Davie McAdam. Davie at one time played with the Woolmet and Danderhall/Scottish Gas Pipe Band along with his wife Liza, who became Leading Drummer of the Princes Charles Pipe Band in San Francisco (and is also a piper).
I also had two judging trips to the annual Pleasanton Highland Games near San Francisco at the invitation of the late Bill Merriman of the Prince Charles Pipe Band. This is a massive annual Scottish event organised by the Caledonian Club of San Francisco.
A variety of celtic musical and traditional Highland Games events are involved in addition to the pipe band and solo piping/drumming contests. On one of the trips I travelled with George Summors and John Wilson, and we joined up with Sandy Keith from Dunedin in Florida (originally from Fife) and Nat Russell OAM from Australia. On the second occasion I travelled with Ronnie McShannon, John Wilson and Gordon Craig. Pleasanton also had all the clan stalls and even an old red London bus selling Scottish mince pies. Traditional fish and chips were also on sale in USA sized portions!
---
---
Canada: In 2005 I was invited to judge at the North American Pipe Band Championships (Glengarry Highland Games) at Maxville in North Ontario, Canada. I flew from Glasgow to Toronto where I stayed overnight with RSPBA adjudicator Bob Worrall before travelling by car to Maxville.
That was another very scenic journey as at one stage we drove beside the Saint Lawrence River. My adjudicator colleagues at Maxville included Michael Hunter, who Bob Montgomery of Edinburgh City Police Pipe Band and I were both involved in teaching at Craigmount High School in Edinburgh during his early pipe band career. I was also involved in teaching Mike's brother Stuart at Craigmount (who went on to play with Lothian and Borders Police Pipe Band) and their father was a piper in Colinton and Currie Pipe Band during my time there.
Other adjudicators at Maxville included Bob Worrall, Ken Eller, Andrew Bertoff, and the late Ed Neigh and Reay Mackay. On the Sunday immediately after Maxville I also judged the contest at Montreal, before flying back to Toronto for the flight back to Glasgow.
We experienced terrible weather as we landed in Toronto and later that night a plane crash-landed after overshooting the runway at Toronto airport.  To illustrate how small the world is, by chance I met in Toronto airport Tom Speirs, well known solo piping adjudicator, who had been judging in Ottawa and was on the same flight back to Glasgow.
New Zealand: In 2009 I was invited by the Pipe Band Association of New Zealand to judge the New Zealand Pipe Band Championships in Christchurch on the South Island. I flew from Edinburgh through London Heathrow and Sydney in Australia (with a short stop in Singapore, where we landed in a tropical storm), a journey which overall took 36 hours. The return journey was just as long with a short stop at Bangkok.
I joined adjudicators from New Zealand and Australia (including Nat Russell). Richard Parkes also represented the RSPBA as one of the piping adjudicators. Brian Switalla, who has since become an RSPBA international adjudicator, was also involved. Christchurch is world-renowned for its beauty, and its Botanic Gardens have earned it internationally the title of 'The Garden City'. I was indebted to the then PBANZ Secretary John Harrison for ensuring that I was well taken care of during my visit.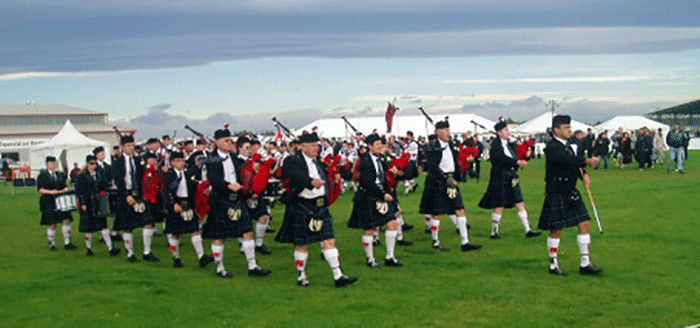 I was also grateful to Chris Stevens for taking me to see an extensive range of the city's attractions which included the Arts Centre, Cathedral, Cathedral Square Market, the heritage Tramway and the Christchurch Gondola (which takes you to the summit of Christchurch's extinct volcano with panoramic views of the city, the Canterbury Plains and Lyttelton Harbour).
In advance of the Championships we judged an impressive schools pipe band competition in a park area in the centre of Christchurch. The actual Championships were a two-day event and at the start of the second day all the pipe bands were judged on a street march for marching and deportment by all the adjudicators together.
It was rather like the parade down the street at Cowal Games but with more space. We also met during the visit Major General Euan Loudon, then Chief Executive and Producer of the Royal Edinburgh Military Tattoo, who was in New Zealand looking for acts for the Tattoo; and also Greg Gordon OAM, who at that time was President of Pipe Bands Australia. It was so sad to later see large parts of Christchurch destroyed by the earthquake in 2011.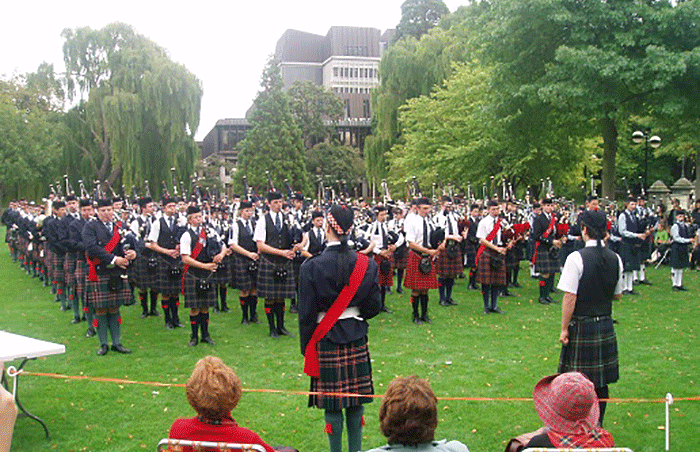 The foregoing are only a few examples of the extensive interest in piping and pipe bands which exists worldwide. I have not included Northern Ireland which, being part of the UK, has its own Branch within the membership structure of the RSPBA. The Branch has around 90 member pipe bands and runs annually a comprehensive competition programme in which many of the RSPBA's mainland-based adjudicators are regularly involved.
I enjoyed many memorable visits to almost all the regular venues for pipe band competitions in Northern Ireland, including Major Championships at Lisburn, Banbridge and Ballymena. I also judged a number of solo drumming competitions in Northern Ireland and in Dublin, including the World Solo Drumming Championships held at Monkstown Community School in Northern Ireland in 2006.
I hope these articles provided an illustration of at least some of what normally goes on throughout the world each year in the piping and pipe band community, and which was greatly missed in 2020. Obviously a return to some form of normality across the globe cannot come quick enough.