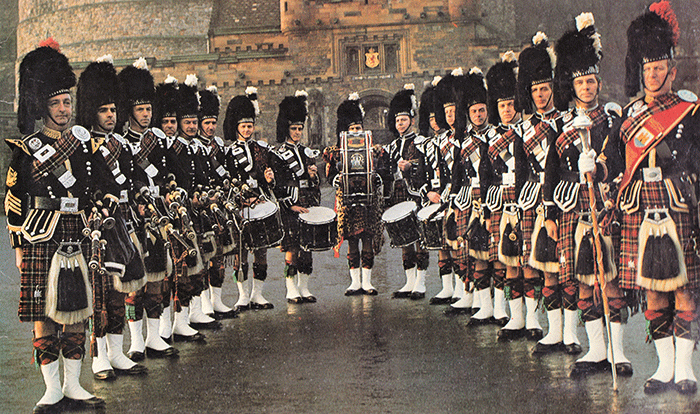 During my talk for the Bagpipe Association of Germany last week I emphasised how important it was to have an instrument that was easy to reed, easy to tune and steady. Have a think, dear reader, about your own pipe. Does it measure up?
Do you spend more time actually getting your pipes going than practising or playing? If so you have a problem. If it does not answer all of the above requirements then it wil be time for change.
The point I made to the students, and re-iterated at the Piobaireachd Society's 'Talk Piobaireachd' session this week, was that modern instruments were every bit as good as the old Hendersons, MacRaes, Lawries and Robertsons – and a lot of the time much better.
Modern manufacturing methods have hugely improved the quality control of the storage and maturing of the raw blackwood, and the turning, the boring and the finishing. From memory (it seems so long ago since we sat listening to a live contest) many of the leading professionals today are all playing modern instruments.
Some of that will be due to commercial imperative; they are sponsored by the manufacturers or have designed their own models of pipes. But be assured of one thing, these top players would not be playing these pipes if they couldn't deliver the goods when it mattered most.
---
---
Our correspondent Alistair Aitken is always reluctant to talk about the successful time he spent playing in P/M Iain McLeod's Lothian and Borders Police Pipe Band, but I have managed to get a couple of photographs out of him.
Alistair writes: 'Even though I was in the band for 12 years, I was a guest player, so I always stayed in the background when photographs were being taken. The Corby photo [below] was unfortunate as it was taken from an angle, so some of us were hidden. [This was when the L&B won the Worlds.]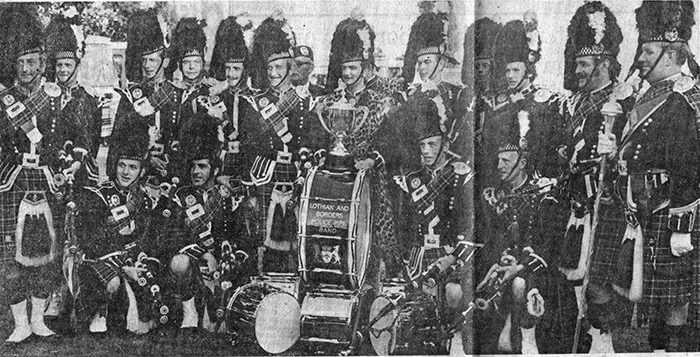 'I was in the attached photo [top] which was on the front of the LP recorded in 1975, but again slightly hidden between Jock Drysdale and Duncan Smith. [Alistair is second from the back in the right hand file.]
I am on the far left of the drum corps photo which was taken in San Diego, California, in 1974: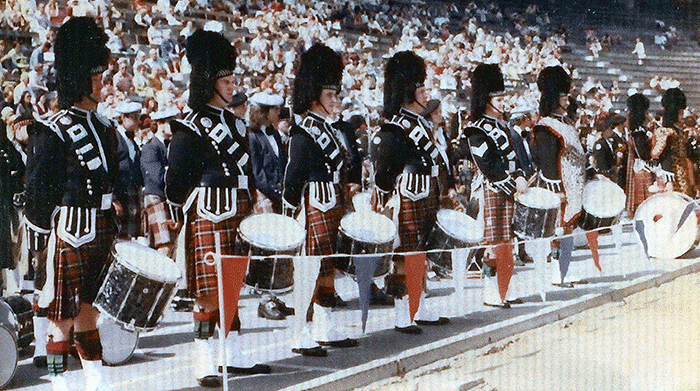 Great pictures Alistair: thanks for sharing.
---
Whilst on the subject of pictures, Ronan Maguire's reworked shots of the 1956 SLOT band and of John MacColl are now downloadable in their correct format. Some who tried to save them earlier would have found they were diminished in quality.
Go back to the story now and try again if you were disappointed the first time. We'll have more of Ronan's super work next week.
---
Following my comments on Hogmanay pipers, it has been pointed out to me that young Sandy Cameron, Roy Bridge, did the honours for BBC Scotland Alba, the Gaelic tv channel.
He was pre-recorded at Glenfinnan last December. Sandy had to endure numerous 'takes' in freezing conditions and played two sets of tunes associated with the '45 Jacobite uprising. Sorry to have missed you Sandy. Given what I saw of the show your performance will have been the highlight!
---
Thanks to all those who responded to the three-part 6/8 march query. First in was Alan Forbes: 'The tune preceding Colonel Robertson in the first Scots Guards book is Captain Craig Brown – also a three-part tune.
'These two used to be played together by the Royal Scottish Pipers' Society of which Craig Brown was a member.'
---
'Not sure if you saw this tribute to John Stewart on Facebook,' writes Alan Clark. 'Couldn't believe it's been 10 years since he passed.'
Here's the link:
https://www.facebook.com/100004788037621/videos/1821565951346322/
Time flies Alan; thanks for the memorial. The tune is Mark Knofler's 'Piper to the End'. Details here
---
From the Past …. the Northern Meeting 1960
Gold Medal
1 John MacDougall, Bucksburn – Lament for Captain MacDougall
2 P/M Donald Morrison, Aberdeen City Police
3 Thomas Pearston, Glasgow
4 Kenny MacDonald, Tiree
5 Stewart Salmond, Dundee
March
1 Iain MacFadyen, Glasgow
2 John Graham, Avonbridge
3 Jimmy Young, Perth
Strathspey & Reel
1 Donald MacPherson
2 John MacDougall
3 L/Sgt Angus MacDonald, Scots Guards