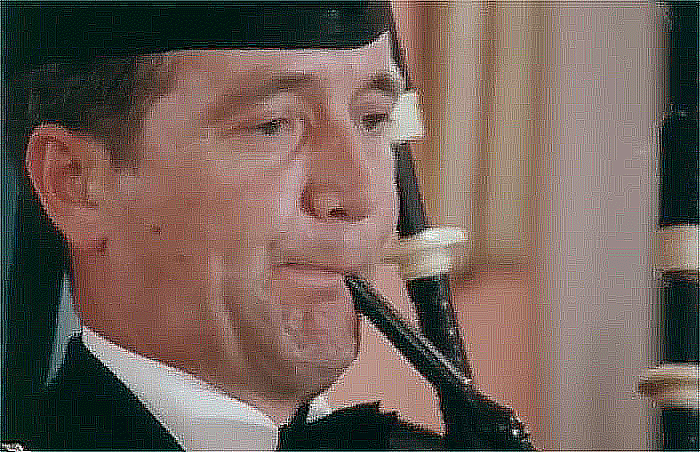 I was shocked and deeply saddened on hearing of the passing of my teacher and great friend. Since hearing the news I have reflected on all the times I spent with Iain Murdo – and there are so many great memories. Despite his immense talent, he was a very modest man who devoted his life to helping and guiding others in furtherance of bagpipe music. I thought I would share a few of my memories, I guess as my tribute to him, but also to show the type of man he was.
I met Iain Murdo for the first time on 8th July 1982 as a youngster attending a recital delivered by him in the Royal Hotel, Stornoway. My teacher was Angus 'Boxer' MacLeod and he often spoke of his brother, P/M Donald MacLeod – and also of Iain Murdo Morrison who he believed was, on his day, the world's best piper.
By Neil Smith
That night I was fortunate to be seated only a few feet away and heard Iain play two one-hour sets which included the piobaireachd the Finger Lock. I was enthralled by his playing; it was outstanding and effortless; the harmonics from his pipe were incredible.
At the end of the recital he walked directly across to me and introduced himself (to me!) saying he'd heard I played and he hoped I'd enjoyed his playing. He took a genuine interest in me and made me feel important, offering me any support that he could and encouraging me to compete at the Northern Meetings. (I'm sure many people will have similar experiences of his kind sincerity.)
'Wee' Donald [MacLeod] had passed away suddenly the previous week and he spoke of how shocked and saddened he was. He said it was now up to him and others to pass on his style. He outlined his ambition to teach piping on the island once he'd left the Army so that youngsters could benefit from his knowledge.
At that time Iain was still in the Queens Own Highlanders and he spoke of his pride in the regiment and the great life it had given him. (He continued to be extremely proud to have been in the 'Queens Own' for as long as I knew him.)

He then handed me his pipes and asked me to play. I'll never forget playing that instrument and couldn't believe he'd given me that opportunity. I can still recall that night quite clearly such was the impression he made on me.

Maybe a couple of years later he came out of the Army and returned to Lewis where I became his pupil. I spent many hours at his home in Back where I was always made welcome by Iain and Flora. He was extremely generous with his time, as he was with all the other pupils he has had on the Island over the years.

The fact that pipers travelled from across the globe to experience the teaching, knowledge and hospitality at Back demonstrates the high regard he was held in. He always wanted to do his best for his pupils.

I and other pupils were very lucky to often hear Iain playing outwith the competitive environment. One occasion stands out for me and I can still recall it very vividly. In 1986 he held a piping school at Lews Castle, Stornoway, where a number of us attended and were taught by Iain with 'Boxer' MacLeod supporting him.
Through the week he took us through solo work and also turned us into a mini band teaching us the Donald MacLeod march Walter Douglas, a very musical tune which we played on the last day. On conclusion of the day Iain played in the castle ballroom which looks out across Stornoway harbour.
---
[wds id="9″]
---
I recall it was the first time I'd heard the tune Glen Galson and he also played Donald MacLean of Lewis. However the highlight of the performance were the strathspeys and reels: Susan MacLeod, Delvinside, John Morrison of Assynt House and Neil Angus Macdonald.

The technical execution was flawless and harmonics of the pipes fantastic. However it was the musicality, tempo and flow which was incredible. In terms of sheer musical expression I've heard nothing like it since.

His playing that day in that room was breathtaking and on another level. The fact is music like that cannot be taught, it has to come from within and it certainly did that day.
I think Anna Murray, Audrey MacKenzie and Mhairi Irvine were there too; all pupils of Iain who won prizes in the Juniors at the Northern Meetings.

Anna has been very successful as a musician, as have other pupils such as Iain Morrison Jnr and James MacKenzie. Indeed I believe Anna has taken on the teaching role Iain once had, no doubt continuing the work he did. Certainly the people in the room with me that day were privileged and very lucky to share that musical experience of a master piper. It was both effortless and inspiring.

My experience of Iain's teaching was that you always had to play musically, and he was a hard task master in that regard as I found out many times. He always made reference to wee Donald, more specifically from a piobaireachd perspective, and as I've said, one of his main objectives was maintaining his legacy, something which he has succeeded in fulfilling.

Iain showed me kindness and generosity, providing me with support for over 30 years, both as a teacher and friend for which I shall be eternally grateful. He was an exceptional piper, teacher and man who I feel privileged to have known and I will miss him greatly. My condolences to Flora (a wonderful, kind, woman) and to Catherine, Donalda, Iain Jnr and all of the family circle.
It is with sadness that we have learned of the passing of Sandy Grant Gordon, whisky magnate and piping philanthropist. A tribute to Sandy, who was 89, will be carried in due course.