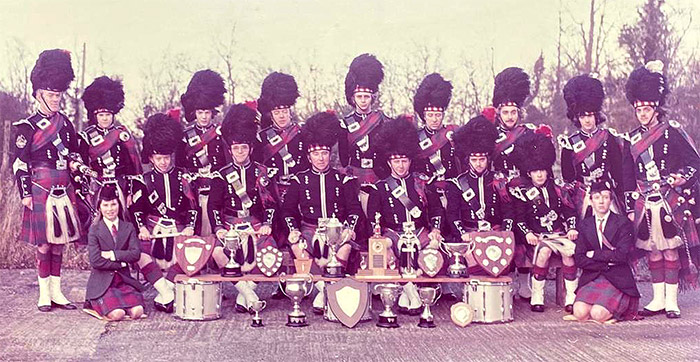 In 1972 the band were selected, along with the Robert Armstrong Memorial (Grade 1), Dromara (Grade 2), Howard Memorial (Grade 3), and Ballykeel Moneyrea (Grade 4), to represent Northern Ireland at the Intercontinental Gathering at the CNE in Toronto, Canada. They were placed ninth as a band and fourth in drumming.
Along with the Armstrong Memorial, they were invited back again in August 1977 to compete once again at this prestigious event which many at the time considered to be the 'real' World Championship because of its international dimension.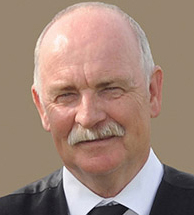 1973 was another successful year for St Patrick's with wins at County Antrim (Carrickfergus), County Down and Mid Ulster, and to crown it off they were declared NI Branch Grade 1 Champion of Champions.
In 1974 Tom Anderson had to stand down due to work commitments and Sean Faloon was once again re-installed as pipe major, however the band had to withdraw from competition.
They returned to the arena in 1975 taking a first at Durrow, and, over the next few years under Pipe Major Faloon, won at the East of Ireland in Howth in 1976 and secured placings at the Mid Ulster in 1977. The band was also crowned the Grade 1 Ulster Champions in 1977 and 1978 when the drum corps triumphed at the East of Ireland, Howth.
During the decade the band also made a number of regular appearances on the BBC Northern Ireland radio programme 'Ulster Band' in addition to a few television appearances. One of the band's last successes came in 1979 when they were placed first in Grade 1 at the Mid Ulster.
Sadly St Pat's disappeared from competition at this time and they were never to return. This was most disappointing for a band that had reached the heights. To compete against the very best in the world, and to be remembered fondly four decades, later is testament enough to their achievements and says a lot about the respect they were held in.
In addition to those already mentioned as contributing to the band's rise were pipe majors or piping instructors such as William Wood (Ballycoan), Lowry Nelson (Orritor), and Vivian McCann who went on the lead Ballinderry Bridge for many years.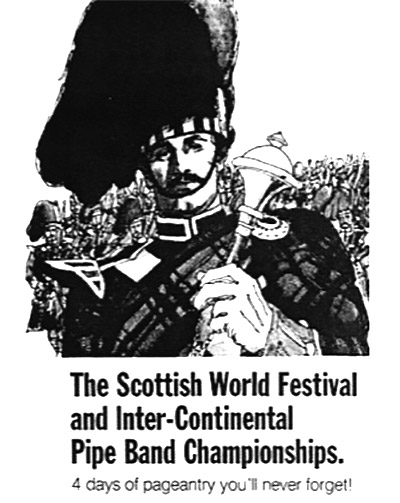 Leading drummers during the band's competing years included Joe Faloon, Alec Walker, Malachy McCullagh and instructors Iain Downey and Ernie Shaw (both Tullylagan).
Despite the obvious rivalries that exist within the pipe band community, and which exist in all competitive scenarios, real friendships develop and none more so that between 'the Pats' and 'the Armstrong'. They both travelled the path to Grade 1 together, and indeed shared two great trips to Canada creating a lasting bond. 
Many believe the endeavours of both these great rival bands played a huge part in raising the performance standards on this island to a level which eventually gave birth to the finest pipe band ensemble we have ever had the privilege to witness, the record-breaking Field Marshal Montgomery Pipe Band.
Before I close this look back over the history of one of Northern Ireland's iconic bands, it would be completely remiss in any history of St Patrick's, Donaghmore, not to give special mention to the contribution of Pipe Major Sean Faloon, a man who did so much to guide it towards its success.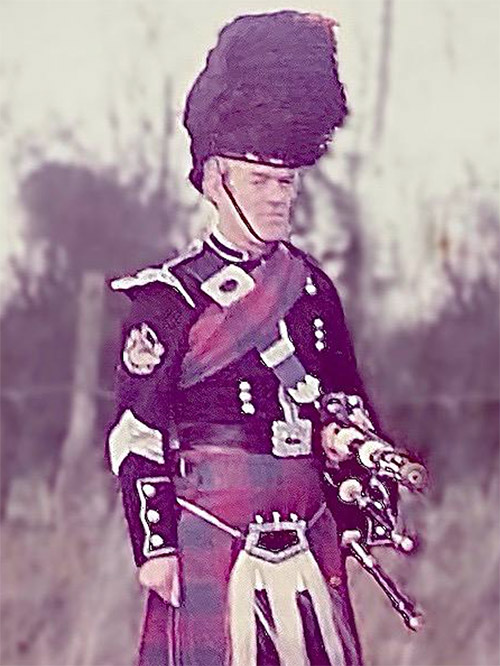 He was part of the team that resurrected the band in the 1960s after some years of inactivity, and, using his piping and leadership skills, led it to achieve All Ireland success in 1968.
Despite this he had no qualms about stepping aside when Pipe Major Tom Anderson was recruited to bring St Pat's even greater success and then willingly took up the reins again when required and lead the band to further prizes at the highest level. 
Read the start of this history here. Would you like to share your band's distinguished history with the rest of the pipe band world? Send the editor your stories and pictures and we'll do our best to feature them on Piping Press.
---