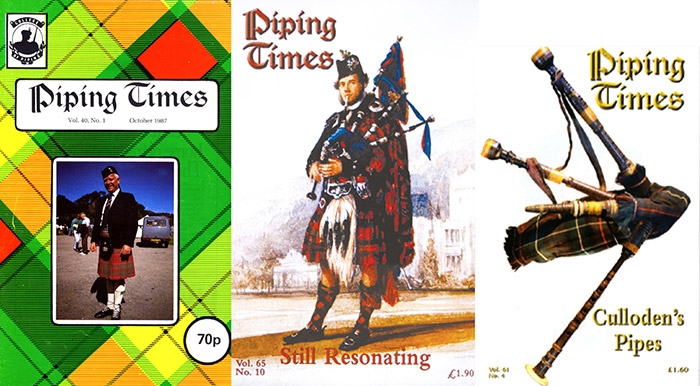 Last week's story on the sorry demise of the Piping Times prompted quite a response from readers, writes the Editor. One suggested we make an offer for it (20 years ago maybe), and regular correspondent Ken Rogers from Calgary penned: 'I read the submission regarding the final edition of the Piping Times fading into history.
'For me, I retained 34 copies of the magazine of which you were the editor, starting with Volume 57, No.5, 'Soldiering On' covering the integration of historic Scottish regiments as battalions of the Royal Regiment of Scotland, and ending with Volume 66, No. 9, 'Dressing Down' about what is appropriate dress or uniform when competing or playing an engagement for the general public.
'I retained these glossy magazines because they contain valuable articles and letters to the editor which I employ as instructional resources. Yes, it is sad that the print media is being overwhelmed by technological devices, but like the phoenix, Piping Press has arisen from the ashes. Really, the only change is the medium. So don't lament!! There is still work to be done and there are avid readers across the globe.
'Regarding the demise of College of Piping, here I am sad. It was the Fall course for which I enrolled in October 2005. I could not have asked for more. My instructor was Pipe Major Joe Wilson, Gordon Highlanders, and I played my recital on the Friday afternoon and was awarded the Institute of Piping Performer's Certificate afterwards.
'I look back to walking from my accommodation on the other side of the River Kelvin past BBC Scotland on the corner to the intersection of Great Western Road and Byres Road. Crossing the road and walking down to Otago Street was always a thrill. Here I was in the land of my ancestors. My maternal grandmothers were Lindsays and Glens. I may be getting on in years, but my time in Glasgow is a treasured memory.'
Here are some gems that reward even a cursory trawl through back issues of the PT and Piper Press. From the PT of May 1993 editor Seumas MacNeill writes on the proposed move from Otago Street to what is now the Piping Centre: 'The College is particularly proud of the large number of pipers it has produced over the years….When your editor receives his knighthood, or his life peerage, it should be for the 14 years he spent travelling every Wednesday to Edinburgh to teach pipers there….
---
---
'With the initiation of the Piping Times magazine in 1948 the College became well-know worldwide and as a result began to receive letters from pipers and other people. Some of the requests were looked on a rather peculiar such as one which said 'please send some purple heather for my daughter's wedding in South Africa…'
And from the same edition….'There are people who think that because our scale is not the same as theirs that ours is necessarily wrong, not realising that the bagpipe is the most perfect musical instrument that exists….'
Here is Seumas, from September that year, on the demise of summer schools ….'The future may mean many more instructors in Scotland each summer, but we should feel considerable satisfaction that piping has developed in this way…When one famous piper was asked if he would like to teach at a summer school in California he thought for a while and then said, 'I'd rather be in Skye'. Wouldn't we all!'
This from my editorial in Piping Press, July 1998 on Donald MacPherson at the Piobaireachd Society Conference: '[His] captivating performance proved that in piping it is not only never too late to start – it is never too late to stop….At the age of 75 he thrilled the audience at the Royal Hotel with his immaculate rendition of MacIntosh's Lament and a range of light music….'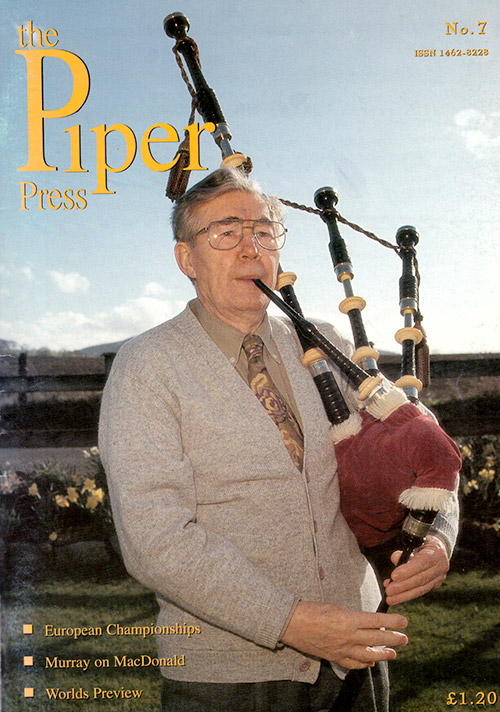 And on the 1998 European Pipe Band Championships held at Ayr that year (and won by Robert Mathieson's Shotts): 'MSRs still pose technical problems for modern day bands that some of the top outfits of 20-30 years ago would have taken in their stride. However it is important to remember that bands in those days did not have a second discipline, the medley, to contend with and could concentrate their practice much more…'
Finally we have the Seumas at his best, this from November 1991…'The point has been raised occasionally that we should make an effort to interest the general public in the classical music of the bagpipe. Not that we want them to learn to play, but that there should be a great many more people able to find enjoyment in listening to a contest, or to a recital, without necessarily being performers on the instrument themselves.
'Those who attend the ballet are not all able to do an entrechat; many who enjoy the singing of Pavarotti would not dream of attempting Nessum Dorma. If ours is to be a live, active and vigourous branch of music then we need to have a large, interested and educated support from people who do not themselves aspire to play the instrument.

'How can it be done? Well a lot of things would have to be changed in our traditional presentation of piping. For one thing we have to stop this interminable tuning before a performance. Nothing is more calculated to sicken the listener than to see the artiste wandering about the platform engaged in a physical struggle with his instrument.
'We do not suggest that the amount of tuning time should be cut down; we seriously propose that it should be eliminated entirely. If the piper cannot appear on the platform with his instrument properly in tune then he has no right to be there….'
Back issues of PT and PP being offered to readers earlier today were snapped up within five minutes of publication of this article. Thanks to everyone for their interest.
---