By President Tom Johnstone
The event to mark the 100th Anniversary of the founding of the Scottish Pipers' Association was held in NPC Otago St (formerly known as the College of Piping) on Friday 10th January 2020 – 100 years to the day after being founded. I started off proceedings with a few tunes and then gave a condensed history of the Association. [Tom is pictured above on stage.]
Although the Association was founded in 1920 things started to happen 10 years earlier in 1910 when the Scottish Pipers and Dancers Union was formed. The SPDU held events such as the one in 1911, a lecture given by Dr Charles Bannatyne followed by recitals from John MacDougall Gillies, William Gray, James McIvor, John MacColl and others.
The war in 1914 curtailed such gatherings but many of those involved resumed meetings in the back of Peter Henderson's shop in Renfrew Street, Glasgow [now an Asian restaurant]. John MacDougall Gillies was the shop manager and also did some teaching there.
At closing time he would disperse the inevitable crowd of pipers by blowing up his pipes and playing 'The Men Went To Drink!' The pipers then started meeting in an empty shop in Garscube Road, Glasgow, north west of the city centre.
These informal meetings eventually became the Scottish Pipers' Association with 12 founding members including President John MacDougall Gillies, Robert Reid, Archie MacPhedran, William MacLean and Charles MacEachearn.
The Scottish Pipers' Association was formally instituted on January 10th 1920 and the members held several contests and events that very year. In those days the contests featured names such as GS McLennan, P/M Willie Gray and P/M John MacDonald, both of the Glasgow Police. Typical prize money was £2 for a first place down to 5/- (shillings, about 25p in today's money) for fourth or fifth place.
In 1930 the SPA started holding meetings in the Highlanders Institute in Elmbank Street, Glasgow, and by 1936 there were names featuring in the contests such as Peter MacLeod, Archie MacNab and John Allan McGee, along with juveniles such as Hector MacFadyen, Pennyghael, Robert Hardie and Tommy Pearston.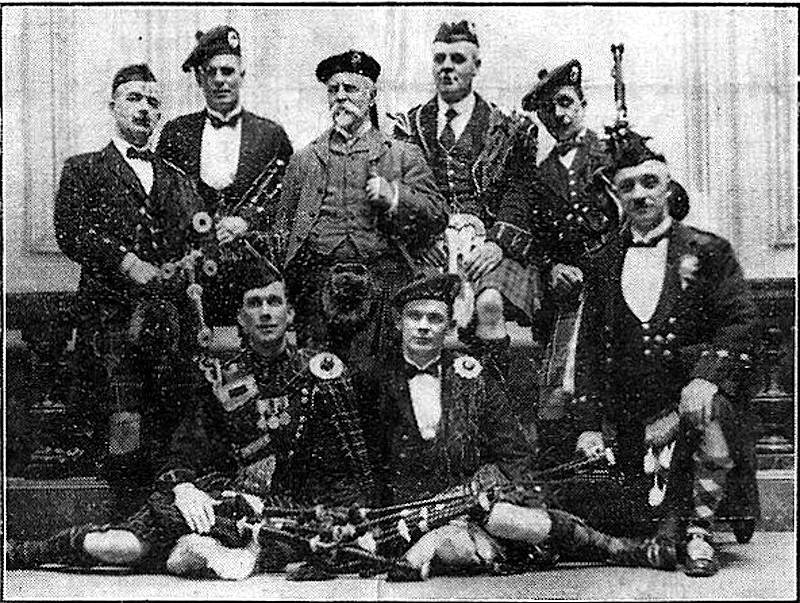 In 1939 our very own Bob McFie featured in the prize lists. In those days his membership fee was 2/6d (12p) and the President was Duncan MacMurchy.
Our list of Presidents to the present time is as follows:

John MacDougall Gillies, James MacIvor, Duncan MacMurchy, Robert Reid, Hamish MacColl, Robert Reid, Donald MacLean, Hamish MacColl, John MacFadyen, Ronald Lawrie, Angus J MacLellan, Ronald MacShannon, Rory Grossart, Jeannie Campbell, Iain Watson and Tom Johnstone.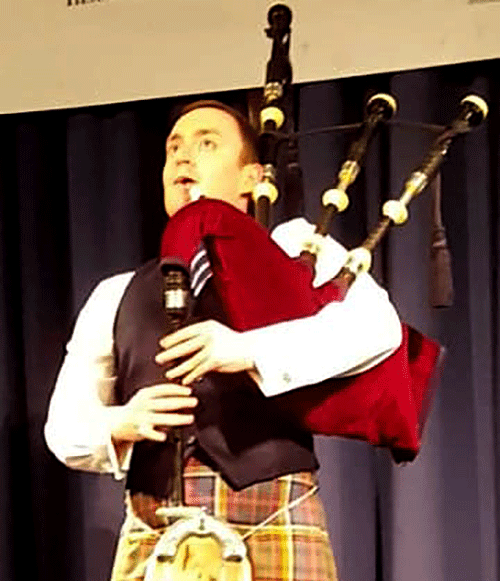 I enter the story when John MacFadyen was President and I was taking lessons from his brother Duncan at the College of Piping around 1965. Duncan encouraged me and the other lads to go along to the SPA meetings which were in the Highlanders Institute now in Berkeley St., Room 4.
The SPA was of course known as 'the Pipers Club' and most people agree that the best venue we ever had was the Dorchester Hotel in Sauchiehall St which had a large lounge bar. Meetings are now held monthly on the 1st Friday of the month at NPC Otago St Glasgow. Everyone is welcome and we now look forward to the next 100 years!
Tom went on to thank everyone involved in making the evening a great success including the NPC and McCallum Bagpipes for their ongoing sponsorship. Players on the evening were himself, Emily Anderson, Mathew Anderson, Rory Grossart, Andrew Ferguson, Barry Donaldson, Kyle Shead and SPA Vice President Logan Tannock.  
---
[wds id="11″]