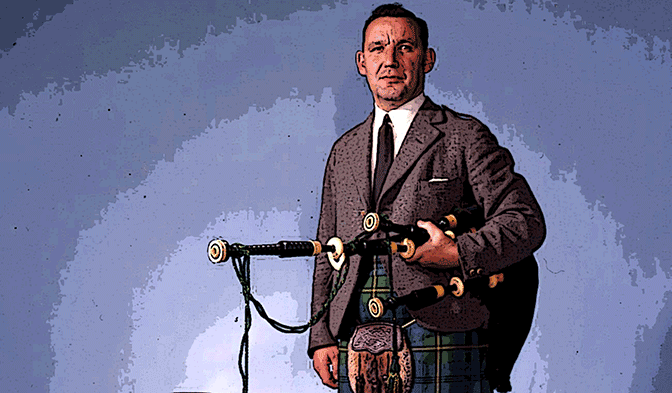 Paul Brown at Kingdom Thisle pipe band supplies in Fife sent the YouTube link below and this question: 'I know this is a bit strange but we played a tune with Dysart and Dundonald a while ago and I'm trying to get the name of it. I think it's one of Robert's compositions. Do you think he could tell me the name of it?'
The tune is the Isle of Barra March and it not by me, more's the pity, but by the great Duncan Johnstone (above). Duncan gave me a copy of it 30 years ago and the Whistlebinkies recorded it on an album pairing it with Father John MacMillan of Barra.
The tunes went particularly well together which was pleasing as the good Father was well known to Duncan. This tune, by Norman MacDonald, is in Donald MacLeod's Book 1 and the Isle of Barra March is in Duncan's 'Complete Compositions'.
Here is the tune in Duncan's own hand as given to me and the note at the top is by my son Andrew written when he attended Duncan for lessons: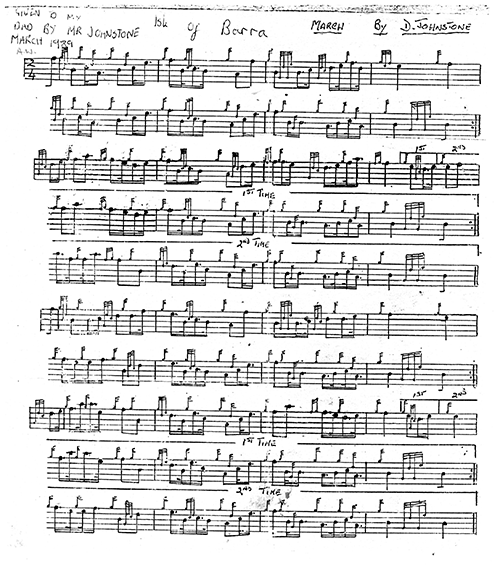 Last year we ran a full series about Duncan under our 'Famous Pipers' banner. Check it out here.
Pleased to say that the final Piobaireachd Society bound volume printed for Christmas has now been sold. Any further orders will have a three/ four week lead time. Check out the Society's shop here. Super discounts for all members. Dealers should email orders for the Society's books (1-16 plus Kilberry etc.) to Treasurer Roddy Livingstone.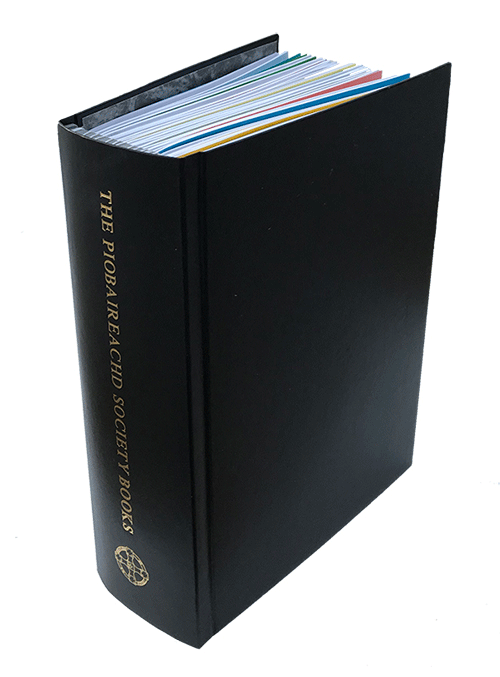 Two new items just added to the shop are the complete collection with binder (above) and Alex Haddow's must have book 'History and Structure of Piobaireachd'.
---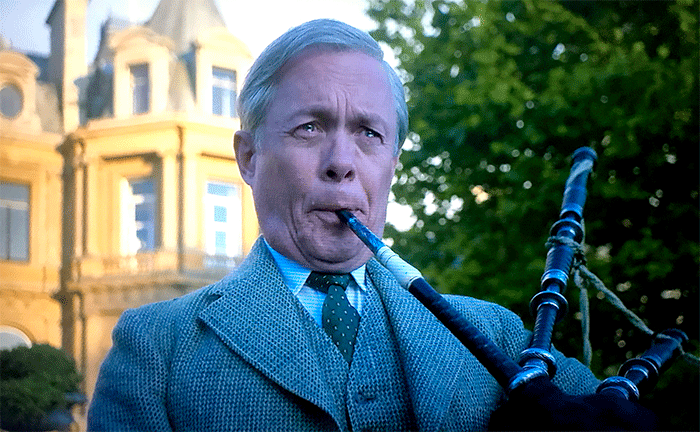 Correspondent Duncan Watson writes regarding the Duke of Windsor pic and story we ran last week: 'A few years ago I was in Inverness and secured a good set of Henderson pipes.
'The person who was conducting the sale also had a beautiful looking set of Lawrie drones. They may have in fact been full silver. I looked at them and the man said they were not for sale. In any case, I doubt if a poor police pensioner scraping out a living destroying arondo donax cane in pursuit of making a reed or two could have afforded them.
'However, the man told me of the provenance of the Lawrie bagpipe. The instrument had been part of the inventory of an ocean going yacht owned by a lady who owned a landed estate. Apparently this lady was well connected and at times invited the Duke of Windsor on board and probably there would have been lavish parties etc.
'With such an instrument on board and, doubtless, the parties being fuelled with a modicum of alcohol, the claim that the visiting 'crew member' the Duke of Windsor, had a blow of them occasionally was of interest to me.
'I am not sure if the gent has still got the instrument. If he reads this, he might identify himself. Perhaps interestingly, the pipes in the photo of the Duke of Windsor (above) appear to be adorned with silver mounts as opposed to the horrible looking sticks on the shoulder of the actor guy playing the Duke. Film makers in a lot of cases are poor at detail when trying to make historic films; fiction and facts are often conflated.'
---
Pipe band adjudicator and Bob Nicol piobaireachd student Sam Young has responded from Australia to my analysis piece last week on MacFarlane's Gathering.
Sam writes: 'Love the PP articles. Interesting article on MacFarlane's Gathering and the 'redundant' low A in the taorluath etc. Nicol told me in no uncertain terms that John MacDonald, Inverness, insisted that there was no such thing.
'He promoted the importance of the second low G in the movement to be given equal value to the first and not to confuse this as being sounded redundant. Just some history as I got it. Hope you both have a very merry Xmas and a happy New Year.'
Would anyone else like to weigh in on this interesting topic?