From the Argyllshire wetlands our correspondent MacStig made a special trip to last Saturday's North Berwick contest which remained on whilst Perth (Sunday) had already been cancelled. Here is his report.….
It was a touch overcast with mist up on the flatland beneath the barely visible hill as the Rotary fellow relieved me of a five pound note for car parking. It was a bit of a mire underfoot, the old boots just what was required and plaudits to the event organisers for getting it on.
I did see some with sandals and flip-flops (sliders for the North American readers) in what must receive the optimist of the day award. The overseas bands already in the country for next week were making the most of it and it was the 'local' bands, particularly in Grades 1 and 2 who were posted missing.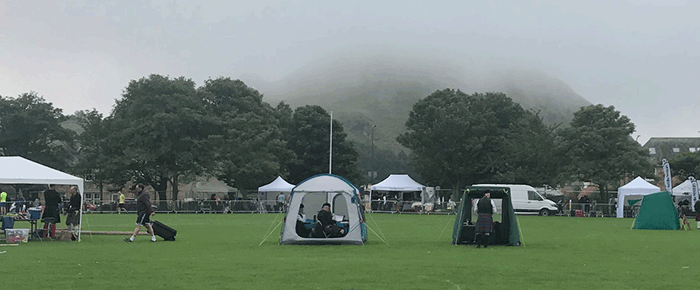 Understandable, possibly tactical, maybe a weather concern, but disappointing nonetheless as we lost the chance of seeing Uddingston Strathclyde, Porty and others up against Peel Regional, Celtic, Pipe Band Club and, importantly, St Thomas Alumni. Aside from the nearest front runner from the domestic scene, Royal Burgh of Annan, that big contest will all have to wait until next Saturday. Fair play to Scottish Fire & Rescue and Wallacestone for getting out and playing too. 
Before getting on to the Grade 2 Medley contest itself, some issues about the venue, as regular readers tell me they like the details of such things. I know it is at the extremities of East Lothian and a lovely part of the world, but the mobile telephone companies need to sort out service in that part of the country. The signal ebbed and flowed with the height or depth of mist on the hill and I wonder why infrastructure like this is such a problem in this country (this the morning after one million homes were without power in the South).
---
[wds id="2″]
---
Well played the RSPBA Twitter Meister for getting the early glimpses of the G1/2 and G1 videos out for a world wide audience. And 10 out of 10 for handling that falling camera – I reckon you will get a call up from Gregor Townsend to join the Scotland rugby squad any day now. 
Second, the blasted flies and insects which, unlike me, love damp mud and warm air, and humans with all sorts of food. Now it may just have been my particular brand of cologne, but the bugs aren't usually as bad as they were out east last Saturday.. 
As I say, the Grade 2 Medley contest only provided a glimpse of what will be on the Green on Saturday. The MSR came later in an amalgamated G1/G2, so I have reserved my commentary to the G2 Medley only.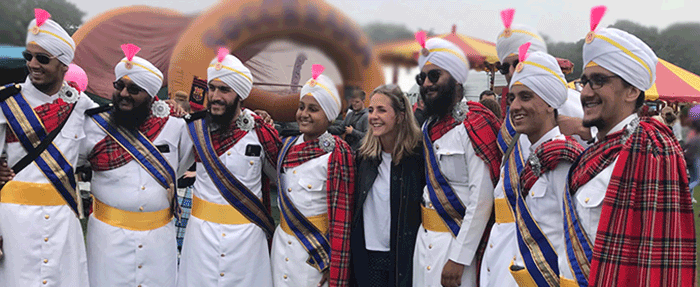 Before going any further and giving some pointers of what I heard, the top sound of the grade was easily St Thomas Alumni. Cutting to the chase, from the off, I had them as the clear front runner, and those of you who read these musings will not be surprised. A runner up to Dunedin last year and always there or thereabouts, the sound this year is better. The drones were rich and this from a corps that must have been practicing in very different atmospheric conditions. The chanter sound was markedly upscale too, and better than last season's Worlds' final. Maybe someone who knows will enlighten the readers and me if new chanters are being used? From the drum corps it was strong and stable (in both Medley and March, Strathspey and Reel sets) and they set out their stall against the G2 front runners.
Scottish Fire & Rescue played well and I applaud what is going on there this year. Less tentative than before and that has been a progression this season for the band. They have a good mid section. for those who are interested in such things, and with blowing issues (there were some drones waving around by the end) and the odd bit of freelance piping eradicated, they will be on the march. Getting to a Worlds' final would be their final and might just be a year too early. Go on SFR prove me wrong; I'd dearly like you to make it through.
LA Scots didn't grab my attention immediately and I do think there is a tendency for there to be frenetic start tunes in their medleys. Stately marches work for me unless it is a hornpipe played flawlessly and without harmonies from about bar eight. The sound will come for this band just as it warmed during the run and elevated their position. They should be aiming to be one of the six through from their heat next week. Welcome to Scotland and the very best of fortune. 
---
The top six in G2 at NB:

---
Royal Burgh of Annan has had a good season for a band newly promoted, although I know they have ambitions beyond playing safe in the middle of the pack. It was a neatly done medley and will be enough to see them ease through to the MSR final next week, or it is in their hands to play as they do. The 'bendy' naughty notes might not be everyone's cup of tea, but for some, including me, they work in this setting. I enjoy this medley a great deal and wish the band a happy day next week.
A warm welcome to the Pipe Band Club from Australia and well done on making the very expensive trip. They were very early with harmonies and for personal choice, I'm not sure about that opener but it caught the imagination. It got me foot rapping through the construction though and was a very neat traditional medley, well executed. Good luck folks. The overall sound was strong. 
---
---
Midlothian Scottish from Chicago marched on next and seemed to have a good attack and be full of purpose. However, from the off the tenors were too dominant – there was a significant beating on one noted drum that sounded flat, whilst the four snares found it tough to break through. The sound wasn't there at NB, but the band put up a good show and I'm sure the hard work in the week ahead will ease them into a groove for next Saturday. 
North Stratton, no strangers over here, put up a spirited performance that didn't seem to really get going compared with what I've heard from them before. I suspect they will be aiming to make a final next week and a week of practice will help. This medley is well stitched together and the band should go out with confidence and play hard. There are no prizes for coming all this way to play safe and sit in the stands for the final. 
I've already mentioned St Thomas as the stand out band at this stage, and indeed for the grade. I noted the three 'caped crusaders' in civvies with capes covering their mufti and can only assume this was caused by baggage issues whilst crossing the Atlantic. Otherwise I'm sure there is a rule about all band members being in uniform etc. In such circumstances leeway is sensible, before you all start saying your kilts are lost luggage. Top drawer playing and I really look forward to them going up against Closkelt next week. 

Celtic (Nelson) from New Zealand had to follow that and with their mix of youth and experience struck a good sound, but lacking in 'oomph' from the start. Maybe nerves, but it settled and became more confident. I particularly noticed the tenor drummers signaling and nodding at the 'in joke' points you have as a band at certain parts. You all know what I mean and with 'more time' than anyone else, the tenors seem to do this a great deal – don't you all? Just watch the G1 contest and you wil see what I mean. Anyway, well played Celtic and welcome to the week of madness that awaits you.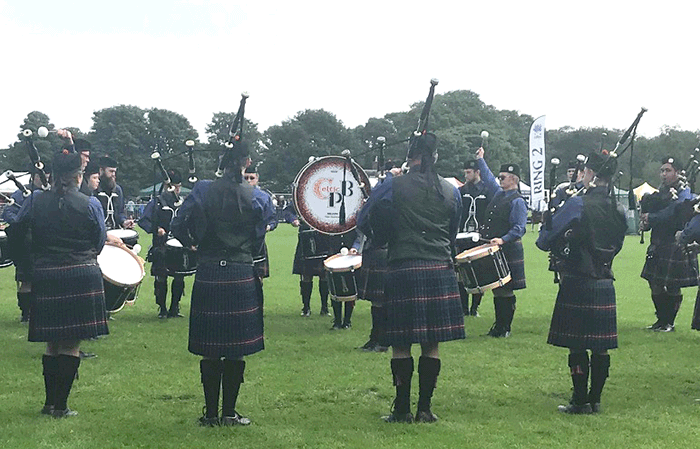 Wallacestone enjoyed the outing and should go to the Worlds' next week and really leave everything out there by enjoying the run. There's is a solid sound and the piping is good technically. They will know what the issues were and consistency of blowing is key. 
Last on and by no means least, Peel Regional Police, hot from Maxville last week. I noticed Hugh Cameron, the well regarded drumming ninja, assisting and there was a good snare sound across the corps. It was a fair run, requiring work, and I expect them to be in and around the mix next week – at the calling of the twelve finalists. 
In the latter stages of the day I got the chance to moonlight on the Grade 1 beat with the Editor elsewhere. It was a vastly reduced G1 Medley competition field with Shotts, Glasgow Police, Glasgow Skye and Johnstone the no shows. That meant Boghall & Bathgate and Police Scotland Fife were up against the visitors, 78th Frasers and Canterbury. I know the talk has been about the 'overnight success' of Boghall this year, but it has been a long time coming in my book. Hard work and all that. The sound is immense in real time, live. I usually have to make do with the excellent Dronechorus videos in post event catchup. Well ahead of anything else wer the Boggies.. 
Back to the regular G2 beat, St Thomas pushed Canterbury and the 78th Frasers down the March, Strathspey & Reel of the combined G1/2 contest, which was clear to hear. It sets the Houston based band up well for next week. I'll add all of this to the mix, throw in some practice week intelligence and chit chat to arrive at the preview later. With all that is going on it is hard to keep track of who is doing what and when but I'm seeing St Thomas v Closkelt limbering up as the key contest with Ravara, ManorC, Pipe Band Club, Annan and Uddingston all buzzing around. However, it is a pipe band contest and anything can happen. Over and out.
---
[wds id="8″]