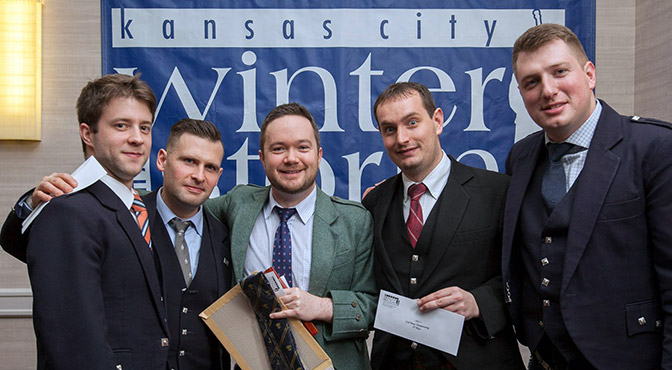 With European time cracking along, our piping and drumming friends and colleagues drawn to North America for the Midwest Highland Arts Fund 'Winter Storm' weekend are underway in the competition segment of the event.
The above picture shows winners from last year's contest: Alastair Lee, Jamie Troy, both British Columbia, Canada, Alex Gandy from Halifax, Nova Scotia, Andrew Carlisle from Northern Ireland now Pittsburgh, USA, and Andrew Lee, British Columbia.
Snow is forecast for tonight as the temperature will plummet from around freezing to -14 C on Saturday night into Sunday.
The walk down the hill from the campus hotels to the concert venue will be its own Winter Olympics.
---
[wds id="2″]
---
Kansas City, Missouri (not Kansas – log that for the pub quiz questions) hosts the biggest field of solo competitors, with excellent support from sponsors and the hard working team behind the event.
It is a bright spot in the fallow winter phase and gives those attending the opportunity to get out there in public, in front of well known and experienced judges. A good reason to practice hard pre-Christmas.
We expect the results in the wee small hours of Saturday morning UK time and will bring those to you.
The regular annual gala concert will take place on Saturday night under the guidance of Ken Eller, as the Gold Medal winners get a chance to perform alongside the majority of the judging cohort who take to the stage in solo, duos and larger groups. We know the relaxed atmosphere of the event leads to exceptional playing with no competition pressure.
To those in the Marriot and Holiday Inn, and venturing outside, wrap up and stay safe. Best of fortune to those in the multiple events and the hard worn pipers playing for numerous drummers too.
The stamina award will probably go to the Judge picking up Grade 1 piping (just below the Open/Pro Grade) with hours of fun ahead. For those keen to get in on the action the broadcast media set up is well done. Click below for more. Make a small donation to the event and you can see it unfold. 
Here is the link to the draw. Watch the Livestream here.
---
[wds id="8″]