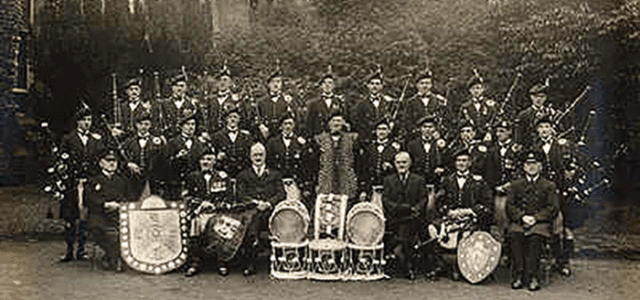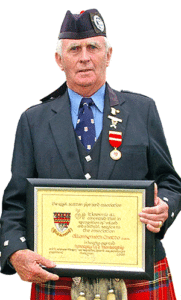 We are grateful to Allan Chatto O.A.M. for the following article. We hope will be of interest to pipe band enthusiasts and students of piping history. Allan writes, 'As you are probably aware the Glasgow Corporation Transport pipe band was well to the fore in the 1930s winning at Cowal a number of times. 
I found this interesting article from Angus MacPhee whose father was a piper in the band at that time [see below]. 
Several of those members named I had contact with in my early pipe band days. When I joined the Transport Band as a drummer in 1956, John Anderson was still the Bass Drummer and Drum Sargeant. 
Alex MacDermid had migrated to Melbourne and become a piping adjudicator. In 1956 when I was Leading Drummer of Sydney Thistle the band was competing at the Australian Pipe Band Championships in Melbourne and Alex MacDermid was one of the four immigrant Scots who were judging Grade 1.
The drumming adjudicators were Alex McCormick (former Leading Drummer City of Glasgow Police) and Gordon Jelly (former Leading Drummer of Shotts). 
I cannot recall the other Scots piping adjudicator. However Sydney Thistle were placed first by all four judges in both piping and drumming.
Piper John Allan MacGee later emigrated to Invercargill, New Zealand, and took over as Pipe Major of their Grade 1 pipe band which won the Grade 1 NZ National Grade 1 Championships in 1952. I joined the Drum Corps of that band later that year and was appointed Leading Drummer in 1953.
Another drummer named in the GCTPB story, Charlie Davis, played in several Glasgow pipe bands and was later appointed an SPBA drumming judge. Later Charlie migrated to South Africa where he was involved in the pipe band movement and sadly passed away a few years later.'
---

---
Glasgow Corporation Transport Pipe Band
By Angus MacPhee
In a new 21st century, when pipe bands from all over the world proliferate and World Championship trophies are as likely to go to Canada, or Ireland, as stay 'at home' in Scotland, I remember with nostalgia the rivalry between the Glasgow Corporation Transport Pipe Band and the equally well-known Glasgow City Police Pipe band in the 1930s. 
This was before WW2 put paid to such events as Cowal Gathering in Dunoon, recognised as the Worlds of the day, for a few years. 
In the 1930s, the major contestants tended to be home-grown and few were as successful, or determined, as the GCT Pipe Band. Since my father was a keen piper in the band, I grew up to the music of the bagpipe and inevitably, I too became a life-long piping enthusiast myself. 
---
[wds id="2″]
---
Glasgow Transport Department encouraged its employees to take part in many cultural pursuits in the city. Since many employees were Highland and Island pipers, it was no accident that many of the bandsmen were Gaels. 
The City Transport manager was Lachlan MacKinnon and his tartan was adopted for the band. It was predominantly red and went well with the dark-green tunics in the transport colours. 
The bandsmen were very smart in either of their two uniforms. Number One dress was the full rig-out with cross-plaid, white spats, green collared tunics and feathered Glengarries (though they later went for the 'busby-style' feathered bonnets).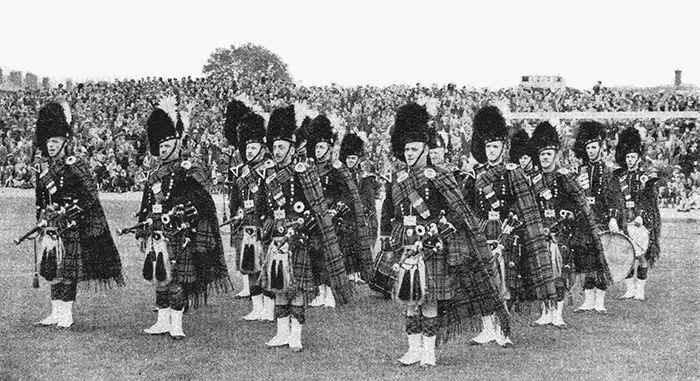 The less military-style Number Two dress was mostly used for non-competitive events. This latter outfit included half shoulder-plaid, with cairngorm brooch, tartan hose with buckled brogues, green evening-style jackets with silver buttoned waistcoats, bow ties and Balmorals all graced by silky white hair sporrans (as seen in the main illustration). 
Amongst my souvenirs and piping memorabilia, I have a copy of the music books issued to all bandsmen in the run-up to the World Championships at Cowal in 1932 and published by the Dunoon Highland Gathering Committee at the price of sixpence! 
It was at this event that the band triumphed by winning the Argyll Shield (which they'd previously won in 1929). The tunes in the book were the march Inverlochy Castle, the strathspeys Loch Loskin and Dorrator Bridge and the reels The Brolum and Bridge of Bogie. These tunes are still popular with pipe bands, so little changes [sic]. 
Just before war broke out in 1939, my father, Donald MacPhee, who had never totally settled to city life, decided to return to his native isle of Skye to be a crofter/­fisherman. He'd barely settled to this way of life when hostilities broke out and he left to join the Merchant Navy. 
---
[wds id="7″]
---
He survived the war years and lived happily to a ripe old age on his croft. Among his prized possessions was an ivory and silver-mounted chanter with an inscribed plate from his fellow bandsmen. 
They also gave him a book of pipe-music with their signatures on the fly-leaf. I have them both in his memory. When I look at their signatures in the music book and at the accompanying photo of the band from the Glasgow Story archives, I can still remember some of them though well over seventy years have passed since the photo was taken.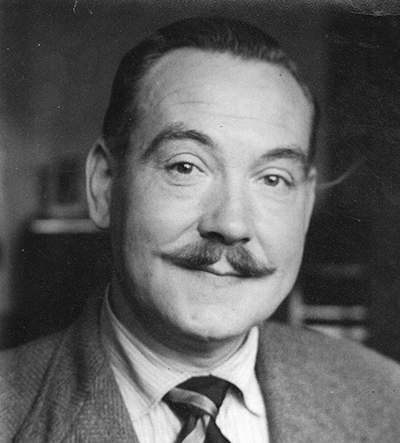 The signatures are of Pipe Major Peter Fleming, Pipe Sergeant Alec MacDermid, pipers Murdo Morrison, John Rae Miller, William Cosgrove, John Allan MacGee [composer of the famous hornpipe Jim Tweedie's Sea Legs], James MacDonald, John Finlay, Charlie Brown, Harry Sawers, John Maclellan, Angus Ferguson, Thomas Cardowie, Drum Major William Lamb, Drum Sergeant John Anderson and Drummers James Foster, J Copeland, W Smith, and C Davis. Other officials in the photo are William Morrison, James Cooper and R.Smith.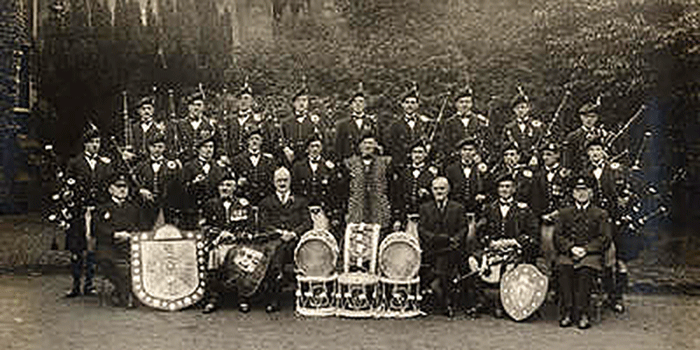 I remember Pipe Major Peter Fleming as a distinguished 'wax-moustachioed' military type of man and a great leader and band-master (he sits at the front of the photo). 
Alec MacDermid, the Pipe-Sergeant (standing at the left of the photo), was an excellent piper and very charming and handsome. Murdo Morrison, (first left back row) a Lewisman and a great friend of my father had been a survivor of the fated 'Iolaire' disaster at the end of the Great War in Stornoway. 
Johnny Maclellan, (first right back row), an Islay man, was a warm-hearted family friend who 'adopted' me as a child, when he could, as he had no kids of his own. 
Johnny Anderson, the bass-drummer (in leopard-skin in the photo), and my father's tram-driver friend was in every way larger than life and very boisterous. 
My father, Donald MacPhee is fourth from right, back row. When he left the band in 1937 to return to his roots, my father offered to buy his Number Two dress uniform and was allowed to do so for £5! Today it would need over £1,000 to buy such grandeur. I still have the MacKinnon Tartan kilt which I wear occasionally, as I had a MacKinnon ancestor. 
---
[wds id="8″]