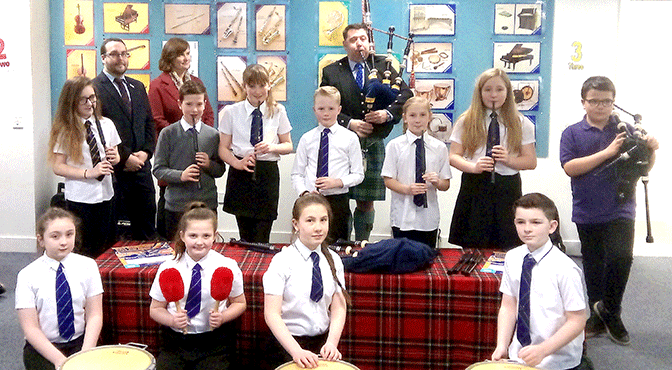 Thanks to a funding boost of £58k from Scottish Schools Pipes and Drums Trust, a new programme of piping and drumming tuition in Dundee will be extended with up to 120 pupils set to benefit. 
Above is a picture taken this morning at Fintry Primary School, Dundee, one of the feeder primary schools involved in the project.
From l – r: Gregor Murray, Children and Families Convenor, Dundee City Council; Alexandra Duncan, Chief Executive, Scottish Schools Pipes and Drums Trust; Pipe Major Derek Potter. Children featured are from schools involved in programme.
The press release: 'Dundee City Council Instrumental Music Service has secured £58,000 from the music charity which, along with contributions from the Common Good Fund, the Community Regeneration and Creative Scotland will provide free chanter, piping and pipe band drumming tuition from January 2018. This will build upon the city's excellent programme led by Pipe Major Derek Potter and continue to complement the wide range of traditional piping and drumming opportunities in the city of Dundee.
---
[wds id="2″]
---
'Up to 120 pupils at Braeview Academy and its feeder primary schools, which include Fintry, Longhaugh and Mill o' Mains, will benefit from this programme. The funding will mean that by January 2020, Braeview Academy and its feeder schools will have its own pipe band, DD4 Pipes & Drums Youth Band, which will perform in the community and compete across the country, including at the Scottish Schools Pipe Band Championships, the world's largest competition of its type.
'The tuition programme will start this month and will begin with a Kick Start weekend which will give pupils the opportunity to try the pipes and drums for the first time. Later in the year, chanter and drumming clubs will start-up and a band committee will be formed to manage the programme.
'Gregor Murray, Children and Families Convenor, Dundee City Council, commented: 'This funding will provide a whole host of opportunities and experiences for pupils in Dundee. A pipe band is not only a focus for the schools and pupils but will be a source of pride within the community.

'This new initiative forms part of a range of work across the expressive arts that are supporting young people's learning and development including the wider Instrumental Music Service. All of these programmes are working together through the expressive arts medium to improve outcomes for young people and target the attainment gap by ensuring a greater equality of opportunity for children and families across the city. The organisation of these various projects is co-ordinated to ensure that learning and good practice is shared across schools in the city to maximum benefit.
'Large scale pipes and drums projects have proved successful in other areas in Scotland and we are delighted that the funding from SSPDT will allow us to benefit as well. The project will also include after school sessions and holiday programmes which will continue to help with offering positive and stimulating attitudes after school and during the holidays.'
'Alexandra Duncan, Chief Executive, SSPDT, said: 'Learning the pipes and drums and being part of a pipe band provides young people with a fantastic set of skills that stay with them for life. Pipe bands encourage teamwork, confidence, camaraderie and a sense of discipline and dress, as well as musical skills.
'We are delighted that council staff and Dundee City Council have the vision and the drive to take advantage of our private funding for the benefit of young people. The Trust is in the fortunate position of being able to help councils in other parts of Scotland, and schools, to introduce piping and drumming tuition. All enquiries can be made via our website at http://sspdt.org.uk.'
'The Scottish Schools Pipes and Drums Trust (SSPDT) is the national charity that works to introduce piping and drumming tuition to state schools in Scotland and encourages the formation of schools pipe bands. The dedication, discipline and teamwork needed to be part of a successful pipe band match the attributes needed to be successful elsewhere in life, learning and work. The charity currently supports over 2,000 pupils to learn the pipes and drums in over 160 schools in Scotland. The charity also organises the Scottish Schools Pipe Band Championships which take place annually on the second Sunday in March.
---
[wds id="3″]