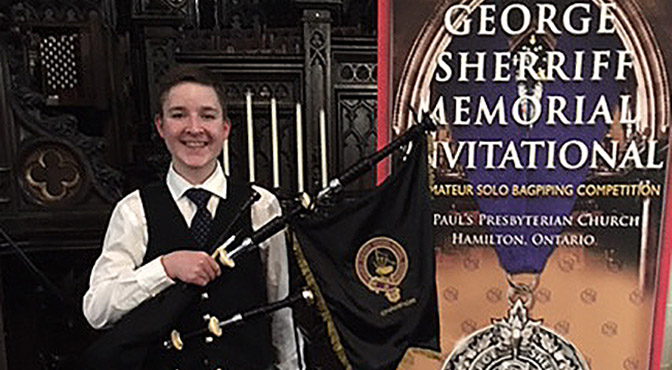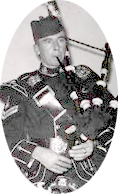 Bob Worrall reports: The 22nd George Sherriff Memorial Invitational wrapped up on Saturday night (Nov 18).  A great day all round with terrific performances from the 10 competitors. 
Further details are on the contest website:  www.georgesherriffinvitational.com . The Overall Champion was Alistair Bevan. Alistair [main picture above] is the son of SFU P/M Alan Bevan, the noted double Gold Medallist. There were three different winners in the individual events so prizes were spread around quite nicely.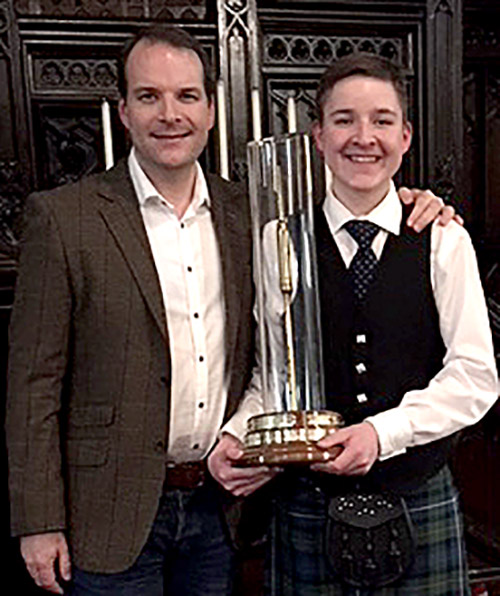 The players at this year's contest were:
ALISTAIR BEVAN – British Columbia
TORI KILLORAN – British Columbia
ALASDAIR MARTIN – Arizona
MARK MCCLENNAN – Ontario
BEN MONTROSS – Vermont
[polldaddy poll=9879967]
CHARLES MORRIS – California
GAVIN MACKAY – Ontario
CHRISTIAN RHOADS – Missouri
CALEB THIBODEAU – Ontario
LAUREANO THOMAS-SANCHEZ – Ohio
The adjudicators were: Ian K. MacDonald (Ontario), Ann Gray (Alberta), and Brian Switalla (New Zealand).
---
[wds id="2″]
---
The 2017 Master of Ceremonies was Peter Aumonier.
RESULTS
6/8 MARCHES:
1ST – Laureano Thomas-Sanchez
2ND – Alistair Bevan
3RD – Tori Killoran
4TH – Christian Rhoads
5TH – Caleb Thibodeau
PIOBAIREACHD:
1ST – Ben Montross
2ND – Caleb Thibodeau
3RD – Alistair Bevan
4TH – Gavin Mackay
5TH – Alasdair Martin
---
Check out the PP picture gallery. Pictures courtesy Bob Worrall:[wds id="40″]
---
MARCH, STRATHSPEY & REEL:
1ST – Tori Killoran
2ND – Laureano Thomas-Sanchez
3RD – Alistair Bevan
4TH – Caleb Thibodeau
5TH – Christian Rhoads
OVERALL RESULTS:
1ST – Alistair Bevan
2ND – Laureano Thomas-Sanchez
3RD – Tori Killoran
4TH – Caleb Thibodeau
5TH – Ben Montross
---
[wds id="3″]