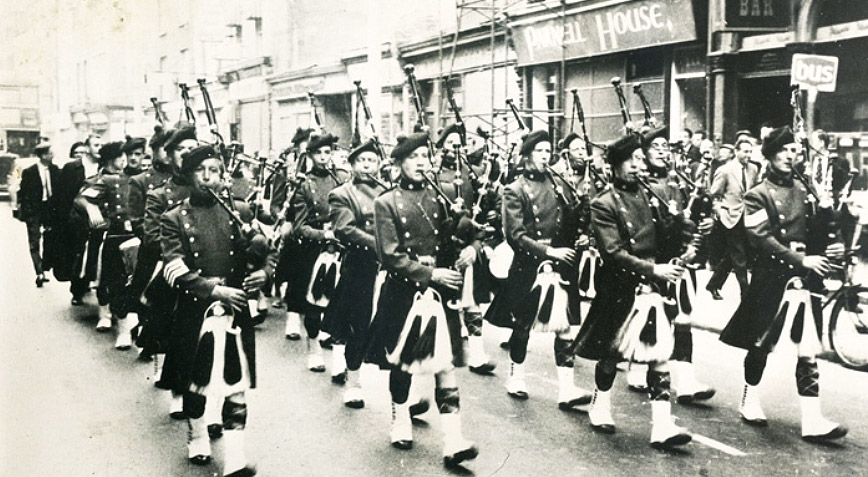 Joe Fitzpatrick from Dublin has sent these names from the above picture of the Fintan Lalor Pipe Band parading in Dublin in the 1960s. Joe writes: 'In the front row are P/M Tim Keogh, Colum O'Brien, Liam Keogh and P/Sgt Tommy Moore. Middle row from the right are Anthony Fitzpatrick, not sure, Bisto Keogh; Back – Paddy Leeh, Jimmy Hennessy and myself. The side drummer is Frank Saunders. Some names I can't remember but I'm sure someone will send them on.'
Thanks for that Joe and thanks too to Patrick Byrne for sending on the original pic. Read John Kelly's original article on the All-Ireland Championships that spawned the picture here.
---
Very sad to hear of the passing of one of the great stalwarts of piping in Fife P/M Andrew Donaldson, father of Gold Medallist Brian and his brother top side drummer Andy. Andrew was born 1933 and could regale his listeners with stories of his time as a young lad in his native Bowhill during WW2 and the fun he had at the Italian POW camp in the nearby woods and the early days of the local Home Guard with only one rifle between them.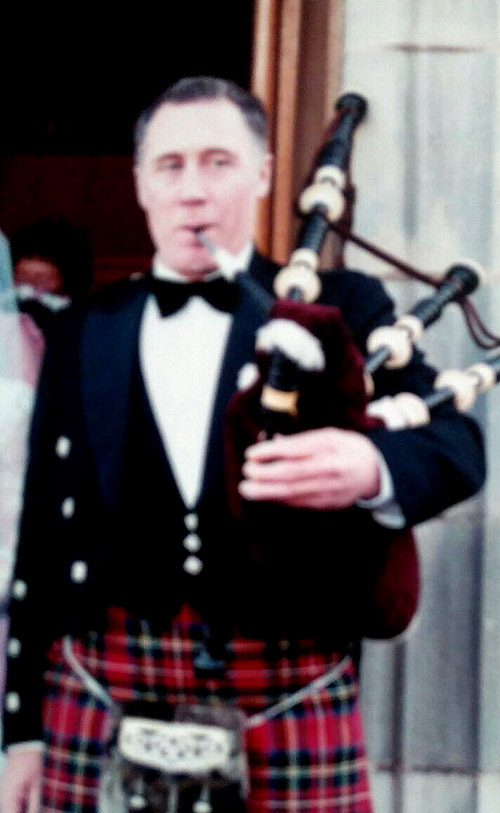 After schooling it was down the pit for Andrew and he worked in Bowhill Colliery learning the pipes from Chris Sutherland, P/M of the colliery band when they won the Worlds in 1947 at the first SPBA championship in Edinburgh. Andrew was great friends with Seamus King, father of the late Dysart leading tip James King. Both would go on to play in many different Fife pit bands and Seumas taught drums to Andrew's son Andrew junior.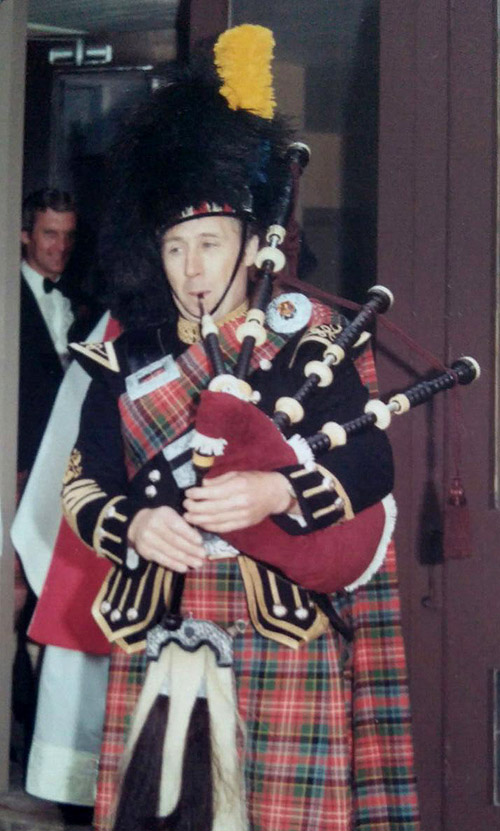 When Chris Sutherland retired as P/M of Bowhill Andy was the natural successor and went on to take the band to many successes. When P/M Alex Kiddie died Andrew was approached to take over the BP Grangemouth Pipe Band. This he did and took the band to the very top of Grade 2, winning the Worlds at Corby in 1975.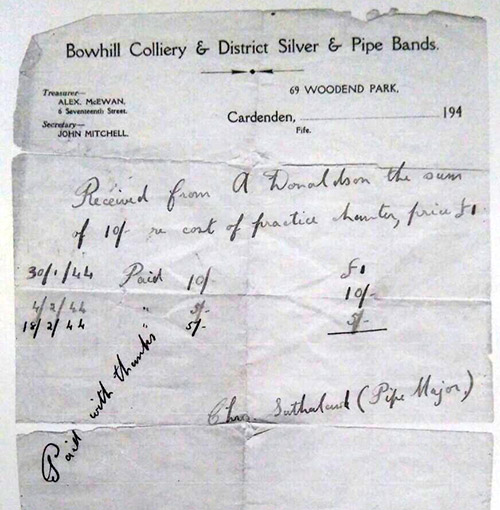 After BP he returned to Bowhill to teach and formed a novice band taking them to the top of their grade as well. Andrew was a natural player and was untouchable in the Fife solo competitions for many years – noted for his perfect technique and lively expression. It was natural that he would excel as a teacher and dozens of pipers beat a path to his door for his expert tuition. These included Drew Mathieson, Dave Clunie and Jimmy Banks MBE before he joined the Scots Guards. Our sincere condolences to Andrew's family and friends at this time.
---
[wds id="2″]
---
P/M Banks reports on the Scots Guards KO held yesterday in Edinburgh: 'We have had our first round which was won by Jonathon Simpson against Callum Moffat. Very good piping and a big audience. Next up are Ben Duncan and John Dew on 29th October. We have put the price down to £5 with pies on sale and this seems to be proving popular.'
---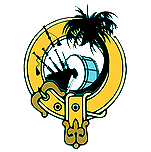 Good to hear from our friends in Florida who run the Academy for us down there that they have all come through the recent hurricane dramas unscathed. Many are firemen and one can only imagine the work involved in evacuations, drills and damage limitation. As Noah said: 'Hurricane Irma was a bit of a distraction. We all had to prepare for the storm, worked 100+ hours this week (I worked 146 hours) had excessive house work post storm, and helped our neighbors to boot. We're all ok, just had a mess to pick up.' The Academy runs from Feb 26 until March 2 and registrations are open.
---
Planning a trip to Russia with your pipes or entertaining visitors from that vast country? A new book of Russian folk songs arranged for the bagpipe has just been issued by piper Vladimir Molodtsov. Vladimir writes: 'When I meet bagpipe players from countries from all over the world who visit Russia occasionally I often hear them ask the same question – where can one find Russian folk music arranged for the great Highland bagpipe. Now I can definitely say here it is!"
Some pleasant melodies with harmony and all playable:
---
[wds id="3″]