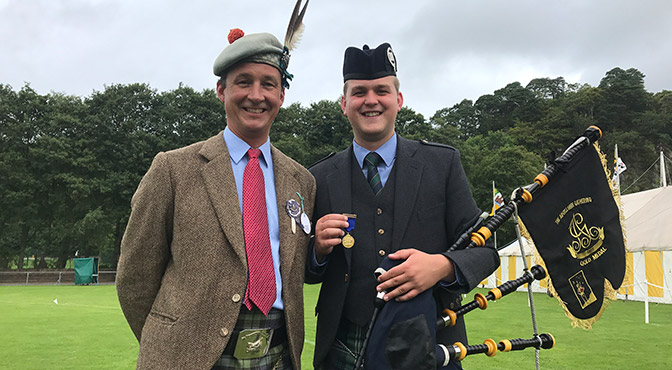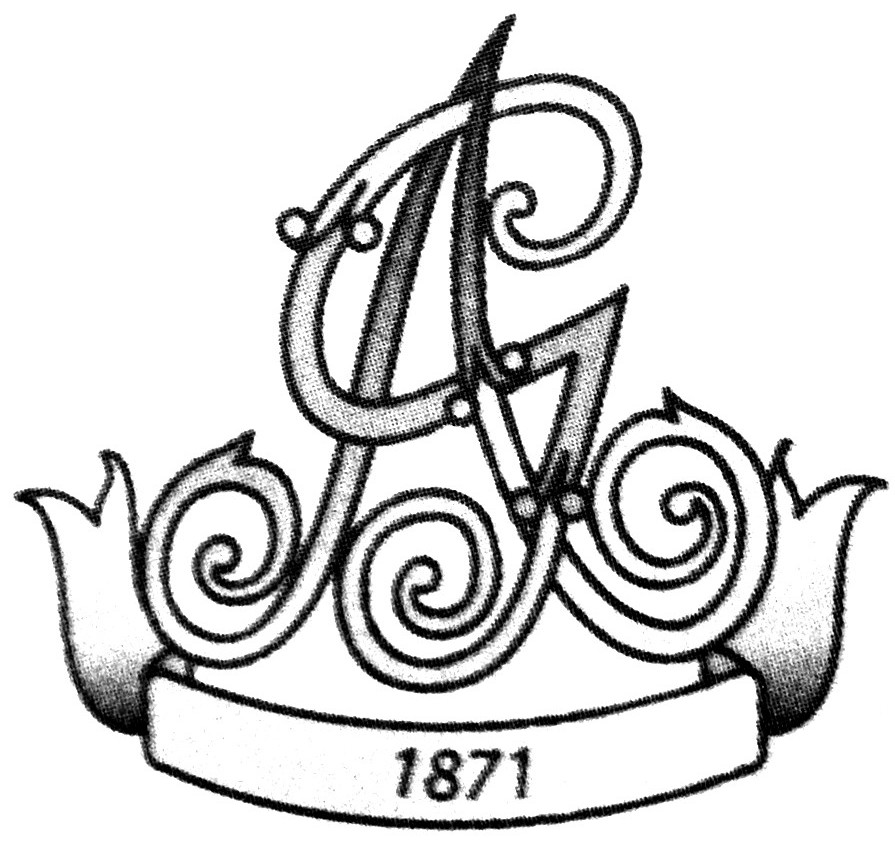 Well that's the Argyllshire over for another year, and despite the difficulties some individuals try to throw in the way of this great gathering, I think it would be fair to say it all went off with nary a hitch, writes the Editor. All credit to Piping Convenor Torquil Telfer, his assistant Jamie Mellor and their stewards. 
From speaking to the judges we had the usual mix of brilliant performances and those who did not quite do themselves justice on the day. There is a strange chemistry at Oban and Inverness; something happens to the piper's brain when they approach these old towns in late August. Tunes they know inside out and have been working on for months somehow vanish from the mind at crucial moments; a singing bagpipe mysteriously won't lock down.
But when your day arrives, when everything clicks into place…… Well just ask Craig Sutherland the rightly delighted winner of the Highland Society of London's Gold Medal. Craig spoke to me at the prize giving: 'Everything went really well right from the start [of Lord Lovat's Lament]. The pipes were good and I was comfortable playing the tune.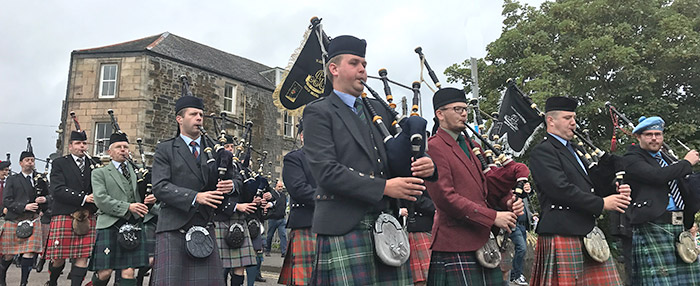 'Things went exactly as I wanted them to go. I've spent a lot time on my piobaireachd in the last couple of weeks and was rewarded. My target was to achieve the Gold Medal prizelist over the next couple of years so this supersedes all expectation. It feels absolutely tremendous, though it has not quite hit me yet. I could not have done it with out Ronnie Clark, my tutor. He's been great.'
The picture up top shows Craig receiving his medal from the President of the Gathering, His Grace the Duke of Argyll.
My judging duties on Day 1 were with the Former Winners' MSR in the evening and this freed up the day for a listen to either the Gold Medal or the Senior Piobaireachd. I opted for the latter. My report: First on was Roderick MacLeod with the Unjust Incarceration. This was nicely timed and controlled with only a hint of panic through some of the high G passages. A few missed crunluaths did not detract from the overall effect.
---
[wds id="6″]
---
Andrew Hayes tightened up on his crunluaths in Colin Roy and maybe could have been more pronounced in his phrasing earlier on. Jack Lee had a super pipe but squared off In Praise of Morag to such an extent that melodic flow was seriously interrupted. Faye Henderson's pipe did not hold and I found the cutting of the connecting notes in the Prince's Salute distracting. Wilson Brown had an extended G gracenote at the start of his E double echoes in Rory MacLoude and his D seemed flat; Stuart Liddell, fresh from his success at Glasgow Green, was clearly off form and stopped after a jerky Variation 1 of Craigellachie.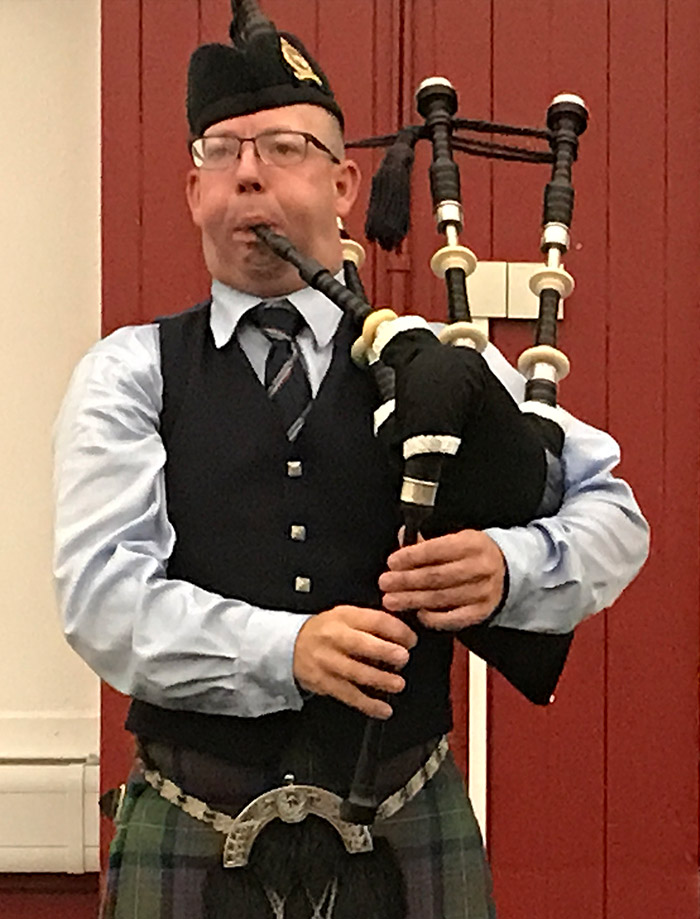 The first outstanding tune of the day came from Ian K MacDonald from Ontario. As at Portree, he was inconsistent with his connecting notes in the T&C singlings of My Dearest on Earth but here was a mighty tune from a rapidly maturing performer. The second outstanding tune came from Finlay Johnston and I was completely baffled as to why he did not make the prizelist. The judges must have heard something I didn't – quite possible. Finlay brought out the very best in the Prince's Salute on a refined bagpipe with only one missed taorluath on the debit ledger.
Next came Duncan MacGillivray on a rustic bagpipe in Bb. Interesting passages as he played Ronald MacDonald of Morar's Lament from the first series of Piob Soc books. Duncan told me this was a setting favoured by his father. The third outstanding tune came from the eventual winner Glenn Brown. Apart from one or two loose crunluaths this was exemplary playing from Glenn on a superb instrument. Maybe the grumbler in me wanted more phrasing in the T&C doublings and the tripling of his Craigellachie, but you would have to have been stone deaf or musically backward not to realise that here we had another mighty tune to consider.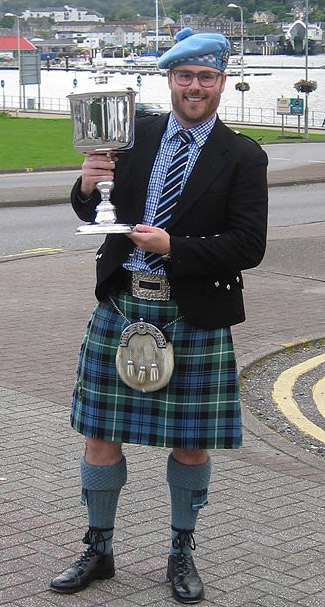 John Angus Smith never got the pipe anywhere near what is required for this competition and his In Praise of Morag, well enough set out, could not be considered. Callum Beaumont's pipe did not last for the Unjust Incarceration though it started well. He had different stocks for the drones and I wonder if this compromised his pipe's usual rock steadiness.
Angus MacColl's was the next outstanding tune of the day. Angus kept the pathos of Rory MacLoude going right to the end with his trademark crisp fingering enhancing the theme in the T&C, never detracting from it. Bruce Gandy was staccato with the ground of the Prince's Salute – trying hard to phrase and forgetting to keep things moving along. William McCallum gave us a perfectly adequate ground and first few variations of Ronald MacDonald but the old nemesis, the crunluath, spoiled what had gone before.
Iain Speirs started well with My Dearest but there was some sloppy dre and embari work to begin. Iain recovered well and was really powering ahead in this long piece when for some inexplicable reason he stopped. Pity. Fred Morrison gave us some of the day's highlights with real expression in passages of the Unjust Incarceration mixed in with some wayward stuff. No blandness from Freddy though, and a lovely drone sound. More competition and Fred would be once more right at the top of the solo piping tree where he belongs.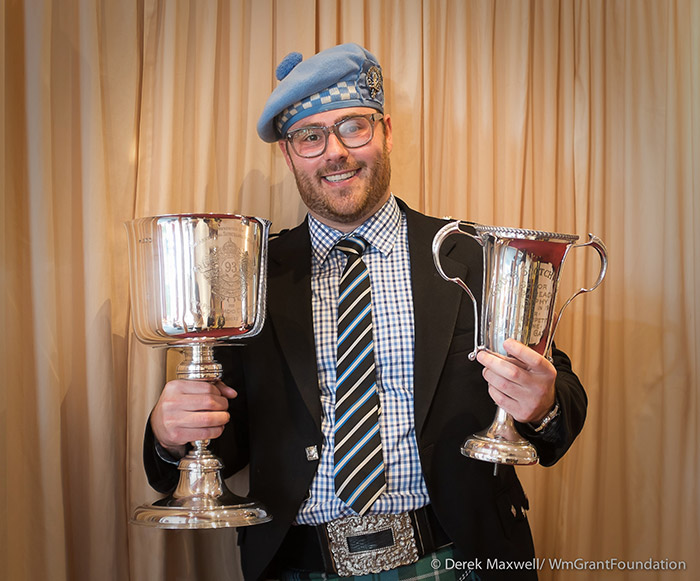 Results: 1 Glenn Brown 2 Ian K MacDonald 3 Roderick MacLeod 4 Angus MacColl 5 Faye Henderson
Get the full results from Oban here.
---
[wds id="19″]