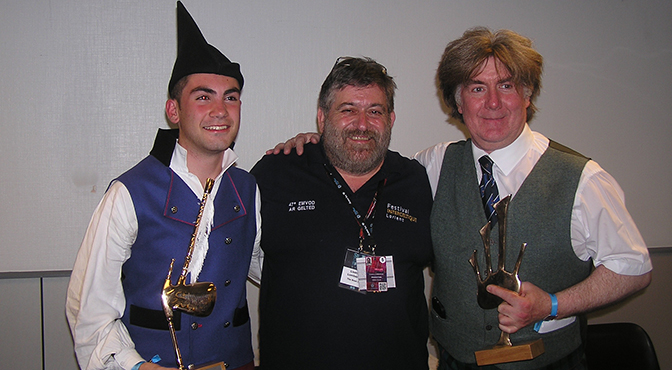 The annual Festival Interceltique took place last week in Brittany, France, with a big piping representation. There were also contests for piobaireachd, the MacCrimmon trophy (Breton, Scots and Irish music) and for bagads (Breton pipe bands). The picture shows Lorient President Lisardo Lombardia and the winner of the gaita trophy Jaime Alvarez Fernandez with Fred Morrison winner of the MacCrimmon Trophy for the ninth time.
Here is the full list of results:
Nineteenth International Piobaireachd Competition
1 Andrew Carlisle, (N Ireland) Nameless, Hiharin dro o dro
2 Alexis Meunier, (Brittany Lament for MacSwan of Roaig
3 Stuart Easton (NZ), Roderick MacDonald's Salute
4 Ben McClamrock (USA), Hail to My Country
5 Ross Miller (Scotland), Tulloch Ard
Others who played were Fred Morrison (Scotland), Callum Moffat (Scotland), Lincoln Hilton (USA), Andrew Wilson (N Ireland) and Scott Wallace (Australia)
MacCrimmon Trophy
1 Fred Morrison (ninth success in this competition)
2 Andrew Carlisle
3 Cedric LeBozec
4 Stuart Easton
5 Lincoln Hilton
6 Graham Harris
Under 20 Championship
1 Matthieu Le Compagnon
2 Alban Guerin
3 Tristan Jarry
4 Loeiz Guillo
5 Malo Le Gall
11 played
Grade 1 Bagadou
1 Bagad Cap Caval
2 Bagad Kemper
3 Kevrenn Alre
4 Bagad Vannes
5 Bagad Ronsed Mor
Piping judges: J Wilson R Worrall.
---
[wds id="6″]