A damp and cool St James Playing Fields at Paisley west of Glasgow was the venue today for the British Pipe Band Championships, the first major championship of the season.
The chill weather affected the bands who were on early in Grade 1, the best performances coming later on. The winners were the holders of the title, Inveraray. They are pictured up top in the in the circle today. They pushed Field Marshal Montgomery into second; third went to Shotts, fourth to St Laurence O'Toole, fifth to Fife Police and sixth to Scottish Power.
There was a distinct lack of a local audience, even though admission was free, few families venturing out on what started out as a bleak day on the exposed flats adjacent to Glasgow Airport.
In Grade 1 there were good showings from Boghall, PSNI and the other two newly promoted bands, Buchan Peterson and Johnstone, both acquitted themselves well in the top grade.
---
[wds id="2″]
---
The G1 drumming went to St Laurence O'Toole pictured here rehearsing before their performance with Leading Drummer Stephen Creighton centre stage: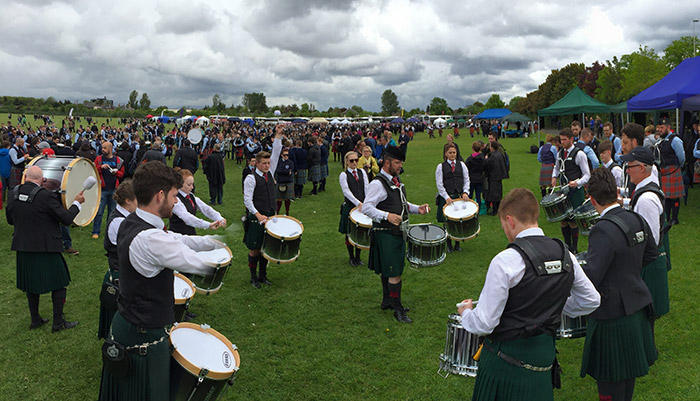 In the hotly contested Grade 2 contest, Lomond & Clyde emerged as champions with Glasgow Skye runners-up and Manorcunningham from Eire taking the drumming. Other results:
Novice B Champions: Lochalsh Juniors; Drumming: Bucksburn
Novice A Champions: Dollar Academy; Drumming: Dollar Academy
4B Champions: Lisnamulligan; Drumming: Lisnamulligan
4A Champions: Denny & Dunipace; Drumming: Kinross
Juvenile Champions: Dollar Academy; Drumming: George Watson's
3B Champions: Royal Burgh of Annan; Drumming: Quinn Memorial
3A Champions: 2622 Squadron RAF; Drumming: 2622 Squadron
Get all results summary sheets here. Stay tuned to Piping Press for comment from the British Pipe Band Championships from our editor Robert Wallace, who listened to the whole of the Grade 1 contest and from MacStig our special correspondent who did the same in Grade 2. Read the pre-contest interview with RSPBA Chairman Gordon Hamill here.
---
[wds id="10″]