When is piobaireachd preference not piobaireachd preference? Last Saturday's showpiece Glenfiddich Championship at Blair Castle produced a three-way tie in points between three pipers Roderick MacLeod, William McCallum and Bruce Gandy.
The results were:
Ceol Mor – 1 R MacLeod 2 S Liddell 3 I Speirs 4 J Lee 5 B Gandy
Ceol Beag – 1 W McCallum 2 B Gandy 3 A MacColl 4 F Johnston
5 I Speirs
Points were allocated on a 5,4,3,2,1, basis and the outcome was five points each to Roderick, William and Bruce. Roderick was duly declared Champion on piobaireachd preference – no problem with that. But when we come to the second prize, piobaireachd preference was ignored and William declared runner-up.
The issue was brought to our attention by reader Ian Forbes who wrote: 'Robert, I wonder if its worthwhile looking into the Glenfiddich overall results. Apparently three pipers tied for first place on five points (MacLeod, McCallum, Gandy). First place to MacLeod was awarded on piob. preference – fair enough. However second place, favouring McCallum over Gandy, was awarded on MSR preference. Looks like a big anomaly to me. If piob. preference was used consistently, then Gandy should have had 2nd overall prize being 5th in piob with McCallum unplaced in piob. Wonder what others think. Ian.'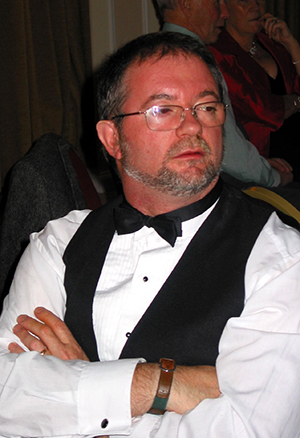 Certainly worth raising Ian. My own view is that there has been an unintentional slip up, and I hope that the promoters and organisers make it clear in their rules to future competitors just how the final reckoning will be conducted. There's prestige and a lot of money at stake after all. It's all somewhat embarrassing for the organiser, but let's cut her some slack. In the three decades or so she has been running the Blair Castle show I can't think of any other glitches – a remarkable record considering the logistics and egos involved.[polldaddy poll=9567284]
---

The Scottish Schools Pipe Band Championship has a new home. Instead of being held at Broughton High School in Edinburgh the championship will move to James Gillespie's High School, a new facility in the city's Marchmont area. The contest is on Sunday March 12 2017. There will be two new categories of competition, the first for RSPBA-registered development bands and the second an 'Endeavour Award' for bands that can demonstrate success outwith the competition arena. Get more here.[wds id="2″]
---

Four bands have been nominated for 'Pipe Band of the Year' in the Scottish Traditional Music Awards. They are Fife Police, North Lanarkshire School (pictured at the Worlds where they were proclaimed Novice A Champions), Johnstone and Stirling Schools. The category is sponsored by Glenturret Malt Whisky. The Piping Live festival has been nominated in the Event of the Year category sponsored by tourism body VisitScotland. The winners will be announced at the event on Saturday 3rd December, at the Caird Hall Dundee. Tickets are available from 01382 434 940 or www.dundeebox.co.uk.
Alan Morrison, Head of Music at the Government's arts organisation Creative Scotland, said: 'The quality of this year's nominees shows that the traditional music scene in Scotland is thriving and it is great to see these artists being commended at such a prestigious event. Creative Scotland are proud to support Hands Up For Trad [promoters] and we wish all the nominees the best of luck.'[wds id="6″]
---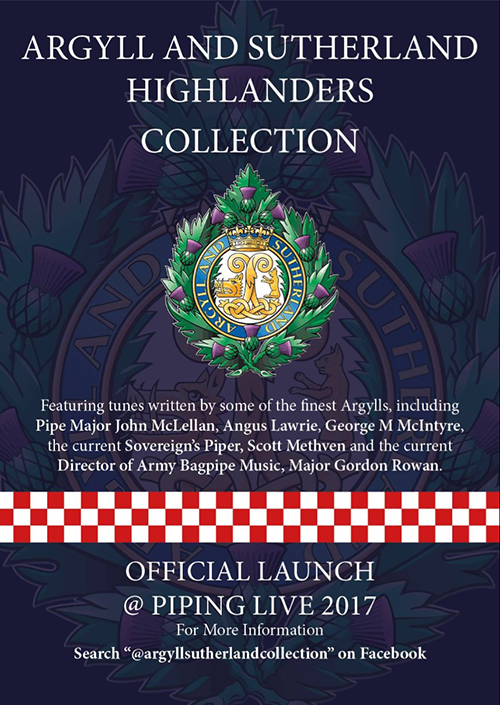 The official launch of the much-anticipated book of tunes of the Argyll & Sutherland Highlanders will take place at the Piping Live Festival next August. This is a super production masterminded by a team of worthies steeped in regimental and Army piping history: Walter Cowan, Ian McLellan, Jim Henderson and Jimmy Banks. How Major Steven Small and Captain Gordon Rowan managed to control that lot is beyond me but they have produced a wonderful collection which should be on everyone's shopping list. Just look at the composers at their disposal: Willie Lawrie (a great night for him at Stirling Castle last Saturday by the way), John MacLellan (Dunoon), George MacIntyre, Angus Lawrie, Ron Fleming, Archie Duncan…the list goes on and on.
---
Dave Mason in Cincinnati has sent this query:
Hello Rob
I am hoping you can help me with how to continue a movement through a tune as it progresses. In the ground I have a bar ending thus:

Would I play as a thumb grace note on high G in subsequent parts like…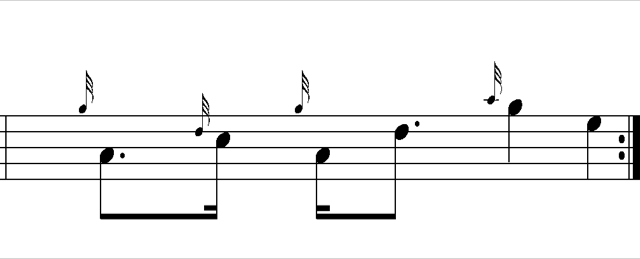 Or would I want to add an endari as thus:

I appreciate your input and advice. Have a great day.
Dave Mason, Cincinnati.
I take it this is one of your own compositions Dave. If so congratulations on taking the plunge into ceol mor. Re the music, it is entirely up to you what you do. Either the throw or the plain gracenote would do in my view but you should try to be consistent I think. The singlings would have one or the other. The throw does seem attractive.
---
[wds id="3″]