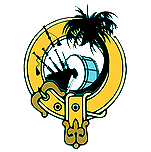 The 2017 South Florida Pipe & Drum Academy will take place in Fort Lauderdale from February 15 – 19 inclusive, it has been announced. The Academy will be held in Boca Raton, at 6500 S Congress Ave, hosted by Boca Raton Fire Rescue and the City of Boca Raton. The picture above shows instructors and the Class of '16. This will be the third year of the popular Academy.
Organiser Noah Morrissette said:  'We are currently five months out from the third annual South Florida Pipe & Drum Academy.  The first year was held in the city of Fort Lauderdale.  We quickly learned that the facility available to us was not going to be big enough.  The second year was hosted by the city of Boca Raton, in a beautiful facility. 
'We have been invited back to Boca Raton, and look forward to working on making the 2017 Academy even better than it was last year.  We are making it a goal to keep: a 6:1 student to teacher ratio, the cheapest pipe and drum academy in the North America, continue to bring in top-notch instruction, and make it not only a learning environment, but an environment full of camaraderie centered on the music. Join us in February 2017 for a great time and wonderful learning experience.'
Registration is now open. Academy tuition will include all instruction, coffee and drinks throughout the day, and lunch served on site each day.
Registration prices:
Now until November 30th, 2016: $400
December 1st, 2016 to December 31st, 2016: $425
January 1st until the Academy: $450
To register and find out more click here.
---
Margaret Dunn has sent these CLASP results from Chatsworth:
Grade 1 Piob. 1 Bradley Boxall 2 Andrew Park
Grade 2 Piob. 1 Tom Broderick 2 James Carnegie
Grade 3 Piob. 1 Cameron Park 2 Bill Copland
Grade 1 2/4 March 1 Andrew Park
Grade 1 S&R 1 Andrew Park
Grade 1 H&J 1 Andrew Park
Grade 2 2/4 March 1 Bradley Boxall 2 Cameron Park
3 Andrea Zingg
Grade 2 S&R 1 Bradley Boxall 2 Cameron Park
3 James Carnegie
Grade 2 6/8 March 1 Cameron Park 2 Bradley Boxall
3 Andrea Zingg
Grade 3 2/4 March 1 Philip Duthie 2 Bill Copland
Grade 3 S&R 1 Philip Duthie 2 Bill Copland
Grade 3 Jig 1 Bill Copland  2 Philip Duthie
---
Still with Chatsworth, organiser Walter MacGregor has sent this photo: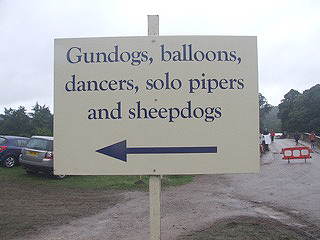 Overseas readers might not be aware the term 'balloon', when applied to an individual in Scotland, is not taken as a compliment.
---
It was noticeable whilst up at Braemar the lack of individuals sporting the Balmoral tartan. This story in the Aberdeen Press & Journal newspaper explains why. It reads: 'Secret documents have revealed the Royal Family have banned commoners from wearing their official tartan.
'The Balmoral tartan – designed by Price Albert in 1853 – has been worn by every British monarch since Queen Victoria. Its distinctive grey, black and red plaid was designed to match the colours of granite in Aberdeenshire. But now documents have revealed a ban dating back 80 years on the tartan being bought, manufactured or even worn by the public without the approval of Buckingham Palace.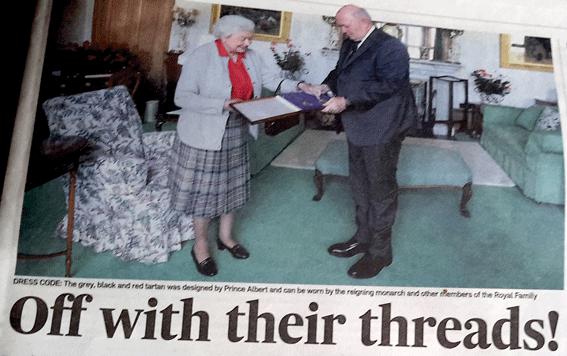 'The ban, introduced in 1937, was revealed in documents being displayed in the National Archives at Kew in London. They show that shortly after George V1 began his reign, Conachie & Co., a clothing wholesaler based in Edinburgh, contacted him to inquire if the elite tartan could be manufactured and sold.
'They received a stern response saying the tartan was purely personal and private for use of the Royal Family and could not be manufactured or sold to the public. According to the Palace the only person outside the Royal Family permitted to wear the Balmoral tartan is the Sovereign's Piper.'
So now we know. It is this tartan that is sported by the Bobs of Balmoral on the front of the Masters of Piobaireachd Volume 1 CD: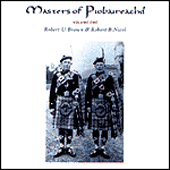 ---
 [wds id="3″]