A fine day for this games in the south of England.
Amateur Piobaireachd
1. Bradley Boxall, MacCrimmon's Sweetheart
2. Neil Scotland, Struan Robertson's Salute
3. Tom Broderick, Corrienessan's Salute
Amateur March
1. Bradley Boxall, Lochaber Gathering
2. Neil Scotland, Arthur Bignold of Lochrosque
3. Kieran McAlea, Glengarry Gathering
Amateur Strathspey & Reel
1. Bradley Boxall, Arniston Castle & Miss Proud
2. Kieran McAlea, John Roy Stewart & Lt. Col. DJS Murray
3. Tom Broderick, Captain Colin Campbell & Lexie MacAskill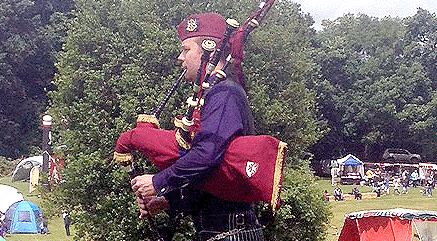 Open Piobaireachd
1. Andrew Hall, Castle Menzies
2. P/M Roger Huth, The Little Spree
3. Jamie Forrester, Mary's Praise
Open March
1. P/M Roger Huth, Jeannie Carruthers
2. Andrew Hall, 51st Division at Beaumont Hamel
3. Jamie Forrester, Miss Elspeth Campbell
Open Strathspey & Reel
1. Andrew Hall, Inveraray Castle & The Brown Haired Maid
2. P/M Roger Huth, Arniston Castle & Kalabakan
3. Jamie Forrester, Caledonian Society of London & Bob Hill's Ceilidh[polldaddy poll=9462566]
Jig (open to both amateur & professional pipers)
1. Jamie Forrester, Duncan the Gauger
2. Bradley Boxall, The Kitchen Maid
3. P/M Roger Huth, Paddy's Leather Breeches
4. Andrew Hall, Judges' Dilemma
Judges for all events: Mr Neill Mulvie (Stirling, Scotland) & Mr Roddy Livingstone (Maidstone, Kent)
The picture up top is of Andrew Hall, winner of the piobaireachd event and Champion Piper at Harpenden. Andrew is also President of the Scottish Piping Society of London and a member of Shotts & Dykehead Caledonia Pipe Band, the current World Pipe Band Champions.
The local 'St Albans Review' newspaper reported: 'Scottish dancing, pipe and drum bands and a falconry display entertained thousands of visitors at the Highland Gathering in Harpenden on Sunday. The Rothamsted Park event, which ran from 10am to 5pm, attracted about 8,000 visitors, raising at least £13,000 for charitable causes.
'The annual show was organised by the Harpenden Lions Club, and is considered by organisers to be one of the largest gatherings outside Scotland. Harpenden Town Mayor, Rosemary Farmer, was appointed Gathering Chieftain for the day, making the opening and closing speeches.
'Entertainment provided on the day included five pipe and drum bands, highland dancing, a piping competition and traditional highland games heavy events.
'The beneficiaries of the event changes each year, with this year's charities including Parkinson's UK, Home-Start St Albans and Harpenden Lions Club causes, including the 'Life Skills' programme in local schools.'