Thanks to those who commented on the 'Analytical Theorising' post last week, particularly to Bill Livingstone, Steve Rooklidge and John Dally. Yes John, rhythm and melodic flow are vital. Like you, I have been interested in alternative settings for a long time (I did the Lady D'Oyly MS recordings for the BBC some 30 years ago) but they have to make musical sense.
The Donald MacDonald competition you mention gets good financial support but to me the music on offer is rather poor fare, and, no surprise, outside of this competition gets very little public performance. I can't speak for all professional pipers, but I know a good few who don't have a lot of time for it.
Of course Donald MacDonald's scores should not be played literally. The un-piping like motifs that result when they are cannot be what he intended.
---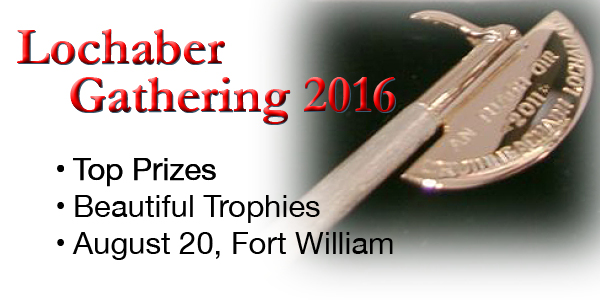 Closing date for Lochaber Gathering is August 5th, repeat August 5th. Entry Forms here.
---
I was saddened to hear of the passing of George McIlwham last week. George was a concert flautist and piper, taking his early lessons from P/M Robert Reid. He was a pioneer of piping in orchestras and gave dozens of performances of Sir Peter Maxwell Davies's 'Orkney Wedding and Sunrise' including at the  Last Night of the Proms in 1992: the first time a piper had ever appeared at a Henry Wood Promenade Concert in the Royal Albert Hall, London.
Much earlier than this, not long after WW2, George had played on composer and conductor Ian Whyte's 'Donald of the Burthens' (1951), a ballet whose score was, apparently, influenced in part by the Lament for the Children (a piece Whyte thought equalled many of the great classical compositions in melodic content). The ballet introduces the pipes playing the Reel of Tulloch towards the end.
In the early performances George asked Robert Reid to get involved but that was not a happy marriage – despite Reid's enjoyment of classical, particularly vocal,  music. George took over to role.
George McIlwham was also a composer himself, and his 'Alba' suite has received many public performances. It too features the pipes. George was involved in the pipe band world for a time and helped out at the Milngavie band in the late 60s and 70s. I seem to remember them winning the Worlds in Grade 3 when George had set them up. More info gratefully received. George died peacefully in a nursing home a week past Thursday. Condolences to his family.
---

Here is a full list of all the Grade 1 bands entered for the Worlds: 78th Fraser Highlanders, 78th Highlanders (Halifax Citadel), Bagad Cap Caval (pictured top), Bleary, Field Marshal, Glasgow Police, Inveraray, LA Scots, Manawatu NZ, NZ Police, Ottawa Police, Peel Regional Police, Boghall, Fife Police, Ravara, Scottish Power, Shotts, SFU, Spirit of Scotland, SLoT, Vale of Atholl.
---
Hervé Le Floc'h (Cap Caval's P/M) will conduct the masterclass at the 2016 'Piobaireachd by the Sea' weekend at Cancale, Brittany. The dates are September 17/18. The class receives financial support from the Piobaireachd Society. All piobaireachd enthusiasts are welcome to take part in the weekend, now in its 12th year. If you have reasonable French, you should be able to work out the details from the poster below. If not contact Catherine Grosset.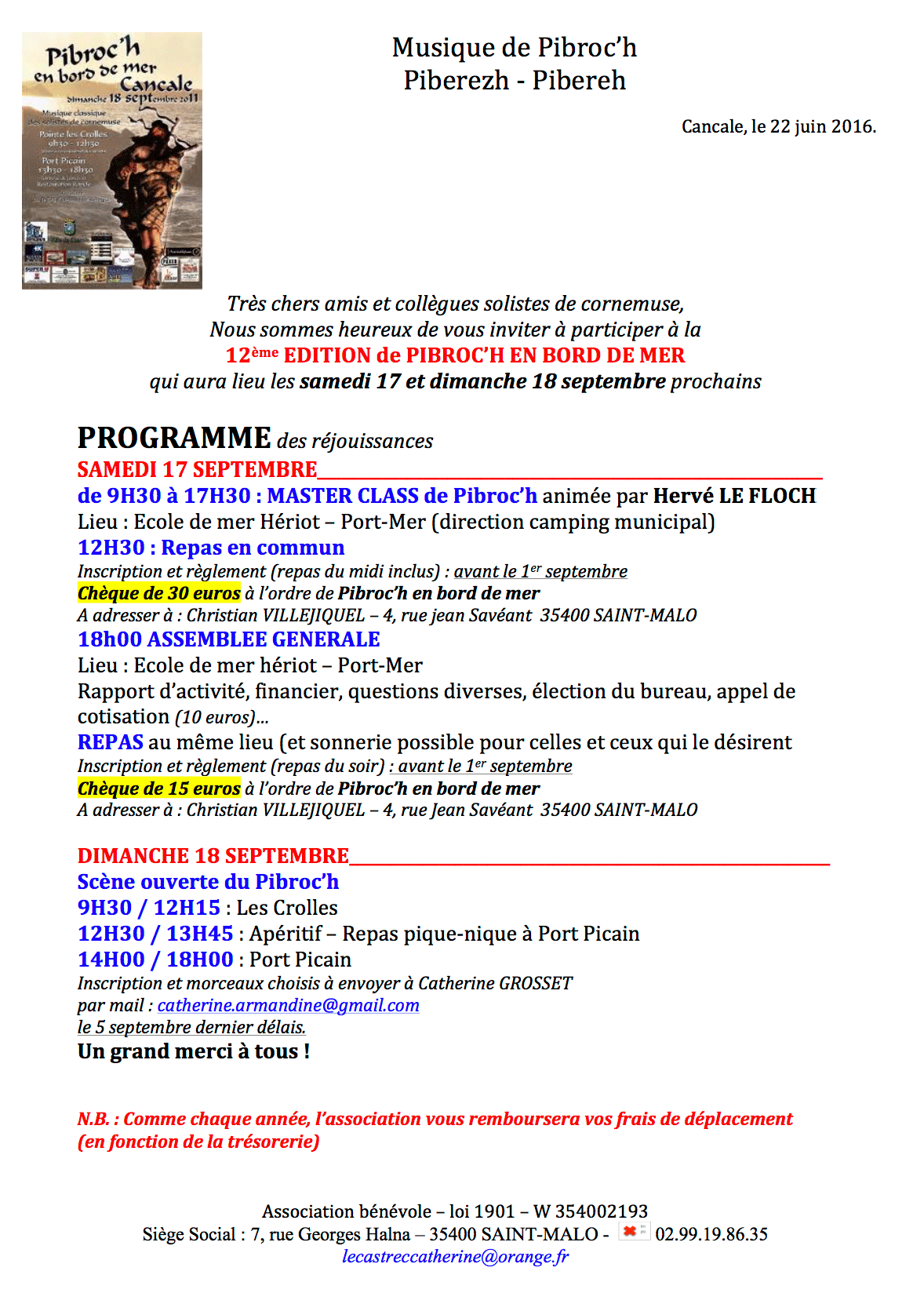 ---
RSPBA adjudicator Joe Noble has posted a report on his recent visit to the New Zealand Pipe Band Championships on the 214 BB ex-members website. Have a read here.