I am writing this on the balcony of Jimmy and Joyce McIntosh's lovely home in Anderson, South Carolina. I'm here for the local Greenville Games which begin on Saturday and end on Sunday with the professional piping and a workshop in the Crowne Plaza Hotel.
The journey from Scotland via Newark is about 20 hours door to door depending on lay over time in NJ. The temperature here is 84 degs. Jimmy's home looks out over a lake connected to the Savannah River, the river which separates SC from Georgia. It's not too long a drive south from here to Augusta, home of the Masters golf.
Jimmy tells me that South Carolina was settled mostly by Scots and Scots/Irish so it is appropriate that they have such a prestigious games and piping event in the state. Here is the order of play in the professional contests:
MSR & H/J
Gabriel Nierman
Matt Pantaleoni
Bill Caudill
Dan Lyden
Grace Abernethy
Katy Rashid
Alastair Murray
Liz Cherry
Nick Hudson
Andrew Carlisle
Dave Mason


Piob
1. Grace Abernethy
2. Liz Cherry
3. Dan Lyden
4. Alastair Murray
5. Katy Rashid
6. Gabriel Nierman
7. Bill Caudill
8. Nick Hudson
9. Matt Pantaleoni
10. Dave Mason
11.Andrew Carlisle
Report to follow.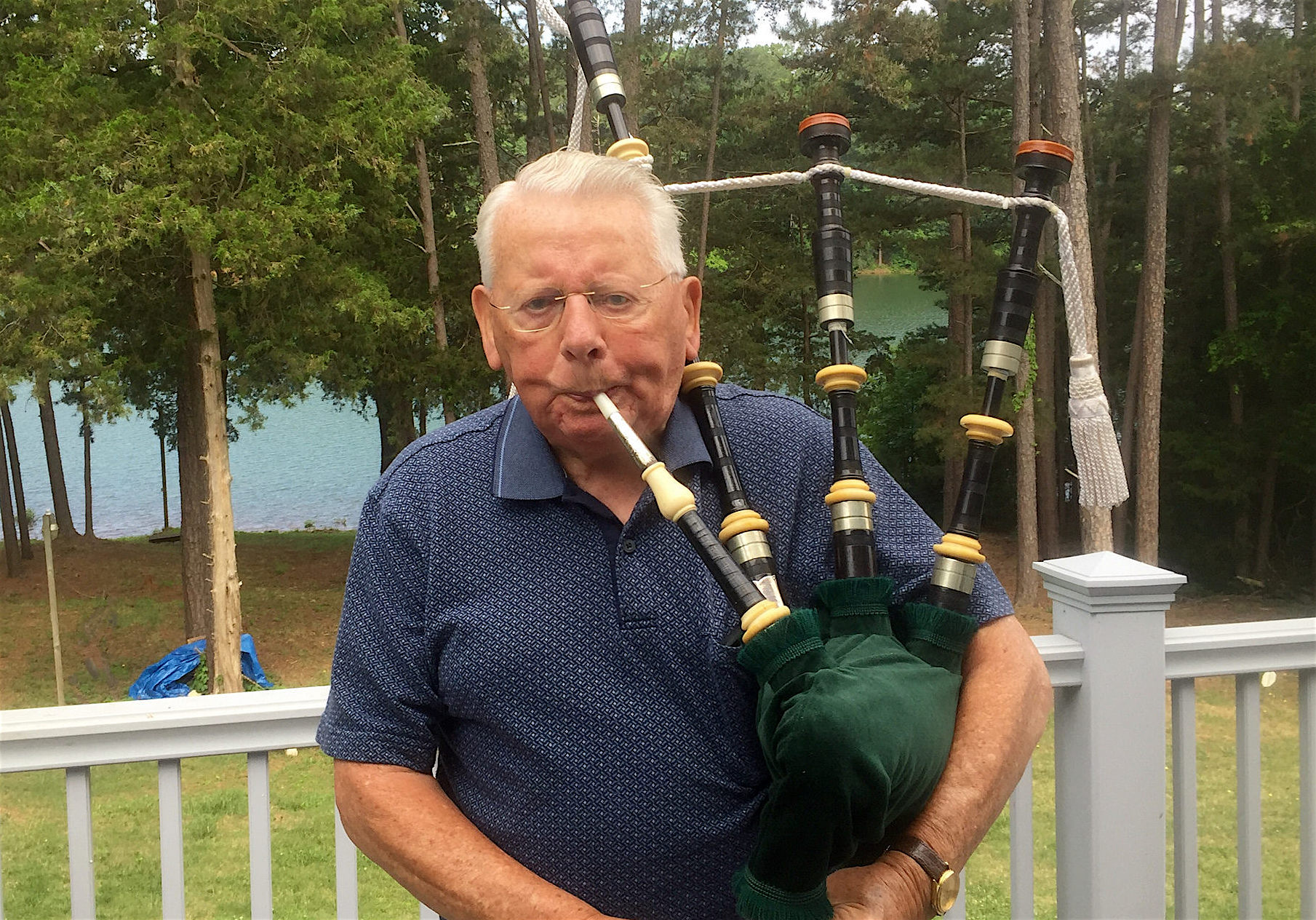 ---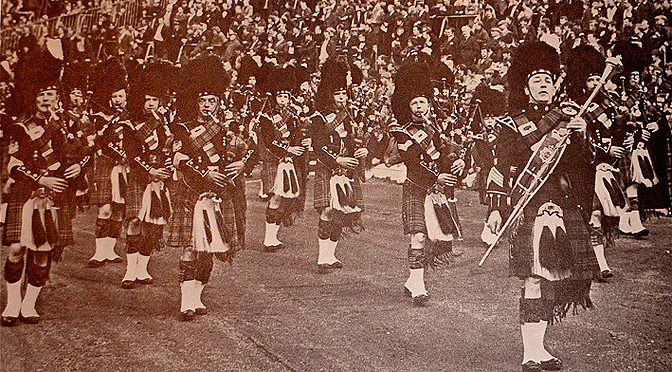 Drummer Andy Donaldson has been in touch about last week's photo featuring Bob Hardie and Alex Kiddie. Andy: 'What a braw photo in the blog this mornin'; nice to see auld Alex Kiddie in full flow. Auld Andra [Andy's father] took over fae Alex at BP and there's a tune dad wrote, a 6/8 ca'd 'PM Alex Kiddie' and we competed with that as march on.
'The wee lad might be ma brother [Gold Medallist Brian Donaldson] an no' Harry cause it looks mair like him to ma eye – but they looked awfy similar when younger.'
---
Thanks to everyone who responded to the articles concerning Scottish Power's medley of a couple of days ago. They were read by several thousand people all over the world. Special thanks to Chris Armstrong for letting us have his views. Piping Press tries to abide by the highest standards of journalism and that includes giving the right of reply.
It is healthy when people contest views expounded in these pages and elsewhere and have the integrity to put their name to what they write – just as Chris did. Much better that than beer tent grumblings or anonymous internet trolling.  Reader Andy Robson summed the exchange up for many when he tweeted 'If anyone is looking for an example of how two people deal with differing opinions then there it is.'
---
Still with the British, here's a picture of the nice new trophy presented by the 214 Boys Brigade ex-members association to the winners of the new Novice B grade: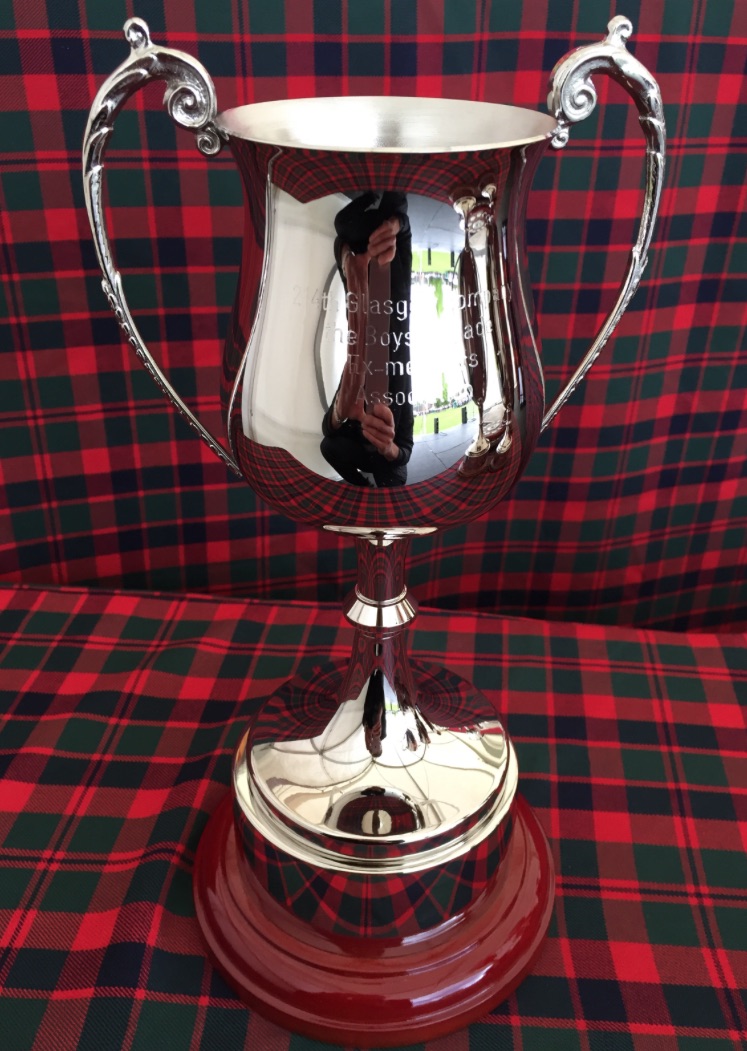 The trophy was won by Lochgelly High School. I hear there is another trophy being presented by the Association for juvenile drumming at the UK Championships in Belfast.
---
Still over the water, those enterprising men and women of the RSPBA Northern Ireland Branch were at the Province's Balmoral Show the other week handing out cards with information on all the branch's contests for the summer. The show is very well attended by folk from outside the pipe band world so this is a good way of getting the message across. The picture shows Winston Pinkerton (RSPBANI President), Lowry Ferguson (RSPBANI Vice- President), and Derek Mack (RSPBANI Co Down Section Chairman) pictured at the RSPBANI stand at the show.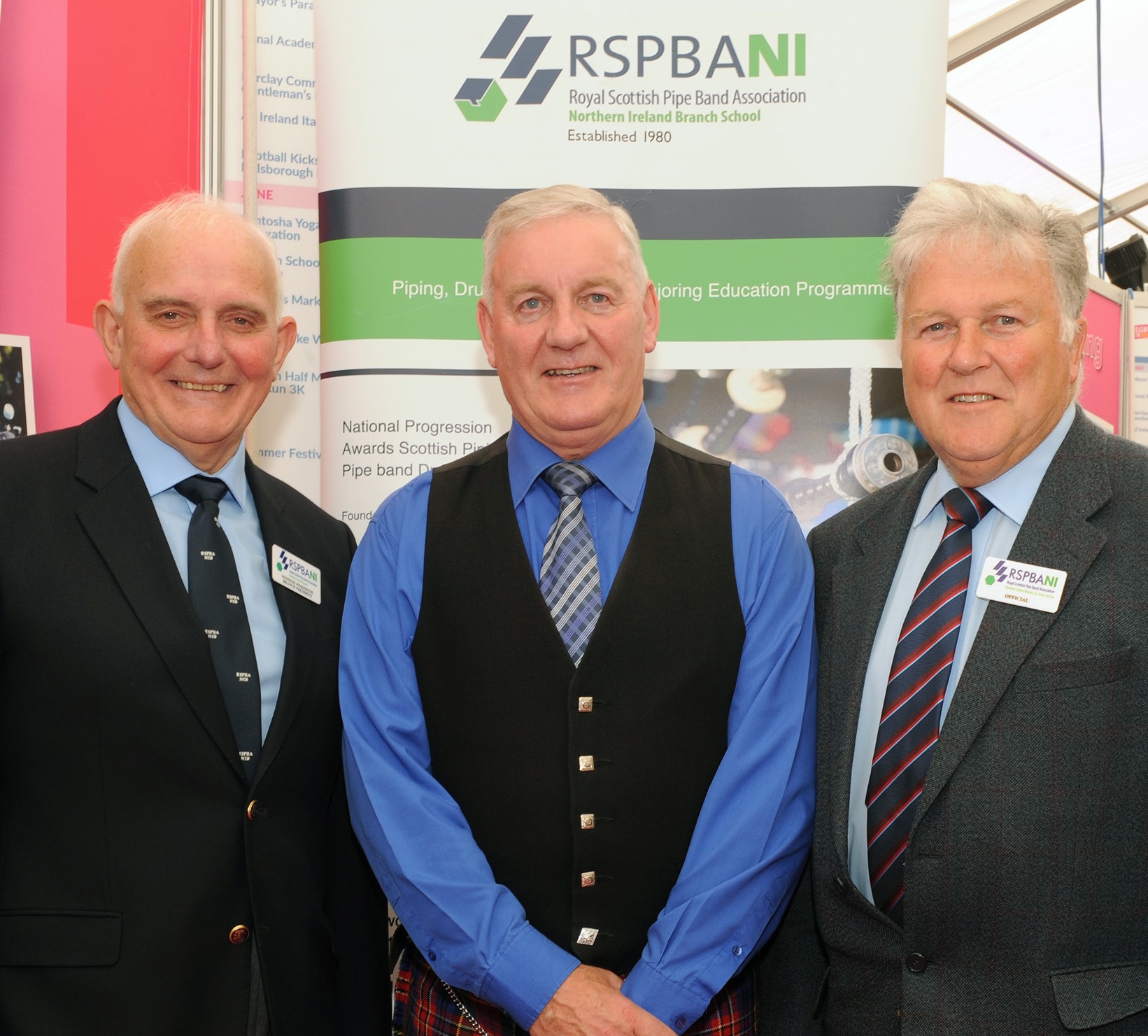 ---
The solo contest games season gets into full swing this weekend with Bathgate tomorrow (entries on the field I think) and at Blair Atholl on Sunday. Judges in the A Piobaireachd at Blair are Tom Speirs and Stuart Shedden, B Piob Alan Forbes and Euan Anderson and in the C, Ronald and Gordon Clark. The Light Music finds Jimmy Banks and Andrew Frater on Heat 1 and Barry Donaldson and Patrick Grant on Heat 2. The judges pick three from each heat to go forward to the final. The Piob A draw is: Jonathan Greenlees, William Geddes, Callum Beaumont, Peter McCalister, Finlay Clark, Craig Sutherland, Allan Russell, Greig Canning, Gordon McCready, Darach Urquhart and Michael Elder.
B Piob: Gordon Barclay, Cameron McDougall, Callum Wynd, Ben Duncan, Duncan Beattie, Bruce MacDonald, Andrew Hall, Jamie Elder, Edward Gaul, Charles MacDonald, Ross Miller, Ashley McMichael, Connor Sinclair, Andrew Wright, Kris Coyle, Calum Watson, John MacDonald, Ross Cowan, Mael Sicard-Cras, Graham Mulholland.
C Piob: Calum Brown, Calum Maclean, Andrew Bova, Brigade Chaimbeul, Ciaran Ross, Dan Nevans, Bruce Erskine, Chris Lee, Daniel McDermott, John Campbell, Ronald Telfer, Ben Mulhearn, Seoras Lewis.
Results as soon as we have them.