Andy Wilson, Northern Ireland, won the Piobaireachd at the annual Scottish Pipers' Association professional contest held today at the College of Piping in Glasgow. Andy also won the overall prize.
Piobaireachd:
1 Andy Wilson, Lament for Mary Macleod
2 Darach Urquhart, Lament for the Castle of Dunyveg
3 Gordon Bruce, My King has Landed in Moidart
March:
1 Graham Drummond
2 Brighde Chaimbeul
3 Ross Cowan
Strathspey and Reel:
1 Ross Cowan
2 Andy Wilson
3 Connor Sinclair
Former Winners' MSR:
1 Allan Russell
2 Graham Drummond
3 Ross Cowan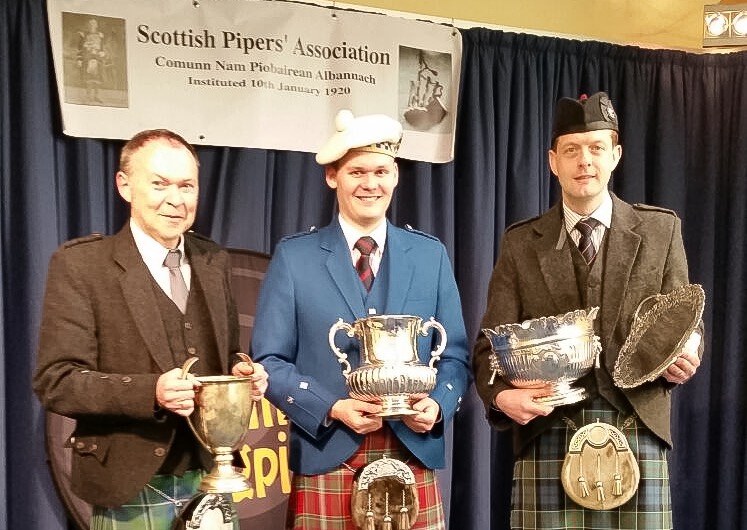 6/8 March: Ross Cowan. Ross won playing his grandfather's composition 'March of the British Legion, Scotland'.
Entrants and their playing order are listed below. The 6/8 march was played before the piobaireachd as a warm up. The competition is generously sponsored by McCallum Bagpipes.
Piobaireachd:
1. Adam Michie
2. Connor Jardine
3. Peter McCalister
4. Neil Clark
5. Rebecca Tierney
6. Andy Wilson
7. Ross Cowan
8. Ben Duncan
9. Ashley McMichael
10. Connor Sinclair
11. Allan Russell
12. Angus MacColl
13. Brighde Chaimbeul
14. Gordon Bruce
15. Darach Urquhart
16. Callum Wynd
17. Jonathan  Greenlees
Judges: R Livingstone, A Wright


March and Strathspey & Reel:
1. Andy Wilson
2. Neil Clark
3. Graham Drummond (March only)
4. Connor Jardine
5. Peter McCalister
6. Connor Sinclair
7. Ashley McMichael
8. Rebecca Tierney
9. Adam Michie
10.  Ben Duncan (S&R Only)
11.  Ross Cowan
12.  Angus MacColl (March only)
13.  Callum Wynd
14.  Gordon Bruce
15.  Brighde Chaimbeul
16. Darach Urquhart  (March only)
Former Winners' MSR:
1. Graham Drummond
2.  Winner of March contest
3.  Angus MacColl
4.  Ben Duncan
5.  Darach Urquhart
6.  Allan Russell
7. Winner of S&R contest
8. Jonathan Greenlees
Ceol beag judges: A Frater, W Morrison