This weekend sees the annual 'Piobaireachd by the Sea' event at Cancale, Brittany, the brainchild of famous Breton piper and teacher Jakez Pincet. Pipers come along, have a tune or two on the beach and enjoy some refreshment courtesy the town hall. The two-day mini festival features a workshop at which participants will have a chance to brush up their tunes. It is being given by Piobaireachd Society President, Dr Jack Taylor.
One of the organisers is another famous Breton piper and musician, Patrick Molard (pictured above playing, perhaps, the Sound of the Waves).  Patrick has sent this: 'Pibroch-en-bord-de-lar-mer 2015' will be on Sunday 20th, starting at 9.30, Pointe des Crolles, Cancale, and on Saturday 19th we have a Pibroch workshop with Jack Taylor . https://www.facebook.com/Pibroch-en-bord-de-mer-%C3%A0-Cancale-295065583984618/timeline/. I enclose the programme and the list of tunes played. The Fear an Tigh will be Dr Andy Hunter.'
Get a taste of what is clearly a wonderful day out here.
The list of players and their tunes:
1 Jack TAYLOR/ tbc
2 Eric SORIOT/ Gwerz Bob Brown/Glengarry's March
3 Olivier THORAVAL/ Glen is Mine/ Lament for My Son Damien
4 Yves-Marie LE CORRE/ Lament of the Old Sword/ Lament for the Departure of King James
5 Anne LORE/ Old Woman's Lullaby  or King's Taxes/ Mac Donald Kinlochmoidart's Lament N°1
6 Patrick MOLARD/ Left Hand (Colin Campbell)/ Grain in Hides and Corn in Sacks)
7 Yvon GROSSET/ Lament for the Departure of King James
8 Jakez PINCET/ Little Spree/ Gwerz Maro Pontacallec  Piberezh
9 Hervé LE FLOC'H/ tbc
10 Eric FRESSINET/ Catherine Lament/ Patrick Og's Lament
11 Jacques GUINOU/ MacLeod's Salute
12 Christian VILLEJIQUEL/ Munro's Salute
13 René FRANCOIS/ Sir James Mac Donald of the Isles's Lament
14 Iain MACLEOD/ Raising of the Standard at Glenfinnan/ Battle of Bealach nam Brog
15 Rémy LE CASTREC/ Hail to my Country
16 Pierre GALLAIS/ Parading of the MacDonalds/MacLeod's Salute
17 Joselito CORBEL/ MacIntosh's Banner/ Glen is Mine
18 Loïc BIEUZEN/ Company's Lament/ Nameless
19 Quentin MEUNIER/ Big Spree/ Lament for Mary MacLeod
20 Denis DANIEL/ Sir James Mac Donald of the Isles's Lament/ MacLeod's Short Tune
21 Fanch PRONOST
22 Blaise DOUGLAS/ MacGregor's Salute
23 Ronan LATRY/ Munro's Salute
---
[wds id="8″]
---
One of our advertisers, Bob Shepherd (all the best companies are with Piping Press haven't you noticed), tells me the success of Shotts at the Worlds was the 14th Grade 1 title won with RT Shepherd chanters. Here's a sneak preview of Bob's new ad that will soon be doing the rounds: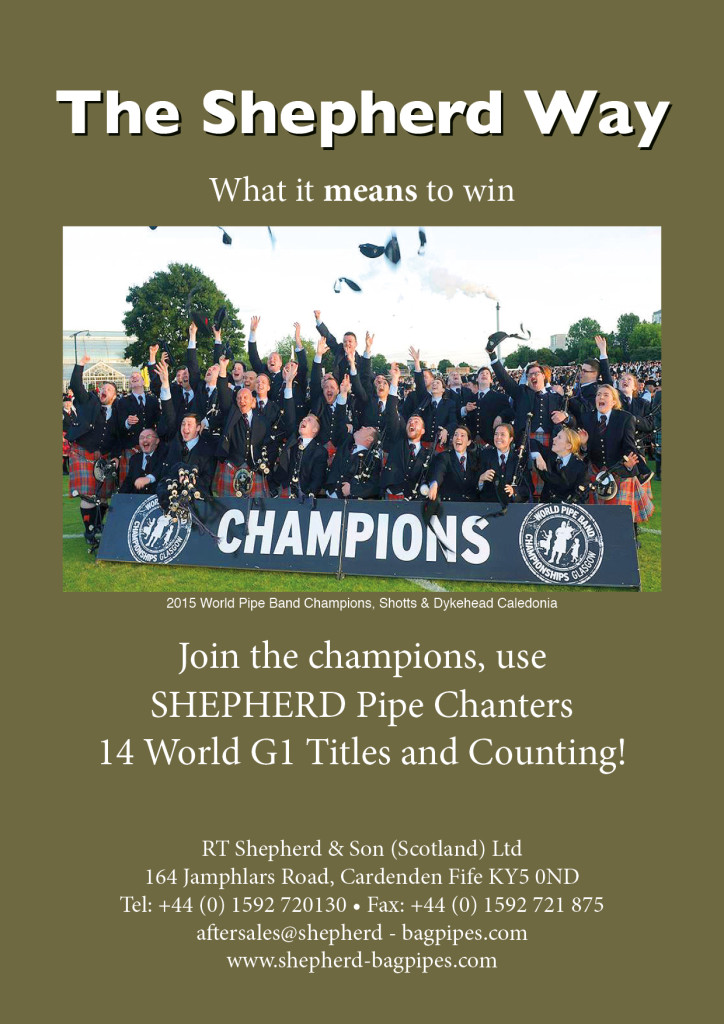 ---
Still with Shotts, don't forget their juvenile solo contest on Nov 7:
Since P/M Ryan Canning's amazing win, there's been a lot of talk about successful pipe majors of the past and how long it took them to win the Worlds. Ryan did it after only three years. Incredible achievement in this day and age. P/M RG Hardie at Muirheads must have done it in a couple of years, taking over in 1963 and winning in 1965 at Forfar. P/M John K McAllister at Shotts nearly did it in one year, 1955 at Stirling. He'd just taken over from his father, Tom Senior, the previous year. According to contemporaneous newspaper reports, Shotts were disqualified for playing the wrong MSR. The incredible thing is they were announced as winners but also as having been disqualified. Can you imagine that happening today? Riots in front of the TV cameras, no fear. The story goes that JK was so incensed that he marched his band up to the park exit and refused to let any band leave until they had heard all Shotts' MSRs straight through. I like your style Jock! JK of course went on to win the Worlds outright four years in a row 1957-60, a record at the time, only surpassed by Muirheads' 1965-69 run. Check out the full list of Worlds winners on PP. Any further info on how long it took various P/Ms to win the Worlds would be welcome as would any further info on the above debacle.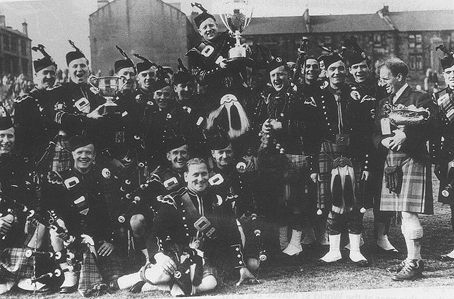 ---
Information on a new Highland games for 2016. Ian Miller: Gosling Sports Park, Welwyn Garden City, Hertfordshire, a charitable
trust are holding the first amateur highland games in their area on
Sunday 29th May 2016. One of the events is solo piping, March, Strathspey and Reel; entry fees of £10. Pipers wishing to compete please contact goslinghighlandgames.com for full details. The day will be a family fun day with events for all the families plus entries for females as well as males in all the heavy events. Entries close on the 31st March 2016.
---
[wds id="3″]