A long day of piping in the Nevis Centre, Fort William. Some very good playing with many pipers at the top of their form as you would expect a few days before Wednesday's Argyllshire Gathering at Oban.
Mid-afternoon Robert Wallace gave his tenth Lochaber Gathering Lecture. This year the subjects were the outstanding composers Peter MacLeod, Snr. and Jnr. with musical illustrations from Colin Campbell, Aberlour.
At the close, prizes were presented by Lochaber councillor Allan Henderson and tribute paid to the organiser in chief Allan MacColl and his daughter Kirsteen. Sponsors: Mackintosh Foundation, The Moidart Trust, The PF Charitable Trust, The Highland Council, BSW Timber, McCallum Bagpipes, Clansman Garage, Fort William.
P/A Grade Ceol Mor – Gold Lochaber Axe
1 Mike Fitzhenry, Park Piob No2 (pictured)
2 William McCallum
3 Callum Beaumont
4 Euan MacCrimmon
Judges: I MacFadyen, A Forbes; 17 entered
B/C Grade Ceol Mor – Silver Lochaber Axe
1 Colin Campbell, Corrienessan's Salute
2 Andrew Wright, MacNeill of Barra's March
3 Nick Hudson, Lament for the Children
4 Andrew Hall, Battle of Auldearn No 2
Judges: A Maclean, R Wallace; 27 entered; Pipers played in two heats, three from each going forward to the final. Other finalists Liam Kernaghan, Graham Mulholland.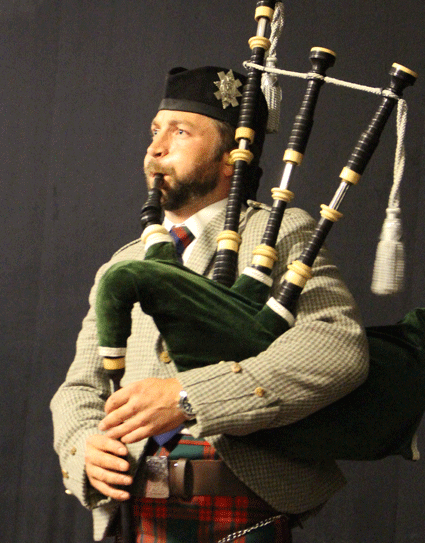 Robert Wallace writes: Colin Campbell was a worthy winner of the contest with a nicely balanced instrument sustaining for 95% of his tune. Fingering was all high-grade with only one crunluath miss; he was rather severe with the B cut to the grip on C in the ground and overdid the extended C between the two Es for my taste; overall a very  good performance. Second went to Andrew Wright, though he was rather slow with the T&C singlings and he had a small choke on the penultimate crunluath; Var 1 was choppy, rather than smooth, in the pre-cadence passages.
Nick Hudson played the ground and doubling of the Lament for the Children in imposing fashion with the MacDonald doublings on high A. Var 1 lacked the expression necessary to make a musically fulfilling presentation of this lovely passage; the pipe was good but he had to reach for the high A on a few occasions breaking the listener's concentration. Andrew Hall had a fine pipe but his interpretation of Auldearn 2 did not match that of the outstanding Earl of Ross's March he played in the qualifier: over exuberance in the T&C doublings, manic dash in the a mach and overdwelling on the first beat of the taorluath in Variation 2.
Liam Kernaghan's chanter did not have an accurate octave low G to high, and the intervals to B and E seemed distorted. This disturbed him greatly, compromising technique and timing in his King's Taxes. Graham Mulholland had a fine pipe to start but was decidedly lugubrious with the Unjust Incarceration. His overdwelling on the notes before the grips in the ground set him on a distorted rhythmical path from which his tune never recovered.
Of those who played in my heat: Dan Lyden – End of the High Bridge – got the contest off to a good start, though the pipe was a shade course and Var 1 very snappy on the cuts to B and low A from D. Ronald Telfer has good hands but Clan MacNab's Salute proved too long a journey for him to make with any degree of comfort. John Cameron was not far away with the Massacre of Glencoe – nicely timed on an indifferent instrument. Not far away either was William Rowe with the Lament for Captain MacDougall. More on the theme note in the breabach would have helped his cause as would less nippy double echoes – not so much an echo more an angry riposte at times.
Greig Canning came close too with Battle of Bealach nam Brog, but his timing in the urlar and doubling was troubling with leaps from end of phrases not uncommon. As I've said, Andrew Hall was completely in command of the Earl of Ross; good playing from start to finish with impressive shifts in tempi. Peter Hunt's Tulloch Ard started well on a good pipe, but a growing tendency to cut cadence and themal Es curbed interest. O dro was too open with the weight on the o rather than the end of the dro.
Bruce MacDonald is a very promising piper and with a better pipe his MacLeod's Rowing Tune could have made the cut. He was not afraid to push out those oars, and thus brought all the required pulsing to his music.  Nick Hudson made the final easily with his high standard of pipe, timing and finger in Angus MacKay's setting of Lord Lovat's Lament. Another promising piper is young Cameron MacDougall, on this occasion a bit samey with the semiquavers in the ground of My King Has Landed in Moidart and he needs to phrase the dithis and other doublings more. But not far way – not far away at all.
The eventual winner, Colin Campbell, qualified via a good performance of Donald MacLeod's Lament for John Morrison, Assynt House. Pipe well set and sweet; one missed crunluath, one crushed. Musically he needs a gentler cut on the 'tachum' in the urlar and more tempo variation between this, its doubling and the taorluath singling; fine performance nevertheless.
P/A Grade March – Lochaber Gathering Medal
1 William McCallum
2 Derek Midgley
3 Colin Campbell
4 Jenny Hazzard
Judges: I MacFadyen, A Forbes
P/A Grade S&R
1 William McCallum
2 Michael Fitzhenry
3 Derek Midgley
4 Callum Beaumont
Judges: I MacFadyen, A Forbes
B Grade MSR
1 Ursa Beckford
2 Ross Cowan
3 Nick Hudson
4 Charles MacDonald
Judge: R Wallace; 21 played
Robert Wallace writes: Too many pipers were guilty of a safety first approach, their MSRs lacking drive or real commitment. However the prizewinners all showed the way, Ursa Beckford the best of the lot in this department. Ross Cowan was a shade cautious but clean and had a fine instrument. Nick Hudson had more panache but there were some indistinct passages. Charles MacDonald lost control here and there but completed the course in good style given his inexperience at this level. Many of the chanters had started to soar by this time of the day and this adversely affected the prospects of two notable light music players  Cameron MacDougall and Andrew Wright. Others such as James MacPhee, Sandy Cameron, Dan Lyden and Andrew Hall were going along nicely when major misses or errors put paid to their chances. Greig Canning impressed, but the pipe seemed to have assumed a rough hue since his piobaireachd, more of a band sound than hitherto.
Open H&J (44 entered, 36 played)
1 William McCallum
2 Derek Midgley
3 John Angus Smith
4 Jamie Forrester
Judges's comment: A very high standard competition; some excellent instruments and a difficult contest to judge.
Judge: A Maclean
JUNIORS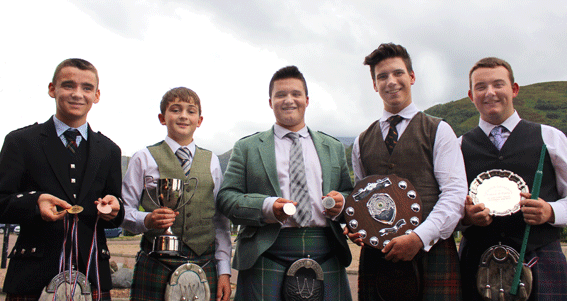 18 & Under Ceol Mor
1 Brigdhe Chaimbeul
2 Harris MacLennan
3 Connor Jardine
18 & Under MSR
1 Connor Jardine
2 Brighde Chaimbeul
3 Harris MacLennan
18 & Under H&J
1 Harris MacLennan
2 Connor Jardine
3 Brighde Chaimbeul
15 & Under Ceol Mor
1 Finlay Cameron
2 Angus MacPhee
3 Calum Craib
15 & Under MSR
1 Calum Craib
2 Angus MacPhee
3 Finlay Cameron
15 & Under H&J
1 Calum Craib
2 Finlay Cameron
3 Eosaph Caimbeul
Youngest competitor prize: Eosaph Caimbeul
Judge for all junior events: W Geddes.
Stay tuned to Piping Press for comments and more pictures from today's Gathering.