The Glasgow and West of Scotland Branch of the RSPBA has inaugurated a new competition for full pipe bands and solo drummers. The contest will take place on 25th April 2015; venue: Coatbridge High School. The band contest is indoor, full band and covers Grades 1 to Novice Juvenile and is open to all bands.
Solo Drumming Sections are: Adult, entrants aged 18 years and over on date of contest, any grade – MSR and Hornpipe and Jig; Juvenile Section 2, MSR aged 17 years and under for players registered with Grade 1, 2, 3 and Juvenile and Juvenile Section 1 for entrants 17 years and under for players registered with a Grade 4 or Novice Juvenile band. Drumming starts at 9.30am and the band contest at 1pm.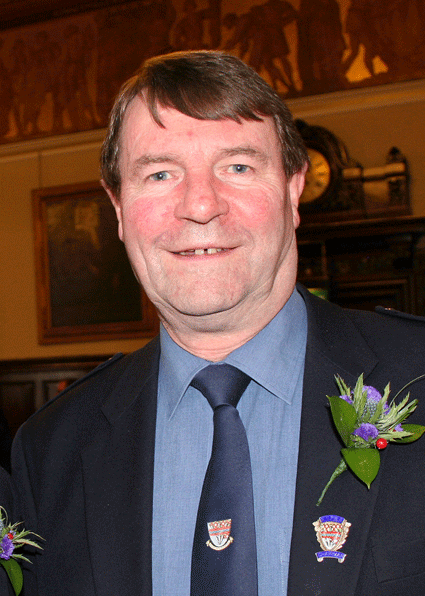 Branch Chairman Gordon Hamill (left) explained how the new contest had come about: 'The matter was raised at our branch AGM last December. The suggestion was that we do something for solo drummers and also the bands during the 'closed' season. The first thought was for mini-bands but this was rejected in favour of a full band contest. There will be four prizes in each grade of £100, £60, £40 and £20 and entry fee is £10 with trophies and medals for the solo drummers. [wds id="3″]
'We hope the bands will support the competition and we have scheduled it for a three-year run to see how things go. Each grade will be judged by two piping, one ensemble and one drumming adjudicator.
'Coming as it does only one month before the start of the season we hope bands will see this as  an important opportunity to warm up for the outdoor contests. We have four major Grade 1 bands in our branch: Shotts & Dykehead, Scottish Power, Greater Glasgow Police and Inveraray. If they could support us that would be wonderful and I am sure it would encourage bands in other grades to take part.
'The venue has been provided for us by North Lanarkshire Council and we are very grateful to their  Mr Jim Park for his assistance with this. The school can accommodate two main arenas for the band contest and has a large assembly hall for the prizegiving.
'This sort of indoor event is something the Branch used to do and we are hoping we generate enough interest to continue the contest in future years.'
pipingpress.com would call on all bands to support this worthwhile initiative. It is only by getting out and competing that standards are maintained and improved. Scottish bands have made significant showings at the major championships in recent years and contests such as this will surely help sustain that challenge.[wds id="4″]
---
Jeannie Campbell of the Scottish Pipers' Association has sent in a more complete list of their amateur winners from 1931. It is well worth perusing, with historic names such as Donald Ramsay, RG Hardie, Iain MacFadyen, Donald MacPherson and many more right up to the 70s and 80s where we see Patricia Innes (now Henderson), Fred Morrison, Cameron Edgar, Donald MacBride and many others of that era featuring. Read on.