Last weekend, when all mayhem was meant to be breaking out in this city thanks to the first meeting of certain football clubs in three years, I found myself on Glasgow Green that same afternoon. And you know what?, a more civilised Sunday afternoon it would be hard to find in any metropolis in the world. Where was the murder, the screaming insanity the media had predicted? Was I missing something? People were out walking their dogs, ladies practised rowing on the Clyde,

others strolled and jogged, some stopped to admire Nelson's column (yes, there's one in Glasgow too), and couples chatted over their coffee in a People's Palace sparkling splendidly in the winter sun, as you can see below.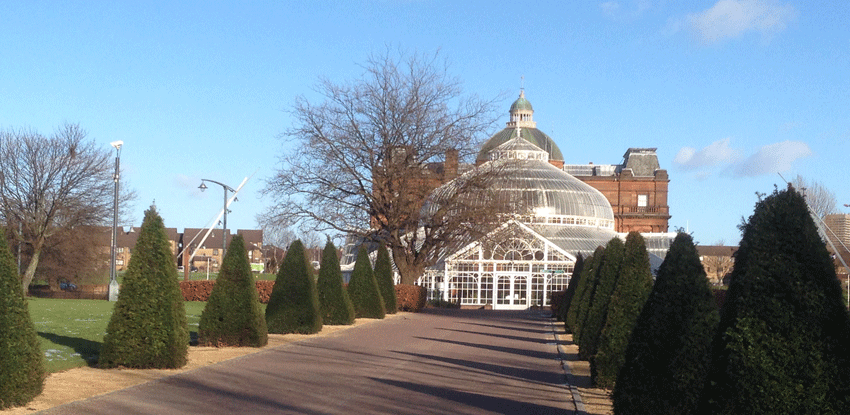 Pipers and drummers who know the Green well from regular visits to the Worlds may not recognise our particular 'Field of Dreams' from the top photo above (Nelson's column on the skyline), so just to remind you what it looks like come the big day here's a picture of the same scene with 8,000 bandspeople added….only six months to go!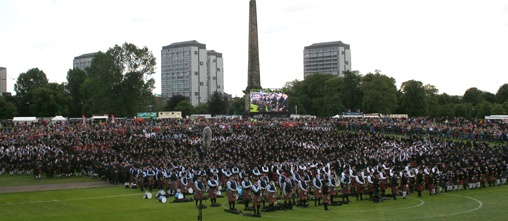 ---
Whilst we are on bands, there's been a good response to yesterday's poll on drumming prizes – with some surprising votes cast. There's nothing so healthy as honest, open debate so let's keep the discussion going. Send in any thoughts and here's the poll again:[polldaddy poll=8634581]
---
Scottish Pipers' Association AGM is tonight. President Tom Johnstone has sent this: Dear Members and Friends,
Firstly, a reminder of the AGM this Friday. The Annual General Meeting of the Scottish Pipers' Association will be held on FRIDAY, 6th FEBRUARY 2015 at 7.30pm in the College of Piping, Otago St., Glasgow. All current Life and Annual Members are eligible to attend and vote and we would like to welcome you all to the meeting. Non-members can join on the evening. We will also be having our regular 'Club Night' on that evening. Look forward to seeing you all.
Events following the AGM will be :
Regular Club Evening on Friday, 6th March 2015
Adult Amateur and Veterans Contest on Sat., 28th March 2015
Regular Club Evening on Friday 3rd April 2015
Annual Professional Piping Competition on Sat., 18th April 2015
WW1 Recital – next in our series on Sat 18th April 2015, 7.30pm
All of the above at the College.
---
To the Wheel of Fortune contest tomorrow so check here for first results, pictures and review.
---
Next year it will be 20 since we began working on the Masters of Piobaireachd CDs for Greentrax recordings. The idea for the project came when I met Norman Matheson at a dinner in Glasgow organised by the late Joe Henderson. Joe mentioned that Norman had all these recordings of RB Nicol and RU Brown and was anxious that something be done to preserve them and make them more widely available.  We set about having them digitised and then carefully edited and ended up producing a series of 10 CDs under the 'Masters of Piobaireachd' banner – 12 hours of wonderful source material covering dozens of tunes.
If, like me, you were never anywhere near their Balmoral abodes, they must represent the best possible record of the teaching of the two Bobs . The recordings give you a first hand insight into the carrying stream of tradition from John MacDonald, Inverness, and before. Their influence has been profound at all levels of piping and spawned the great catalogue of archive material now freely available on disc and the internet. Everyone is in on the act – and that can only be a good thing. Pipers today have access to material our forebears could only dream of.
We should all be grateful to Norman Matheson MBE for having the foresight to record his teacher and for taking the trouble to lug the old reel-to-reel machine to his lessons all those years ago. And if you haven't got the 'Masters' series yet then what are you waiting for?
---
All preparations are well in hand for the South Florida Pipe and Drum Academy next month in Fort Lauderdale with some great evening activities lined up. We will be offering the complete piping and drumming teaching experience but all in an atmosphere of fun and hard work. We'll have news of our sponsors next week.[wds id="3″]