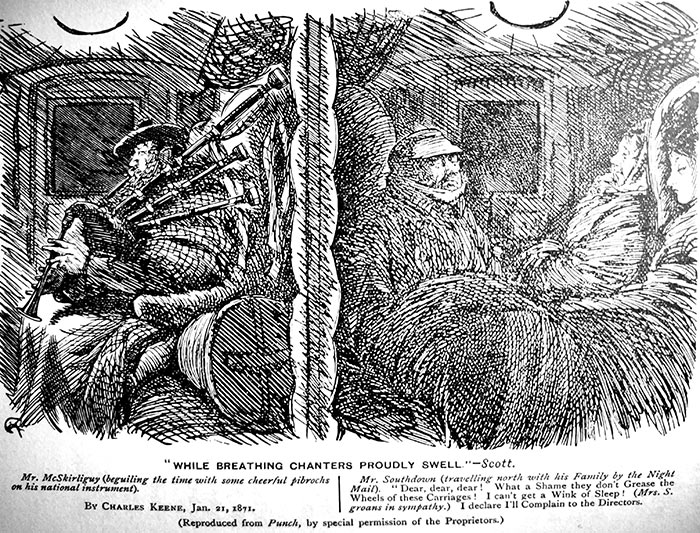 I have always been interested in the Victorian illustrator Charles Keene, 1823-1891. One of his cartoons [above] appears in Manson's 'Highland Bagpipe' book.
The caption reads, 'Mr McSkirlinguy beguiling the time with some cheerful pibrochs on his national instrument', whilst in the adjacent train compartment we have 'Mr Southdown (travelling north with his family by the Night Mail), 'Dear, dear, dear! What a shame they don't grease the wheels of these Carriages. I can't get a wink of sleep!'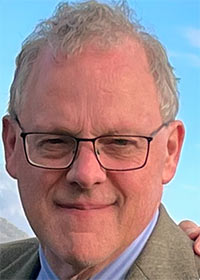 By Francis Chamberlain
Keene was a keen amateur piper and I submit that there are many extracts from the book 'The Life and Letters of Charles Samuel Keene' by George Layard that will be of interest to pipers. As an aside, Keene's favourite piobaireachd seems to have been The Massacre of Glencoe.
His 'After the Funeral' cartoon, below, has no piping relevance, but I have included it because a) it always makes me laugh and b) my wife says she's having the caption put on my gravestone…..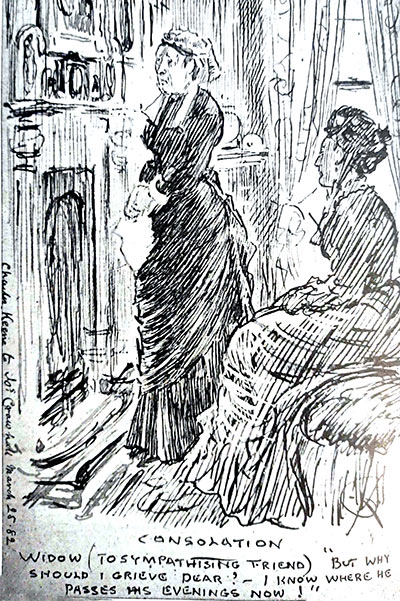 To Laynard's book…..The year 1869 was marked by the appearance of a new musical craze. It was in this year that Keene first took up, with his usual enthusiastic thoroughness, the study of an instrument whose archaic origin and caviare quaintness were peculiarly attractive to a man of his fantastic turn.
His love for the bagpipes amounted almost to a passion. His letters teem with allusions and almost inspire the reader with a similar zeal. Their origin, their varieties, from the powerful and elaborate Irish to the small and sweeter-toned Northumbrian, their different parts, their different scales, their makers, the marches, pibrochs, strathspeys and reels all come in for animated discussion..
---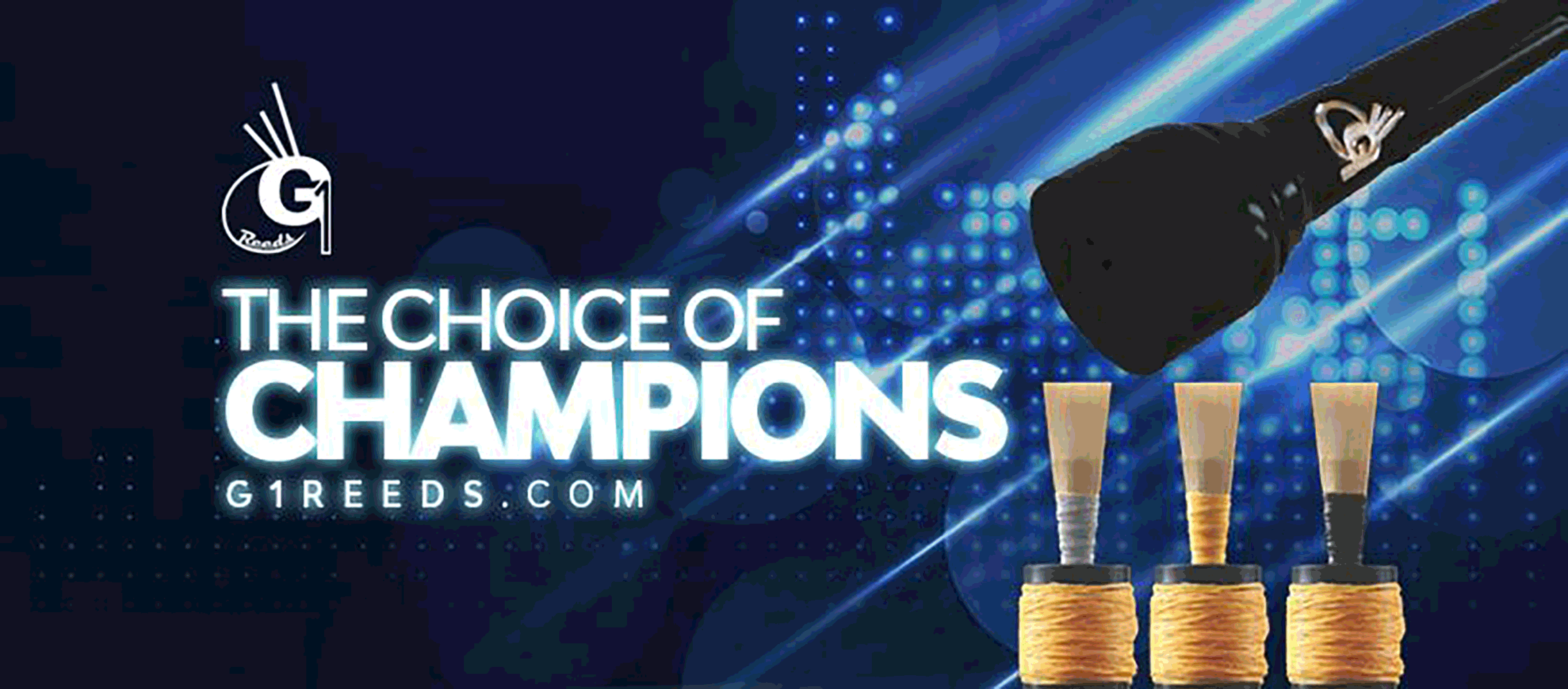 RGH-Heritage-pipingpress-800×300
MacRaeBanner '19

Ayrshire Bagpipes Nov 2020
Selcraft-UK—Piping-Press—Advert
2023_BalmoralClassic_Ad_PipingPres_Rv
---
In 1869 he writes, 'I have made the acquaintance of an eccentric old Scot who has a collection of pipes, fiddles and guitars but the pipes and Banffshire (!) tunes before all.
'I was saying to him that the pipe was better suited to the field. Oh!, he said, he liked them in a small room with the floor shaking under your feet and the windows rattling with the vibrations.'
Of another letter collected by the author we read, 'Shortly before this visit, in 1869, he [Keene] had become a zealous convert to the bagpipes. In the evening we all went to the garden and engaged in the vulgar game of pitch and toss. Keene threw his penny in a half-hearted sort of way and that done resumed the practice of his darling instrument.
'I think I see him now, a picturesque figure, standing under an apple tree with the drones over his shoulder whilst the group of gamblers kept glancing at him with smiling faces.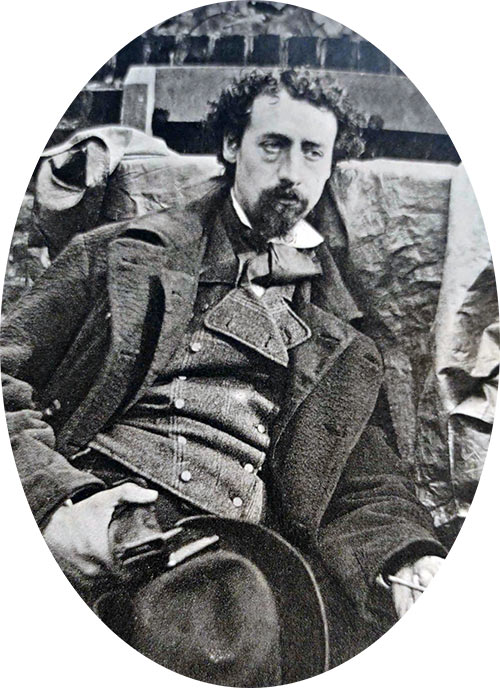 'Once Keene's ears were opened to the wild beauty and grandeur of bagpipe music he determined to study it thoroughly. Every spare moment was devoted to the practice chanter and I am afriad the sudden and violent exercise to his lungs did not improve his health.
'The bagpipes (as Keene was well aware) are a most difficult instrument to perform on properly. In olden time, when there was a bagpipe college in Skye, the pupils required to spend seven years in acquiring the fingering of the piobaireachd and this was a class of music with which Keene was fascinated.
'I am afriad that his passion for the bagpipes was the real reason of his being obliged to leave his studio in Baker Street as well as the first he occupied in Chelsea…
'To economise time he made a dumb chanter from the leg of a chair and would practice his fingers on it when on the top of an omnibus or when conversing with a friend.
'He bought bagpipes of all sorts and sizes and friends presented him with sets. Mackay's and Macdonald's collections of pibrochs he also bought.'