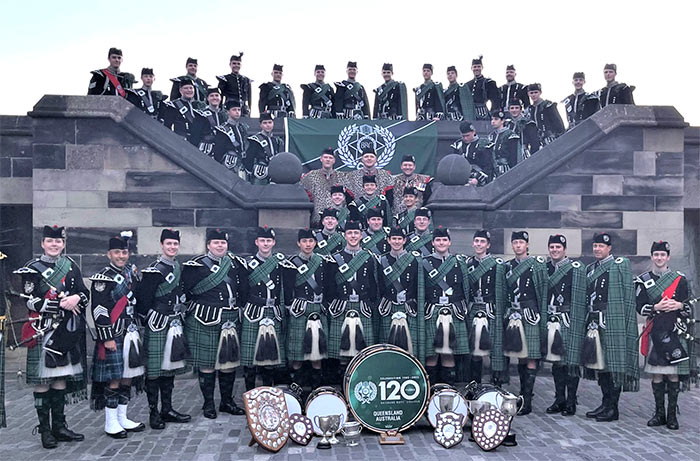 Malcolm Brown-Scott, Music Board Convenor for the RSPBA, has announced the following changes in grading for Novice Juvenile and Juvenile bands: West Lothian Schools upgrading from Novice Juvenile A (NJA) to Juvenile – Appeal accepted, band will remain in NJA.
Brisbane Boys' College, Queensland, Australia (pictured) upgrading from G4A to G3B – Appeal accepted, band will move back to NJA.
Edinburgh Academy upgrading from Novice Juvenile B (NJB) to NJA – Appeal accepted, band will move back to NJB.
George Watson's College NJA to Juvenile – Appeal accepted, band will remain in NJA.
George Heriot's School NJA to Juv – Appeal accepted, band will transfer players to maintain NJA and Juvenile bands.
Brisbane Boys' College Australia G4B – Band will move back to NJB.
---
Drumming Job
Laura MacLeod, Operations Manager fpr the Scottish Schools Pipes and Drums Trust: The Friends of Pilrig Park School, Edinburgh, a registered charity, seek a replacement drumming tutor for one morning a week (Tuesday) to teach 22 young people with special needs. Three and a hours at £25 per hour.  A small allowance for travel costs may be possible. 
Applicants are invited to send a CV and covering email or letter outlining why they would be suitable for the role, to info@sspdt.org.uk by 5 December. 
The Scottish Schools Pipes and Drums Trust supports piping and drumming in state schools in Scotland, and the formation of pipe bands. SSPDT exists partly to protect and expand our musical heritage, but more importantly to give young people opportunities to develop a unique set of skills that will stay with them for life. SSPDT also provides guidance and cash grants, loans bagpipes and funds and organises the Scottish Schools Pipe Band Championships.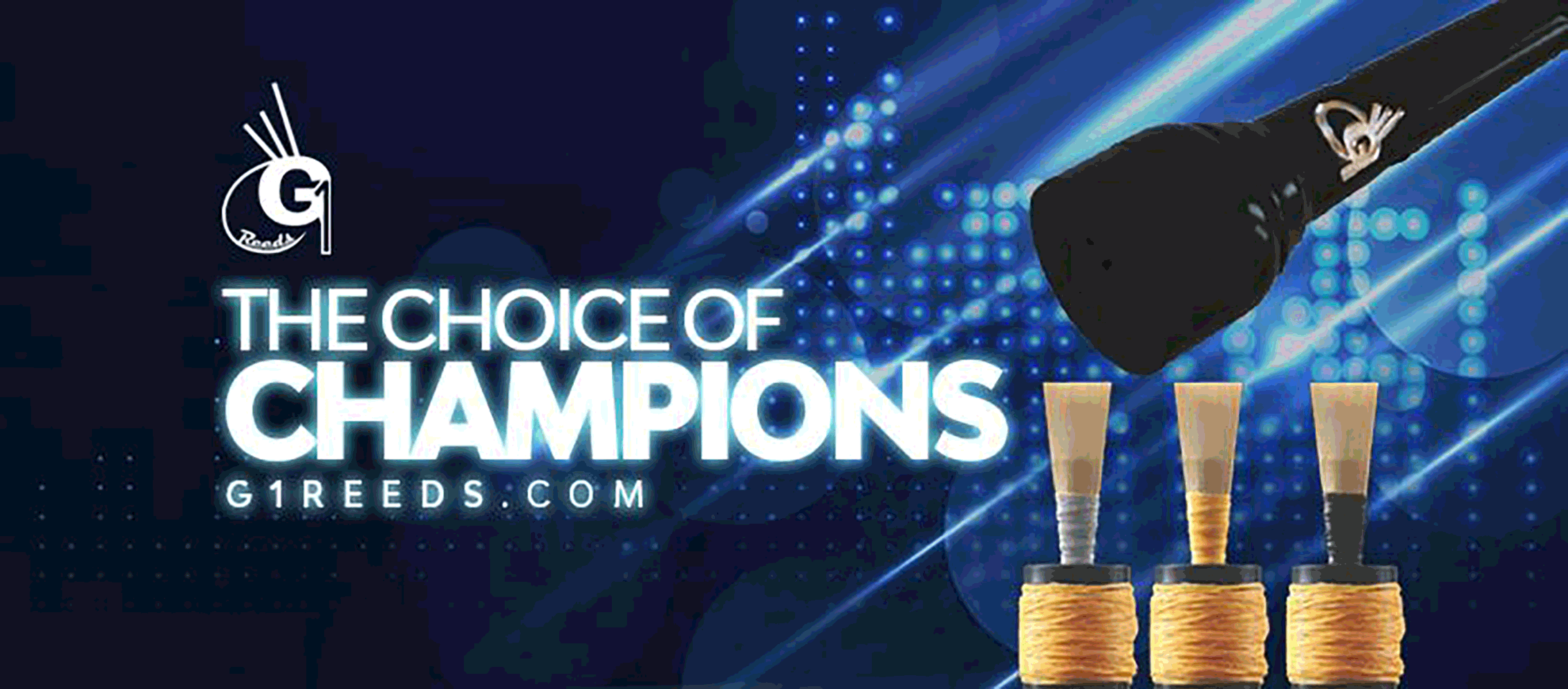 RGH-Heritage-pipingpress-800×300
MacRaeBanner '19

Ayrshire Bagpipes Nov 2020
Selcraft-UK—Piping-Press—Advert
2023_BalmoralClassic_Ad_PipingPres_Rv
---
Jimmy Scholarship
Piping Press readers may recall that the Jimmy McIntosh Scholarship was instituted in the fall of 2021.  Jimmy was regarded as one of the leading teachers of ceol mor of his generation, guiding pipers who achieved the highest results in piobaireachd competitions in Scotland and North America. 
It was Jimmy's wish to create an annual scholarship which would enable promising amateur piobaireachd players to receive advanced tuition in the Balmoral tradition.  Jimmy envisioned that the scholarship winners would be afforded the opportunity to study with some of his most accomplished pupils, those who have distinguished themselves over many years in the field of piobaireachd.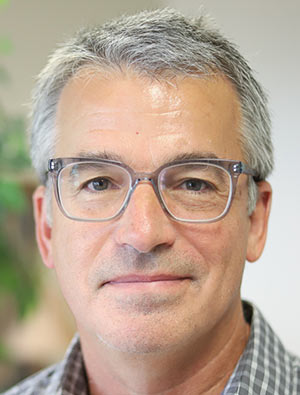 By Skip Cleavinger
The Jimmy McIntosh Scholarship provides for intensive piobaireachd instruction over a period of several months. The scholarship recipient begins his/her experience by spending a week at St Thomas Episcopal School in Houston, Texas, under the tutelage of Mike Cusack, Nick Hudson, and Andrew Carlisle. 
After this introductory week, he/she continues to receive individual instruction from any of these three, or from Amy Garson or Nancy Tunnicliffe for a further six months.  The culminating activity is a weekend workshop at Carnegie Mellon University in Pittsburgh.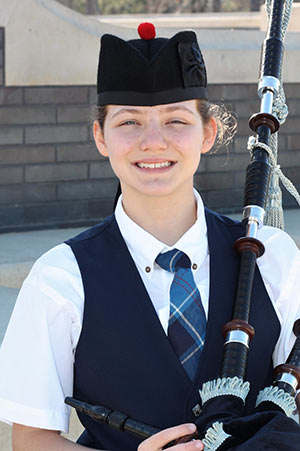 During that weekend, the scholarship recipient joins additional pipers in receiving further instruction from one or more of the aforementioned instructors and performs in a recital. The recital serves as the 'capstone' to the instructional experience, as the recipient has the opportunity to prepare and perform some of the piobaireachds he/she has learned.
Two lucky pipers were chosen to receive the Jimmy McIntosh Scholarship in 2022. Abby Long of Houston, Texas, [left, top] and Emmitt LaBelle of Morganton, North Carolina attended the week-long course at St. Thomas Episcopal School last June.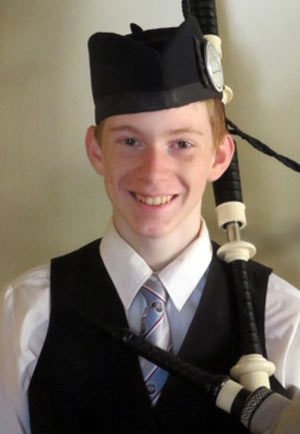 Since then, each has been receiving individual lessons.  Abby, who won the recent Balmoral Classic US Amateur Piobaireachd competition, has been studying with Mike Cusack and Emmitt has been studying with Amy Garson.  Abby and Emmitt  have also been studying canntaireachd with Nancy Tunnicliffe.  We are very much looking forward to hearing the progress of these fine musicians at the piobaireachd weekend at Carnegie Mellon in February 2023.
The Jimmy McIntosh Scholarship Fund is now open for applications for piobaireachd tuition, beginning in the summer of 2023. The application process is restricted to North American residents who are in the amateur grades. It is assumed that the scholarship recipient will have a foundational knowledge of piobaireachd and have demonstrated some competitive success.
If interested in applying for the scholarship, contact jimmy.mc.scholarship@gmail.com
---
GREAT BOOKS, GREAT XMAS STOCKING FILLERS…..