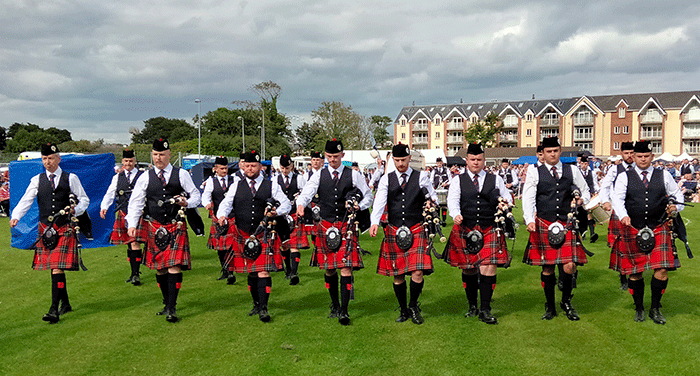 The second half of the Northern Ireland competition season got underway with the Ulster Championships on July 23rd in the grounds of Ballymena Academy. It proved to be a very successful event with a large crowd and decent weather except for a heavy shower mid-afternoon.
There were thirty one band entries and twenty six drum majors. A Highland dancing competition was also in full swing throughout the day such is the popularity of this genre in Northern Ireland over recent years.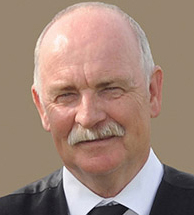 There were few surprises amongst the results with Ravara having a clean sweep of the prizes in Grade 2 and Clogher & District edging out an improving Matt Boyd Memorial in Grade 3A. Cullybackey dominated in Grade 3B, however the emerging 4A band, Kildoag, lifted the drumming title.
Kildoag also had a clean sweep of the prizes in Grade 4A. Syerla & District's domination of Grade 4B continued, however it was good to see bands such as McDonald Academy and Hollymount securing 2nd and 3rd placings.
Closkelt were awarded the Ulster Championship unopposed, however they put on two excellent performances in their MSR and Medley runs which were very much appreciated by the spectators.
Emma Barr had a season's first win in the Adult drum majors while Louis Anderson closed the gap in the Juvenile Champion of Champions on Charlotte Ruddock who did not compete. Mia Buckley won the Junior section and Jorja Turkington continued her dominance of the Novice grade.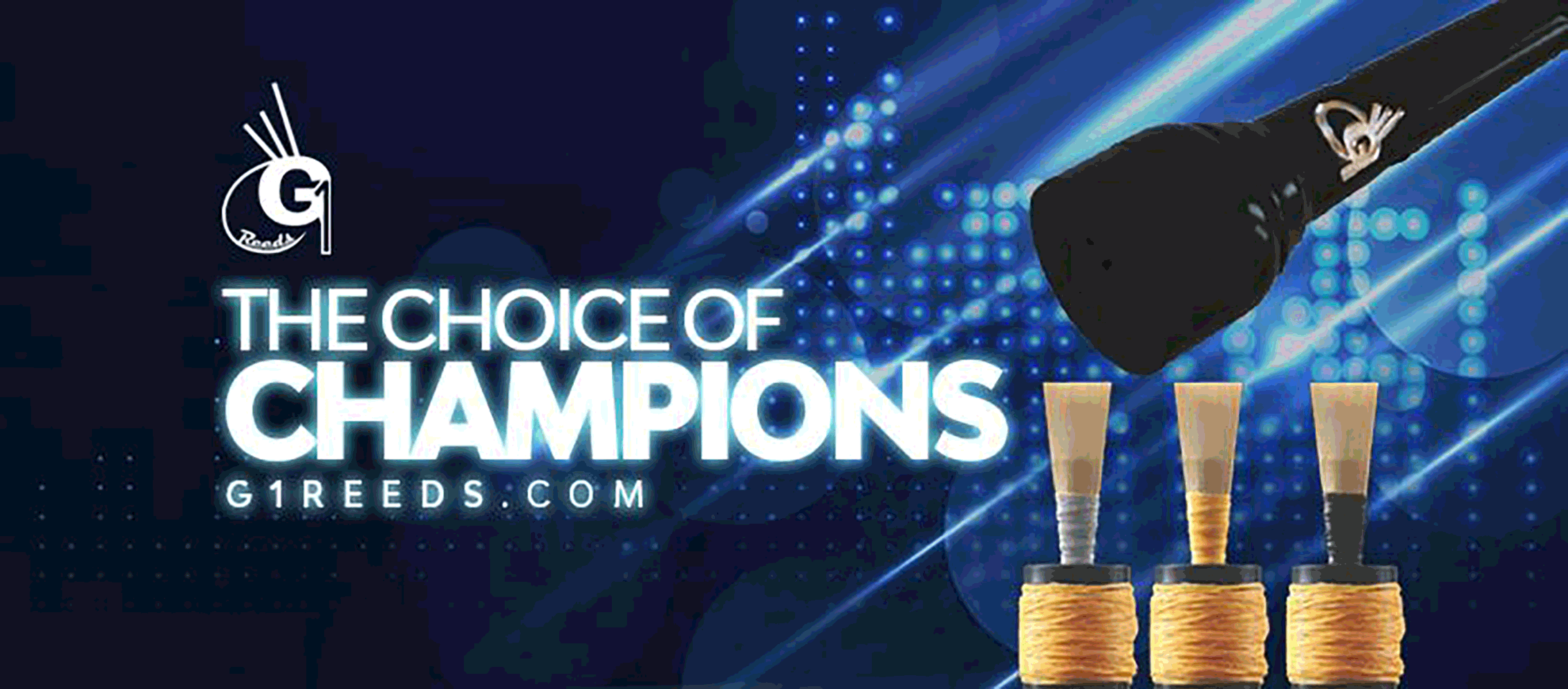 RGH-Heritage-pipingpress-800×300
MacRaeBanner '19

Ayrshire Bagpipes Nov 2020
Selcraft-UK—Piping-Press—Advert
2023_BalmoralClassic_Ad_PipingPres_Rv
---
Scottish Championships successes for our bands and drum majors
Despite a small entry from the NI Branch, a fair number of prizes came our way at Dumbarton. In Grade 1 Field Marshal Montgomery, despite a poor drumming score, still took the Scottish title ahead of Inveraray & District. Ravara lifted their second RSPBA major Grade 2 title. Tullylagan had an excellent 3rd placing in Grade 3A and Drum Major titles went to Kara Gilmour (Adult), Kathy Hunter (Juvenile) and Jorja Turkington (Junior).
Heart of Down Pipe Band Championships brings NI season to an end
Donard Park, Newcastle was the setting for the Heart of Down Pipe Band Championships, the final event of the RSPBANI Branch outdoor competition season and also the conclusion of the 2022 Champion of Champions league.
---

---
The competition had the largest entry of bands and drum majors at any local contest this season and a large crowd of spectators were in attendance, encouraged in no small way by the beautiful sunny weather.
Prior to the prize giving RSPBA Adjudicator Donald McPhee made a presentation to the much respected adjudicator Ciaran Mordaunt on behalf of the RSPBA Adjudication Panel as he had now reached the group's mandatory retirement age.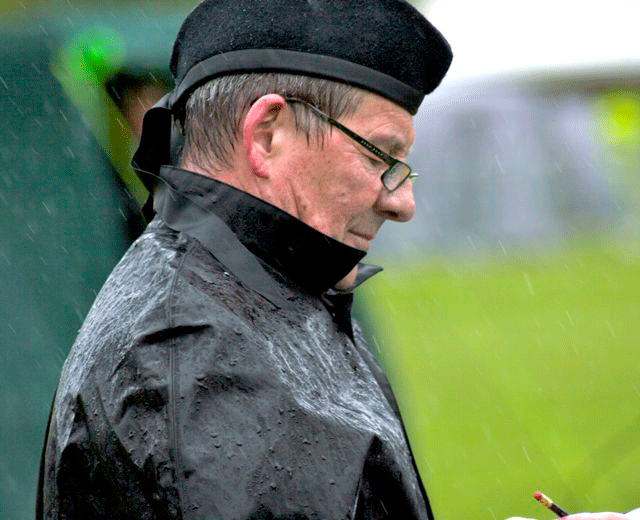 RSPBANI Branch President Winston Pinkerton then accepted a trophy from the Major Sinclair Memorial Pipe Band in memory of their piper Lynn McKeown who passed away suddenly in 2019. Accompanying the band representatives were Lynn's husband Robert, their children Ben, Leah and Evie, and Lynn's mother Mrs Sadie Connolly (see picture below).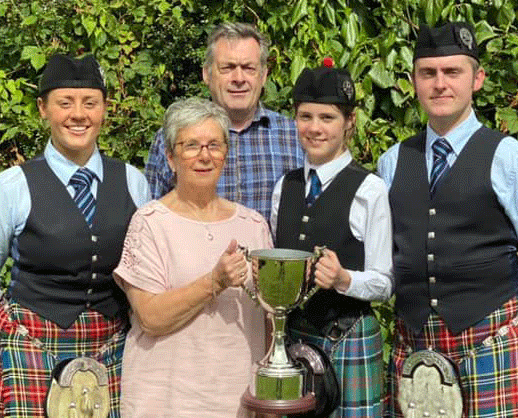 While the results for the drum majors were read out by Mrs Arlene Faulkner (RSPBA NI Branch Vice – Chair), retiring RSPBA Chief Executive Ian Embleton was invited to read the band results.
The winners on the day were the Field Marshal Montgomery (Grade 1), Ravara (Grade 2). Matt Boyd Memorial (Grade 3A), Augharan (Grade 3B), Kildoag (Grade 4A), and Syerla & District (Grade 4B). The Drum Majors who had success were Jason Price (Adult), Abigail Wenlock (Juvenile), Carys Graham (Junior) and Jorja Turkington (Novice).
As this was the last qualifying competition in the 2022 Champion of Champions the outcomes were revealed as follows: Drum Majors: Lauren Hanna (Adult), Charlotte Ruddock (Juvenile), Carys Graham (Junior) and Jorja Turkington (Novice).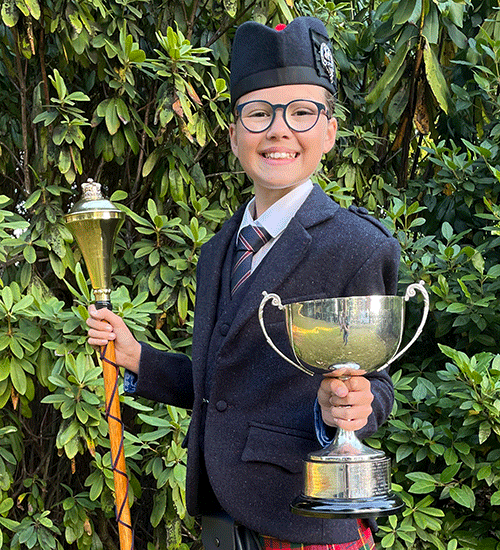 Bands: Grade 4B: Syerla & District (Band, Drums & Bass Section), Grade 4A: Kildoag (Band, Drums & Bass Section), Grade 3B: Augharan (Band), Cullybackey (Drums & Bass Section), Grade 3A: Clogher & District (Band, Drums & Bass Section), Grade 2: 1st Ravara (Band, Drums and Bass Section) and Grade 1: Closkelt (Band, Drums and Bass Section).
At the conclusion of the event the bands and drum majors headed by the Chieftain Cllr. Michael Savage, RSPBANI Branch President Winston Pinkerton and a contingent of Highland dancers paraded along the seafront watched by thousands of spectators.
Lisburn and Castlereagh Pipe Band & Highland Dance Festival – CANCELLED
The RSPBANI Branches final outdoor event of the season was to be the Lisburn and Castlereagh Pipe Band & Highland Dance Festival to be held in Moira on Saturday September 3rd. The NI Executive had to take the difficult decision to cancel it primarily because they could not get enough bands to attend because bands could not field enough personnel due to holidays or other commitments.
The UK Solo Drumming Championships was to be held as part of this event however it was moved to another venue. In truth the NI Branch had a close call with this Festival because the weather that weekend was horrendous and it would probably have had to be stopped as the rain was incessant.
---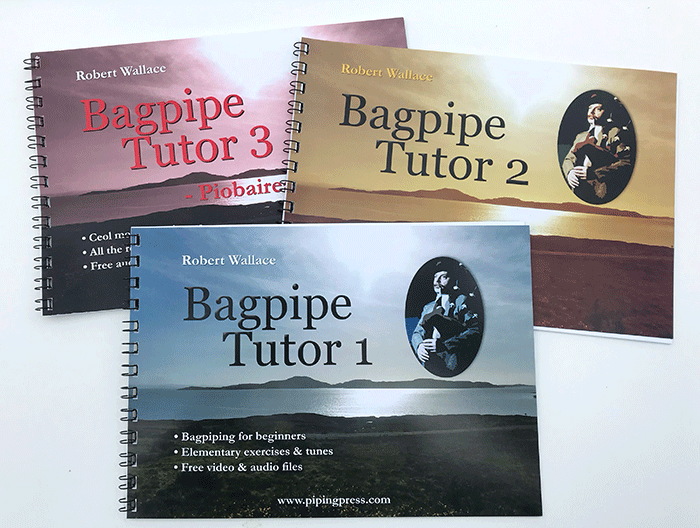 60 lessons in three outstanding tutor books taking the complete beginner to intermediate level and introducing the classical music of the pipes, piobaireachd. All books have free audio and/or video back-up fully explaining the exercises, tunes and the required expression. Since they first appeared in 2015 these books have sold hundreds of copies worldwide. Price includes mailing of £12.
Click here to purchase.
---