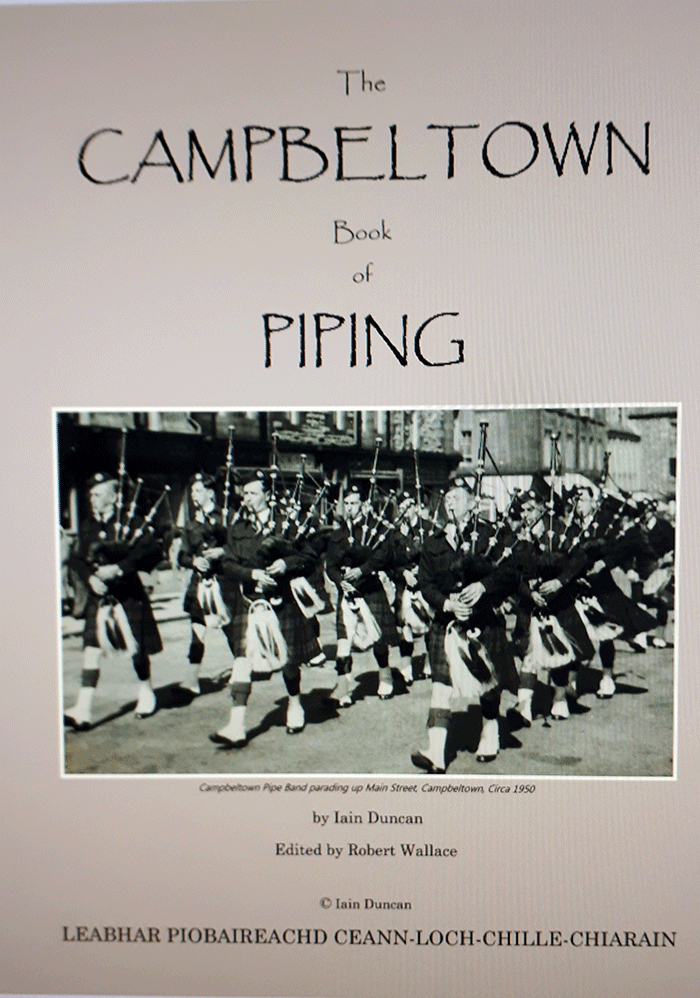 This is a fascinating historical document mapping the growth and development of piping and drumming in the Campbeltown area of Scotland's Kintyre peninsula.
I have realised over the years that creating pipe bands for the military in early times eventually worked its way into civilian life, with huge impact, and bringing great benefit to our musical tradition.
The creation of 'local' pipe bands meant organised teaching and high standards for those who wished to learn and participate.
By Jim Wark
In this book I found a lot of famous names I had heard of in the world of piping and drumming. After reading it I now am aware of their learning processes, continued commitment, personal development and achievement.
I have never heard any piper or drummer boasting about their musical background or tutors. A great deal of respect, and humility exists in pipe band world, and such information usually surfaces in conversation among pipers and drummers. This sort of publication fills in the gaps.
As I went through the book and accompanying photographs, I was pleased to read of the well known individuals and their connection to Campbeltown piping.
There we find Tony Wilson, Campbell McGougan and John Wilson, all of whom enjoyed success as members of police pipe bands.
It occurred to me recently, that lots of history in the pipe band world has been lost over the years. Bands come and go, and there is, too often, no record of their formation and who was involved.
This collection presents an excellent record and gives tribute to the long-time efforts of local people who provided the teaching and facilities which gave many young people lifelong benefit.
They may have excelled as a soloist or in a band or in some other way. There's Ronald McShannon whose interest took him on to reed making, and the book's author, Iain Duncan, who devoted many years to the work of the RSPBA Music Board, and others, too many to name, who went on to perform at international events with various types of music groups, and become composers and adjudicators.
The book contains a good number of pipe tunes, written by Campbeltown pipers. (I did not know that the Two Ronnie's Maggies tune has lyrics; I found these to be a very touching comment on this tune and its composer's move overseas.)
The degree of commitment in Campbeltown to piping and pipe bands is what comes through strongly from the book, the contribution of instruments and equipment to the various pipe bands by local organisations and businesses. Piping really meant something to the community.
The book also highlights the contribution of the Boys' Brigade, the Scouts, and schools, where the students went on to further develop skills which enabled them to perform at major events both in the UK and overseas.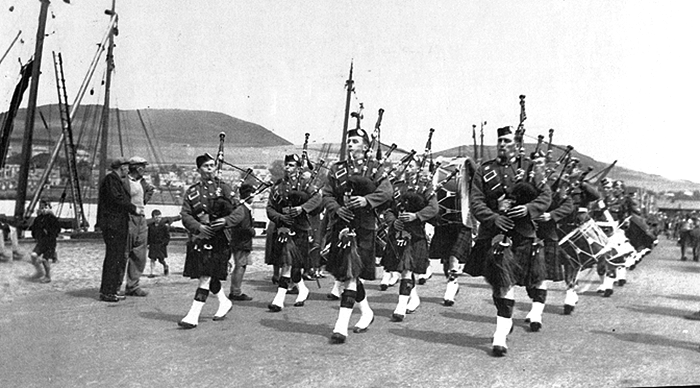 I began lessons at the 99th BB company, in the south side of Glasgow under the instruction of Mr MacLean, a stickler for accuracy. My father was a docker in Princes Dock and knew Angus Campbell who is featured in the book.
Mr Campbell became my next tutor. He had been a member of the Dockers Pipe Band which eventually became the Kinning Park band, inheriting uniforms, etc.
The significance of the piping culture in Kintyre is manifest today in the number of top soloist and the emergence of the World Champion pipe band from Inveraray.
This book is a magnificent historical document and illustrates how the hard work and commitment of dedicated people can sustain tradition and lead to such worldwide success.
For as copy of the book contact the author Iain Duncan here.