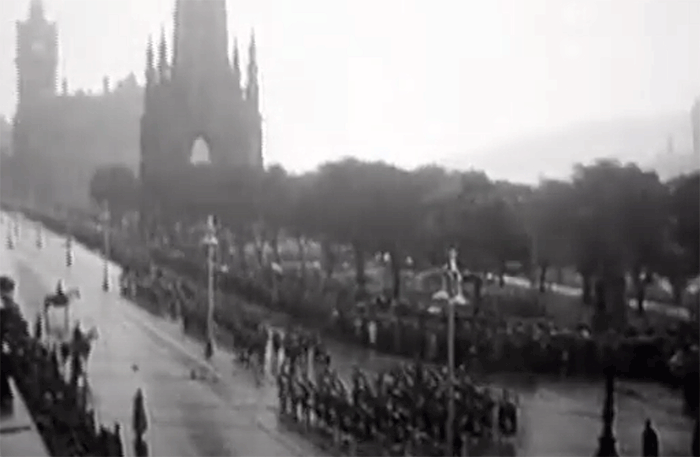 We continue with our well received history by Jeannie Campbell. The picture above shows the KOSB regimental Pipes and Drums leading a parade down a bleak Princes Street, Edinburgh, in 1939…..
The late Dr Jimmy Campbell has memories of wartime piping. This is his story: 'My first year as a medical student in 1941 included service in the Senior Training Corps, fire watching and guard duty. Invasion was expected so training in the R.A.M.C. and then the R.A. was for real.
'The university pipe band was an extra, and certainly not a soft option. The late Norman Maclean was pipe major. He was my role model. He left medicine in his second year to join the Army and I succeeded him as pipe major.
'The band required much time for practice. Jimmy Gordon was our tutor. He was a close friend to Willie Ross at the Castle, a great teacher and a prize winning Highland dancer. So the band had a dancing team included. Events included Beating Retreat at the Castle, supporting Save for Victory marches in various places (Dalkeith and Linlithgow), playing at Murrayfield, and a live radio broadcast. The broadcast seems to have been a success.
'The outstanding event was, without doubt, the march along Princes Street on VE Day, 8th March 1945. The crowd was vast and a little mad. It was a pity that it was marred by a young ATS girl dancing in between the front row of pipers and Drum Major Powell. She was struck by the mace but the band played on.
'The latter part of that day was a little obscure to me, but I woke up the next morning in full dress in our band room at our HQ back in High School Yards none the worse. I was not alone!
'The band numbered about 50. A high percentage were medical students who must share memories of that day, and some of them could undoubtedly tell the story better than I, and many of them are still around.' Jimmy Campbell TD MB CHB, Major RAMC TA (Retd.)
Here are piper Tom Johnston's memories: 'I was eleven when the War started and I was living in the village of Greengairs near Airdrie. When I left school at fourteen I went to a farm near Eaglesham and I worked on the farm there and there was an old Irish gentleman used to come down to the farm and help and it was him that said get a chanter Tom, you've nothing to do you're on the farm, you've plenty of time, you could sit and learn the pipes so I said that's fine.
'When I left the farms I went back to the village of Glenmavis and there was an old chap there, John Beresford. He'd been a Pipe Major for years in civilian bands. He was a winding engineer in the pit and that's when I got to know him.
'I used to go to his house and get practising and he was starting to get the Glenmavis band up; it was nearing the end of the war. After about six months I was out playing with the band, some of the smaller tunes.
'We could get everything from Henderson's in Glasgow. I used syrup to season the bag. It was rationed but we got enough. Some people used vaseline in hide bags but it was no use in ordinary bags as it went into lumps and blocked the stocks.
'I was taught there with him for quite a while before I was called up to the Army at eighteen. So that was roughly two years I was with him.
'Mr Beresford's son was in the Army; he was a piper, a left handed piper, and Mr Beresford had sent him to John MacDougall Gillies for lessons and when he came out of the Army he took over as Pipe Major of the band. 
'It went on for a while and was getting to be quite a good band. Then most of the members went away for National Service so the band just kind of folded after that because they never came back when they'd done their service.
'After that I gave it up for a while then I was in a band called the Coatbridge Argyll for a while. Then I went to the Clan MacGregor in Coatbridge and eventually I was the Pipe Major there. Just a civilian band.
'Then that fell apart too. I did nothing for a long while then I went into Tennant Caledonian Pipe Band and I was there for a wee while and played one or two contests. Then Ian Duncan took it over and they were wanting to practice three nights a week and I said, no, I couldn't do that.
'I was off the pipes for a long long while till I came here (The Veteran Pipers' Society at the College of Piping) and I've learned a lot here that I didn't know. In the village we weren't near Glasgow or anything, teaching and all that you know, and after John Beresford it was more or less a case of you just learnt yourself.'