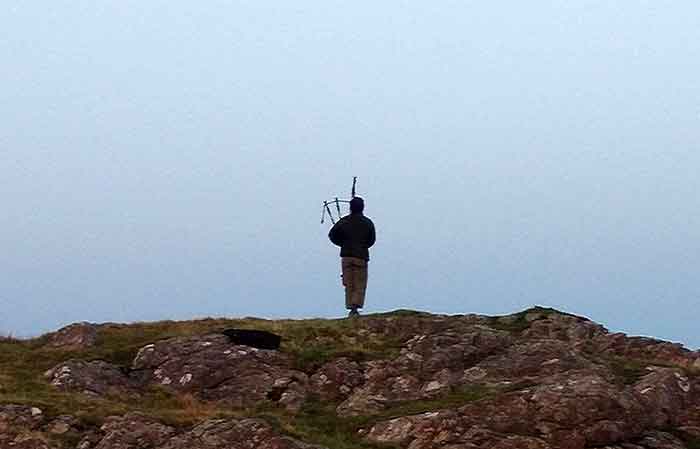 This past week saw me take a visit to the Inner Hebridean islands of Eigg and Muck with my bagpipe for company. Eigg is small but there is plenty of walking and quite a few historical places of interest to visit.
It's mainly a farming community with a few other enterprises which keep everyone employed. Once part of Clan Ranald lands, the island was the subject of a community buyout in the late 90s and is now owned and run by the people who live there.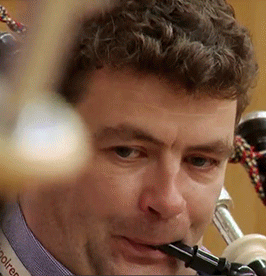 By Calum MacLean, Tobermory
All the electricity is 'renewable' and is generated on the island. Life was quiet during the week we stayed and left plenty of time to play the pipes. This made me think of Eigg's piping history. Were there any pipers on the island today?

We stayed in the top house at Cleadale once owned by Angus MacKinnon an Eigg man who played the pipes. He is commemorated in a great 2/4 march, Angus MacKinnon of Eigg, by Iain MacDonald, Glenuig. The island's Doctor Maclean also played, as did one or two others.

Ronald McDonald of Morar, the famed piper, lived and farmed at Sandavore on Eigg towards the end of his life. It is said that his bones are buried in the chapel at Kildonan on Eigg.
---
[wds id="2″]
---
After climbing the Scurr and completing a few other walks I decided to go for a look at Kildonan. It is a nice spot down next to the shore.
St Donan was a Celtic monk and had a place of worship here in the AD 600s. There are also a couple of Viking burial mounds closer to the shore.
The present chapel dates from the 12th -13th century. It was never roofed and was used for Catholic burials inside the walls. Later graves are outside and there is a Protestant graveyard further down the shore.
Inside there is a tomb with Clan Ranald heraldic symbols now worn with time. It is said that in the 1870s they were clearer and a date of 1641 could be made out. If this date is correct it doesn't fit with Ronald Macdonald's said time of death.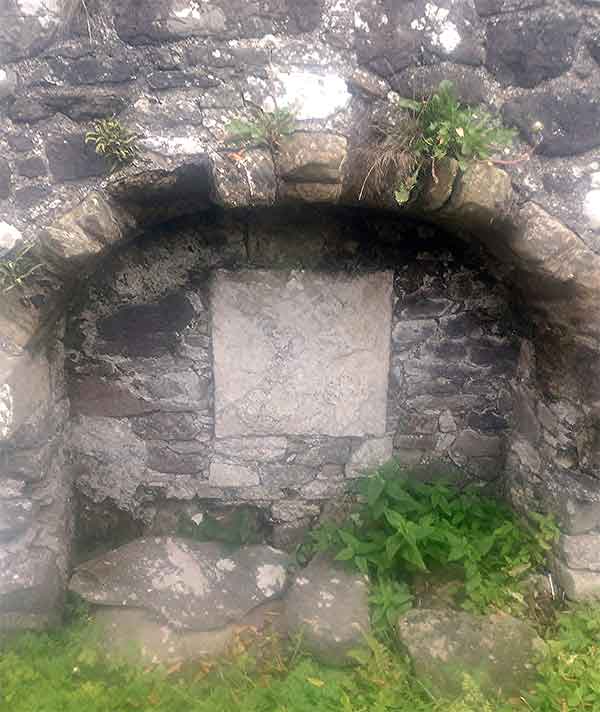 There is a similar tomb in a ruined church at Arisaig on the mainland ,maybe that is his grave? Or he shares the tomb on Eigg with a forbearer?
Another piper from this time was Donald MacQuarrie, said to be taught by Ronald MacDonald. Known as am Piobair Mor there is a cairn on the track from Grulin where he lived on Eigg.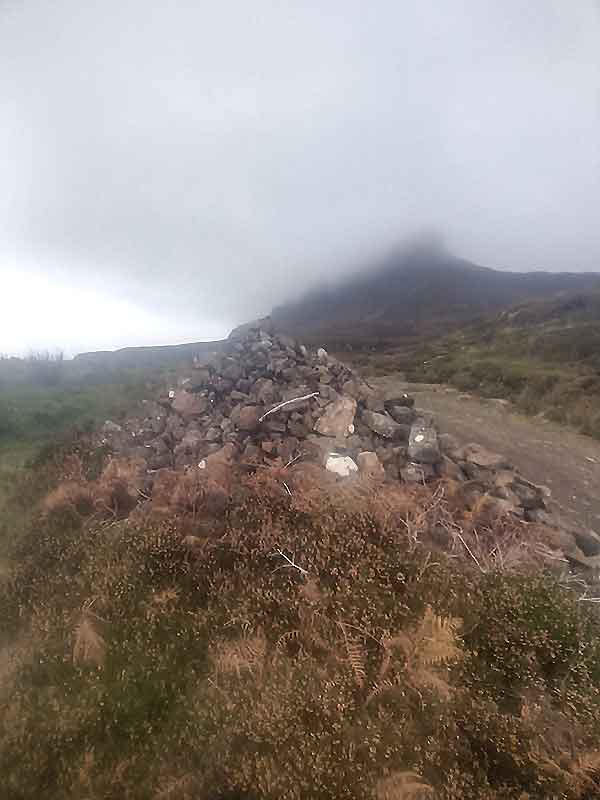 It marks where they rested his coffin while carrying it to Kildonan for burial. I wonder could this be the man that composed Ronald MacDonald of Morar's Lament in memory of his tutor? I guess we will never know.
The next day's adventure was a trip to the isle of Muck, Eigg's neighboring island where the population is only around 20-30 people. This isle has a piping history as well.
Muck was owned by a Hector MacLean in the 1700s and his wife was a daughter of MacLeod of Skye. Hector, no doubt, was from a branch of the MacLeans of Mull.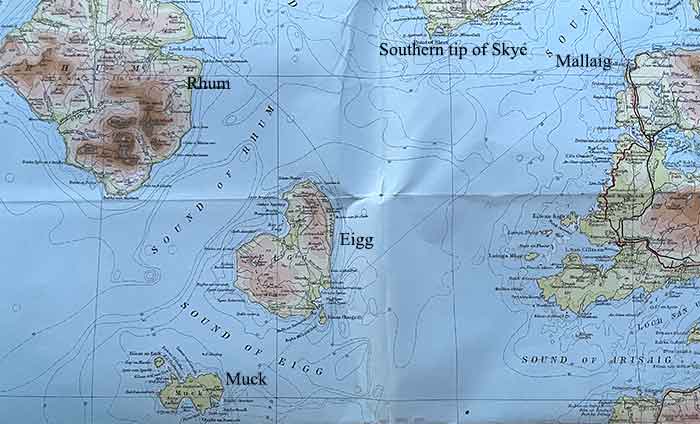 Hector's brother Donald became Laird in the mid-1700s. His piper was Duncan Rankin from the famous Rankin pipers of Mull.

He lived on Muck with his wife Bess MacCrimmon and son Malcolm. The Mull – Skye piping connection was thus being carried on as Bess MaCrimmon was a daughter of the famous MacCrimmon pipers of Skye and also played the pipes.
From Muck you can see Mull to the south and Skye to the north. It's almost halfway in between.

Another piping family were the MacKinnons from Muck. They emigrated to Canada in the 1820s.
So that completes this short look at the past; but what of the future? Well there are two pipers on Eigg today and on Muck there was a pipe maker specialising in Northumbrian pipes. I am not sure if he is still there.
The children from both islands go to Mallaig High School on the mainland where piping and drumming are taught. The hope is Mallaig will soon have a school pipe band. Who knows perhaps history will repeat itself and maybe another famous piper will emerge from these small isles once more.
---